Skip to content
How to Make Halloween Allergy-Friendly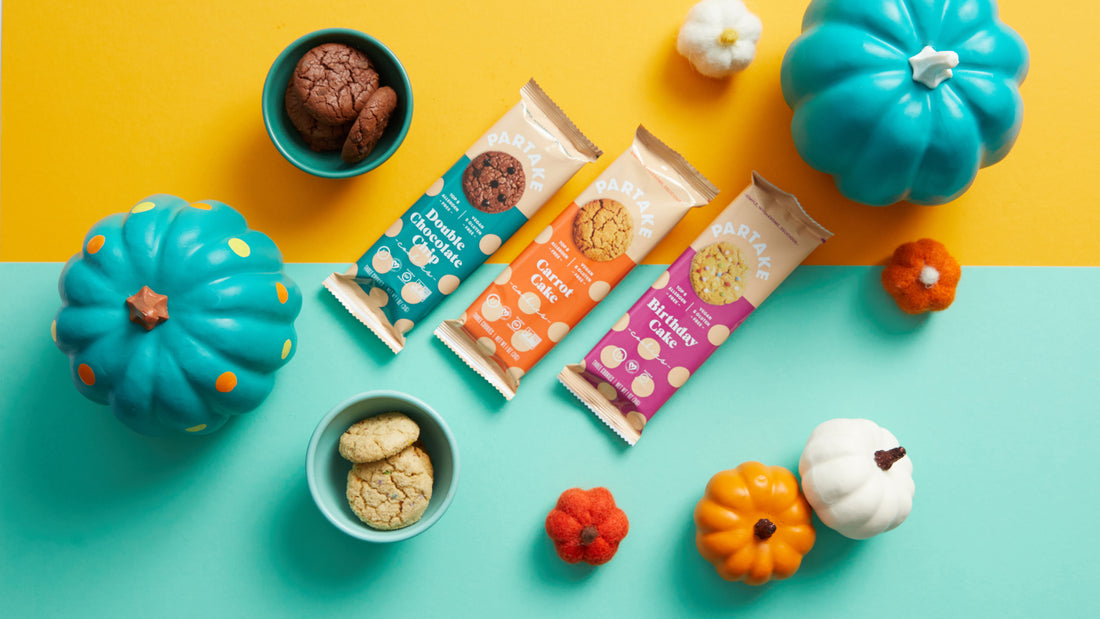 When my daughter Vivienne was diagnosed with multiple food allergies, I was afraid that she would be left out of childhood festivities that traditionally revolve around food. From daily activities like snack time and play dates to the big events like birthday parties and holidays like Halloween, it seems every fun moment of coming together involves food. 
Halloween is a spooky time of the year as is. Throw in food allergies and it's like walking through a haunted house with the fear of allergen zombies popping up at any moment! During a time that should be fun and worry-free, it's terrifying for food allergy parents—allergens seem to be lurking in every corner.
Between all the Halloween festivities, parties, and trick-or-treating, it can be overwhelming, but I've gathered tips and tricks over the years for anyone, with or without allergies, to partake in creating a safe and fun allergy-friendly Halloween for all! 
Paint Teal Pumpkins
Get witch-crafty and participate in the Teal Pumpkin Project! Started in 2012, a teal pumpkin placed outside a home on Halloween night signifies that the house also offers non-food treats for trick-or-treaters. All the fun of getting treats minus the allergens! Dollar stores and retailers with dollar sections are great one-stop-shops for fun and inexpensive goodies like glow sticks, bubbles, stickers, and stamps. With or without food allergies, the Teal Pumpkin Project is a fun way to join a movement that promotes food allergy awareness, inclusivity, and safety for all. 
Bring Back Ups
Be prepared and bring safe treats to stealthily switch out for those unsafe from house to house. I always make sure to pack some of Vivi's go-to's including Enjoy Life wrapped chocolates, Annie's fruit snacks, YumEarth organic lollipops, and of course, our new 1oz on the go snack packs of Partake cookies—her favorite is Carrot Cake! It's an even sweeter surprise when she thinks she scores some of her favorites throughout the night.
Fill Your Fall
I plan fall activities that don't revolve around food, so Vivi doesn't feel like she's missing out and I'm not in constant fear she might accidentally eat a treat that's unsafe for her. We love apple picking, hayrides, football games, and decorating pumpkins. In between all of the festive fall events, we're also attending local events with Vivi's classmates and checking out Hoboken Girl to see what's going on in our neighborhood! She's so busy having fun, food and candy don't even cross her mind.
With a little pre-planning and support from others, our Halloween is the fun-filled, worry-free celebration it should be!
--
As seen on Hoboken Girl. 
Denise is the CEO and Founder of Partake, a line of allergy-friendly snacks inspired by her daughter's experience with food allergies. Their first products are a line of 5 flavors of cookies that are gluten-free, vegan, and top 8 allergen free, but most importantly, delicious and made with simple, whole food ingredients. They can be found at Hoboken faves like Organic Basic Food, Choc O Pain, Bwe, and Bean Vault. Denise and her family live in Jersey City, and in the rare moments that Denise isn't working, she can be found at the park with her daughter, squeezing in a class at Club Pilates, or downing croissants at Choc O Pain.