Skip to content
Three Essential Tips for Food Allergy Moms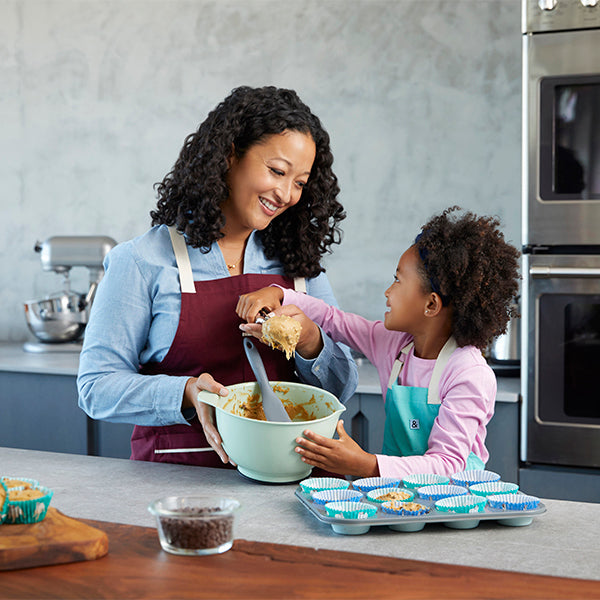 There are currently 32 million people in the United States that experience food allergies, including 5.6 million children.  Food allergies are what drove Denise Woodard, founder and CEO of Partake Foods, to leave her corporate job and start Partake Foods, where she is on a mission is to give delicious peace of mind to those with dietary restrictions. 
To learn more about food allergies and how common they are, read our recent blog HERE. 
Denise recounted the first time her daughter, Vivi, had an allergic reaction and said, "It was shortly after my daughter's first birthday when her lips began to swell, then quickly turn blue because she was struggling to breathe. At the time, we didn't know the snack she had just eaten would cause a severe allergic reaction and lead to a rush to the hospital." 
Suddenly, Denise joined the community of food allergy parents, navigating a new world of allergens, ingredient labels, and restrictions. That world can be scary at first as you navigate your new normal. Continue reading for Three Essential Tips for Food Allergy Parents. 
Create an Action Plan 
While speaking with your child's doctor, they will likely work with you to create a food allergy action plan. This plan will give you a framework for how to best avoid allergens in your child's day-to-day life and how to handle it if they come into contact with an allergen. Denise says that she, "never leaves home without" antihistamine and epinephrine. 
Your plan should also include managing your child's medication and communicating with anyone who is in charge of your child when you're not around. Not only do they need to be aware of the allergy your child has, but they need to know what to do in an emergency, who to contact, and how to administer medication like an epinephrine auto injector, if necessary. 
Food allergies require over-communication with everyone taking care of your child - from your spouse, to your babysitter,  your child's teachers, servers at restaurants, and even your child. 
Another important part of a food allergy action plan is making sure your child is aware of their allergy. This involves having age-appropriate conversations about birthday parties, snacks at school, and other places where an allergic reaction might happen. 
Preparing for a possible reaction to food allergens can seem like a huge task, but coming up with a plan is the key that will help you take control of the situation. 
Find Resources to Help You Navigate Your New World 
When you're new to food allergies, it can feel daunting, and even scary, when you turned to Google to find out more. It's important to find resources you can trust to learn more about food allergies, how to handle them, and tips and tricks. Here are four of our favorite allergy-friendly resources.
Spokin

- Spokin is a food allergy app that provides news and information that can be customized to your allergies, interests, and location. It helps find allergy-friendly restaurants, foods, summer camps, hotels and more. 

Snack Safely

- Snack Safely provides straightforward, actionable information to help improve the lives of those suffering with food allergies.

Allergy Awesomeness

- An allergy-friendly recipe website that is top-8-free. She shares how to eat and still feel awesome, even with food allergies!

Allergic Living

- Allergic Living is the leading website for food allergy news and feature reporting. Includes coverage of school, travel issues and managing allergy stress.
Find Your Community
As parents, we yearn to connect with others who have gone through the same trials as us. With food allergies, parents who experience food allergies in their own families can share helpful tips, tricks, and help new allergy parents navigating their diagnosis. But where do you find those people? Follow a few of our ideas, below.
Talk to Your Doctor - Your doctor will be able to share local support groups and other medical-based recommendations that are a great place to start. 

Search Social Media - There are tons of valuable closed Facebook groups where you can read questions and crowdsourced answers, meet other parents in your situation, and connect with parents going through similar situations. Many allergy-friendly bloggers and influencers are very active on Instagram, and you can follow them for tips, tricks, and other helpful information. 

Ask Your Friends - While you may not know any close friends with food allergies, it's more than likely that your friend might know of someone else in the local area that does. That second-degree connection is all you need to strike up a conversation to learn more about food allergies in your city.
Navigating a new food allergy is not easy, but we're here to help. Make sure to check out our Partake Food Allergy Resources if you're wondering where to start.