Skip to content
What Is the Teal Pumpkin Project?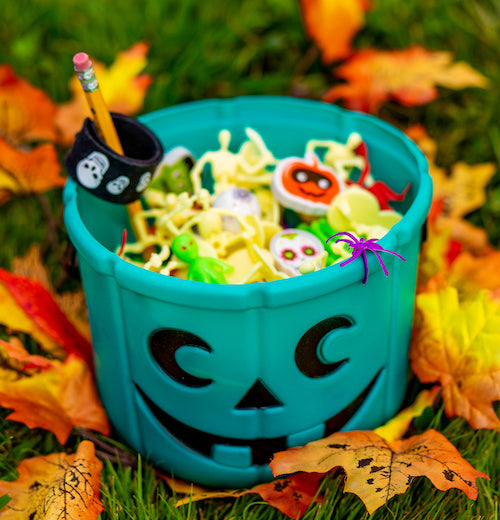 Halloween is full of spooky fun, but it is a particularly challenging, and truly frightening holiday for food allergy families. Many traditional Halloween treats aren't safe for children who have a life-threatening food allergy. At the same time, that doesn't mean that these little ones don't also love to dress up in costumes and trick-or-treat!
That's why folks from communities around the world are trying to change to accommodate those kiddos who are normally left out during Halloween through the Teal Pumpkin Project. Food allergy families can search a map to find participating households nearby and look for the teal pumpkin. 
If you see a teal pumpkin on someone's doorstep (or sign of a teal pumpkin), it means there are safe, non-food treats available, such as glow sticks or small toys available for trick-or-treaters at the house.  For the past 20 years, teal has been the color for food allergy awareness, according to Food Allergy Research & Education, otherwise known as FARE. Doing this promotes inclusion for trick-or-treaters with food allergies or other conditions who may live in your neighborhood.
Read on to find out more about how you can participate, what goodies to pass out, and how to register yourself as a teal pumpkin home.
What is the Teal Pumpkin Project?
The Teal Pumpkin Project was started by the Food Allergy Community of East Tennessee (FACET). It promotes safety, inclusion and respect of individuals who are living with food allergies and other conditions. It is now a worldwide movement that allows kids who otherwise couldn't participate in Halloween to have a fun, positive experience on this holiday. 
Children who may normally be unable to treat-or-treat may have the following conditions:
Food allergies

Food intolerances

Eosinophilic Esophagitis (EoE)

Celiac disease

Food protein-induced enterocolitis syndrome (FPIES)

Diabetes

Children with feeding tubes

Any child on a special diet
If you participate in the Teal Pumpkin Project, you can still hand out candy! The goal is not to exclude candy from the tried-and-true Halloween tradition. It's just meant to include those children who would normally be left out. Just be sure to keep the candy in a separate bowl from the non-food treats to avoid cross-contamination. Also, be sure that what is in the non-food treats are safe as well. There are some small toys, such as moldable clay that contain wheat that can be dangerous for those with severe allergies. Latex can be dangerous as well for children with latex allergies. 
Don't know what to buy? Here's some popular non-food items to hand out for the Teal Pumpkin Project::
bubbles

spider rings

glow sticks

pencils

stickers or 

finger puppets/lights

bouncing balls

wind-up toys

clapping hands

Halloween ink-stamps

vinyl sticky-hands

mini paratroopers

mini Note-pads

plastic glow-in-the-dark fangs

temporary tattoos

slap bracelets

witch fingers
Why are so many families participating in the Teal Pumpkin Project? 
Food allergies are life-altering, and sometimes life-threatening for children and adults. What many do not realize is that this is a growing public health issue among children in the United States. One out of every 13 children has a food allergy, which equates to two children in each classroom. Just a tiny amount of allergen could cause a severe allergic reaction when exposed.
While many foods can trigger these reactions, many popular Halloween candies contain some of the top allergens – including nuts, milk, egg soy or wheat. What's more, the miniature or "fun-size" versions of popular candies often contain different ingredients to their full-size counterparts and they usually don't have labels. This makes it particularly difficult for parents to know if the candy is safe for their children. That's why the Teal Pumpkin Project promotes non-food treats as a safe, fun alternative for children with food allergies and other conditions where candy is problematic.  
The holidays are often times when a food allergy is first realized as children try different treats they may not normally eat. A study published by the Canada Medical Journal evaluated peanut-and-tree-nut-induced anaphylaxis during major cultural holidays including Halloween, Christmas, Easter, Diwali, Chinese New Year and Eid al-Adha. During Halloween, there was a reported 85 percent increase in peanut-related anaphylaxis during Halloween, and a 70 percent increase in anaphylaxis related to unknown nuts reported. Most of these cases were from previously unknown allergies. 
Want to participate in the Teal Pumpkin Project this year? Put your house on the map! Don't have a teal pumpkin? No worries. You can print out a free sign from FARE. 
Promoting food inclusivity year-round
Partake Foods was founded by an allergy-mom who wanted to create treats that everyone could enjoy, including her daughter and others like her with food allergies. After her diagnosis, she saw how children with food allergies are ostracized and excluded from many group activities, celebrations and holidays (like Halloween!). 
Thankfully, there are ways to celebrate Halloween that are safe for allergy friendly families. Looking for homemade Halloween treats you can make with your little one? Check out this list of DIY Halloween Treats with Cookie Crumble Dirt Cups, Cookie Spiders, and Cookie Mummies!
Partake is also selling Halloween Chocolate Chip Mini Crunchy cookie snacks packs for trick-or-treaters for a limited time at Target stores nationwide. Find your nearest store here if you'd like to pass out these tasty treats that are free from the top 9 allergens including peanuts, tree nuts, eggs, wheat, milk, soy, fish, shellfish and sesame. They are also free of lupin, crustaceans, sulfites, mustard, and casein. All Partake products are made in a dedicated gluten-free, peanut free, allergy-friendly facility.  
We hope you'll consider participating in the Teal Pumpkin Project this year by putting yourself on the
map
and passing out safe, non-food goodies for the kids who can't enjoy the candy.