Skip to content
8 Questions with the Dads of Partake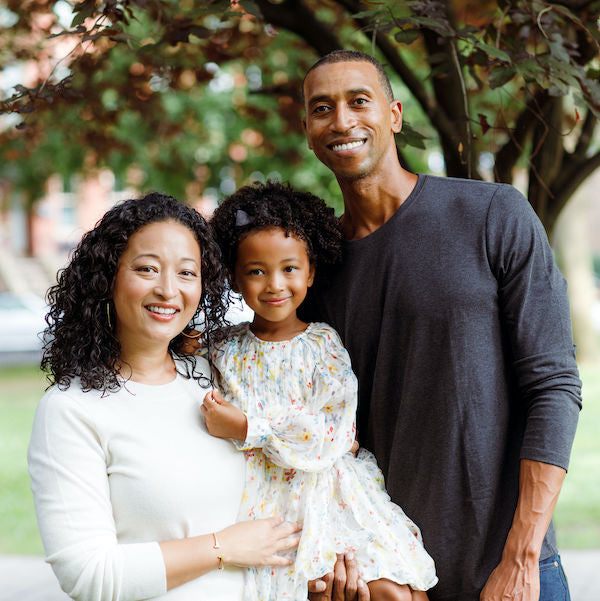 As parents, it's easy to get caught up in the depths of parenting, work, and everything in between. Days that celebrate parenthood are wonderful reminders to take a step back and appreciate the role and how having children has shaped us.
This Father's Day, we're celebrating all the dads starting with the supportive dads behind Partake Foods—Jeremy Woodard, Denise's husband, and Arthur Glover, Denise's dad.
Jeremy and Arthur have supported Partake Foods since Day 1—when Denise left her nearly decade-long career at CocaCola to make foods that her daughter with food allergies, and those like her, could safely and confidently enjoy.
We sat down with Jeremy and Arthur to talk about surprising moments in fatherhood, being #girldads, and their favorite Father's Day presents. 


Jeremy, Denise's Husband
From Partake's birth in 2016 to now, Jeremy supports Denise as she grows the business. While working a demanding full-time job himself, he tag teams with Denise as they juggle their busy family schedule and continues to be Partake's biggest cheerleader—often lending a helping hand!
Jeremy and Denise are very intentional in their parenting and aim to inspire Vivi by showing her all sides of the entrepreneur's journey. Jeremy says that, "Denise and I foster a creative environment at home. We try to continually talk about the entrepreneurial things we're working on so Vivi believes she can truly do anything she puts her mind to as she grows up."
Who's your biggest role model?
My own father!
What parenting lessons did you learn from your father and grandfather? 
I learned at an early age the power of a positive mindset. 
What has surprised you the most about being a dad?  
How often kids have to be told to eat their food. Lol.
How has being a father inspired you? 
Being a father has inspired me to be more present in every moment, whether big or small. 
What would Vivi say is her favorite thing to do with you? 
A perfect day with Vivi is full play! Whether it be playing games, going to the park, or both. 

Arthur, Denise's Dad
Denise's parents met while her dad was serving overseas in the U.S. Army. Once he left the army, they settled in Fayetteville, NC and he became a truck driver with his mind set on starting his own trucking business one day. He made that dream a reality and runs his own small trucking business in Fayetteville. As an entrepreneurial parent, Arthur gave Denise the drive to succeed and the knowledge of how to effectively grow a business. 
What words of wisdom would you give another dad?
Try to live your life in a way to show a positive example. Work hard every day, respect your family, and be a law abiding citizen. Be a good person. Remember that kids don't always do what you say, but they will follow your actions. 
What has fatherhood meant to you? How has it shaped your life? 
I work hard for my family. Providing for them has always been my priority. Fatherhood has made me strive to be a great person and stay out of trouble. ::laughs:: I hope to leave a positive legacy for my family—not only in material possessions but in character.
What is the best Father's Day gift you've received? 
The day Denise was born has been a gift that I cherish everyday, not just on Father's Day.
CELEBRATE DAD & SAVE 20% WITH CODE LOVEDAD AT CHECKOUT.
Offer valid through 6/30/2021.