Skip to content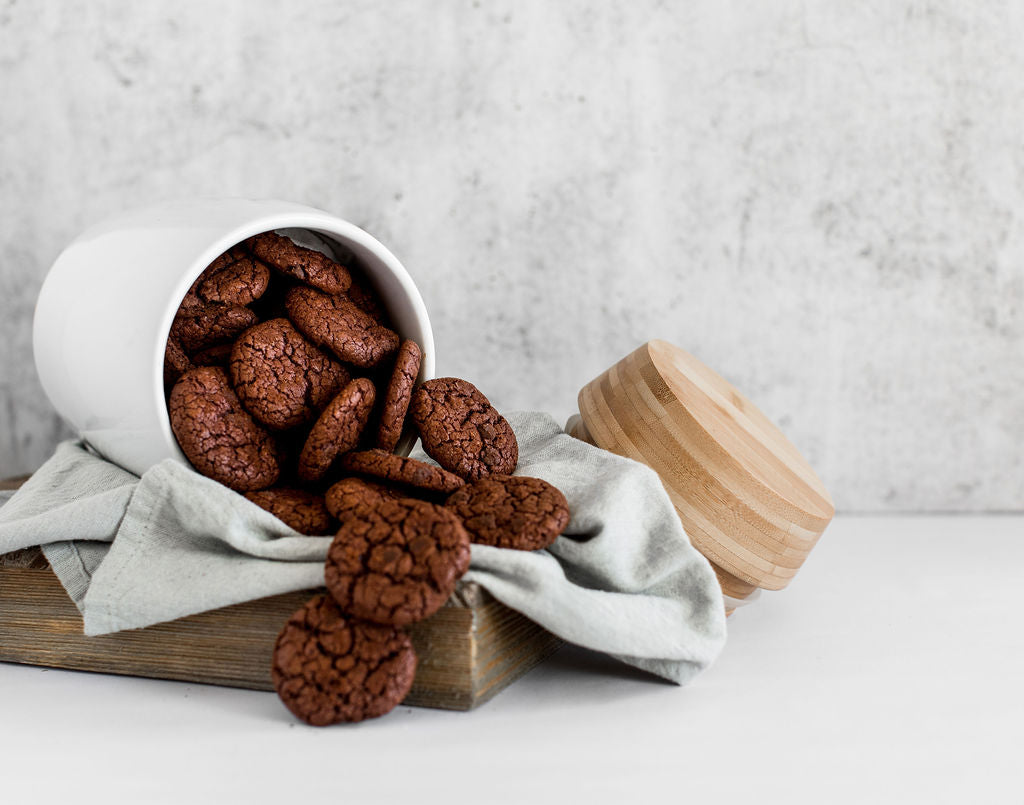 It's been a wild and wonderful ride over these last few years, and I can't express how grateful I am for each and every one of you that's come along on this incredible cookie-filled journey. As many of you know, Partake is personal for me. The company was born in my living room in the summer of 2016, when our nanny, Martha, commented that my then 1-year-old daughter, Vivienne, was on a "boring, paleo diet."  I complained that managing food allergies was overwhelming and that the allergy-friendly snack options I found did not meet my nutritional standards or satisfy Vivienne's taste buds. After listening to me complain, Martha suggested I start a food company to change the face of allergy-friendly snacks–and that's what I did.
I rolled up my sleeves, threw on my apron, and got to work crafting a delicious, nutritious, and most importantly shareable cookie that could be enjoyed by everyone, food allergies or not.
The First 3 Years
Bringing Partake to life was a bumpy journey as we searched for an allergy-friendly facility to produce our cookies and ingredient suppliers we could trust. In August 2017, with a storage unit full of our original 3 flavors, I left my career at Coca-Cola and Partake cookies hit store shelves. As I spent my evenings doing in-store demos, I quickly realized that these cookies were so much more than an allergy-friendly snack meant for those with specific dietary needs. As our community grew, many of you shared stories of how we became a part of important memory-shaping moments and celebrations, bringing together friends and family, regardless of their dietary restrictions or lack thereof.
With Growth, Comes Change
It's important that we consistently monitor how we can bring you delicious, safe and high-quality snacks. I truly believe that every one of you who have joined our community are part of my family, which is why what we put in our cookies is as important as what we leave out. I couldn't wait to share a few exciting updates coming to Partake, inside and out, in the near future.
What better way to celebrate change than with a makeover? While I won't reveal too much now, let's just say that Partake will have a new look very soon. Stay tuned! In addition to a new look, we will also be offering a more convenient way for you to take Partake on the go—an option that I know, with your busy schedules, you will appreciate.
We're also excited to announce that changes are coming to what goes into our cookies. As always, you will never find an ingredient on our label that I wouldn't feel comfortable sharing with my own family. So while you will continue to find organic flours, fruits and vegetables, and minimal sugar in our cookies, you will no longer find non-GMO canola oil in our ingredient list. In its place, you'll see non-GMO sunflower oil. As always, we will continue to bake our cookies in a facility free of the top 8 allergens (as well as sesame and mustard!), and meticulously test every product to ensure you and your family are safe to enjoy Partake cookies, worry-free. This is and will always be a non-negotiable. 
Partake on the Road
With the exciting updates, we wanted to offer more of you the chance to partake in the cookie fun. So, not only are we making our way into new retail locations, but we will also be participating in trade shows open to the public giving us the chance to meet our community, hear your stories, and share a cookie together!
This Fall, we'll be at the: 
Meeting our Partake community is hugely important to us, so if you're attending, please come by, snag a cookie, and say hello!  
To find Partake at a store near you, visit our Store Locator. If your local grocery store doesn't carry our cookies, please tell them how much you'd like to see Partake in their cookie aisle, and we will do our best to get there soon! You may also download and fill out a product request form here.
On the business front, we are grateful to attend the innovation summits for some of the nation's largest retailers. We will be sharing our existing and in-development products with the hopes of getting on-shelf where you love to shop. 
With Gratitude
So, my Partake community—busy folks, moms, dads, grandparents, and everyone in need of a delicious, nutritious cookie break: Now that we've covered just a crumb of what's to come for our company and our cookies, I want to leave you with one last resounding message of gratitude. From the early days on Kickstarter to the incredible place we find ourselves today, your continued support and feedback have made this dream possible. Everything from sharing your stories with us to sharing our cookies with your friends and family has allowed Partake to blossom into the brand I envisioned and made every sleepless night, sacrifice, and long workday worthwhile. We are only getting started, and I appreciate that you're on the road with us.
From my family to yours, I extend a very big thank you.
With love,
Denise