Skip to content
A Guide to #DoGood In Cities Across the U.S. on MLK Day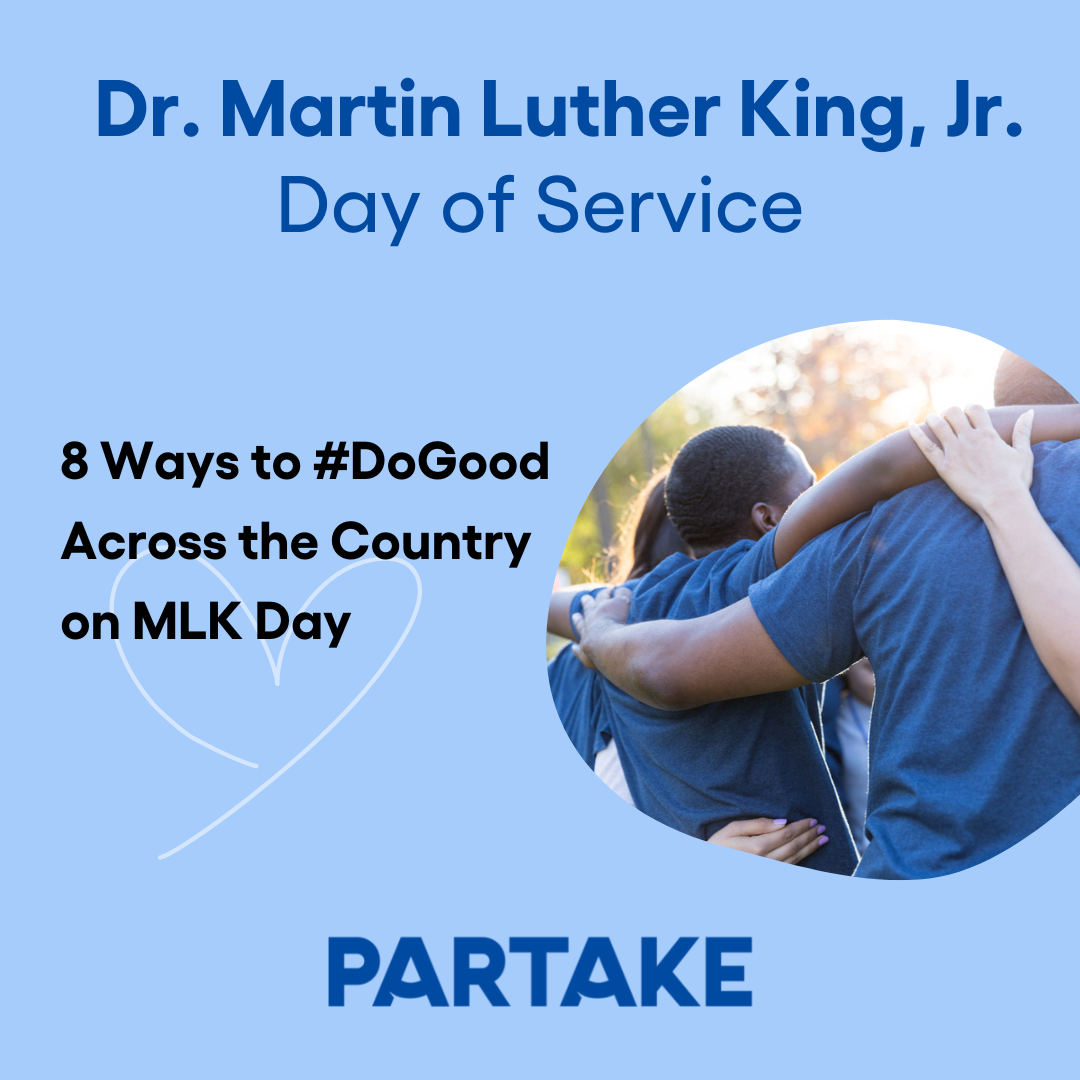 Dr. Martin Luther King, Jr. Day celebrates the life and work of the iconic man who spent his life advocating for racial equality and nonviolent social change. It is marked as a federal holiday, giving many folks across the country a day off from work or school and the opportunity to make an impact in the spirit of Dr. King's dream. It is the only federal holiday designated as a National Day of Service, encouraging all Americans to volunteer in their communities. 
Volunteering comes in many forms, like helping the hungry, cleaning up your community, donating to a worthy cause, or any other way you can offer your time to benefit others. There are numerous opportunities in cities and towns across the United States to participate in the Dr. Martin Luther King, Jr. National Day of Service. We've highlighted a few opportunities for you in several U.S. cities, but if your city isn't on the list, we're sure there are plenty of other events happening in your area that we encourage you to explore.
Los Angeles
Foster Youth Supply Drive with CSU Long Beach  - January 16
Foster youth in college have a unique challenge as they age out of care at 18-years-old and must become financially independent and responsible for themselves almost immediately. Volunteers are needed to package basic needs items and school supplies to support 80 Guardian Scholars at CSU Long Beach. If you have children over 5 years of age, they can come along, too! All volunteers should be able to stand, kneel, and bend for long periods and be exposed to the sun and other outdoor elements. 
Community Care Packages with Leadership Long Beach - January 21, 24, 26
Leadership Long Beach is partnering with The Long Beach Center for Economic Inclusion and the Long Beach Food Support Network to prepare community care packages that will be distributed to residents in need via a network of food pantries throughout the city. There are more items needed than just food – including hygiene products, household items, and kitchen items. Sign up as an individual or participate as a group through your business, school, or youth club. 
Houston
United Way of Greater Houston Book Drive - Through February 24
Houston ISD and the United Way of Greater Houston are partnering together for a community book drive for elementary students in classrooms throughout the city. The focus is to collect books featuring diverse characters that were written and illustrated by people of color. The books will be distributed to students on March 2 as a part of United Way's Read Across America celebration. Students can take the books home to build their home libraries. Get involved by donating books, or hosting your own book drive.
Blodgett Urban Garden Maintenance - January 16
Blodgett Urban Garden is a charitable organization dedicated to sustainable gardening, healthy eating, and community education. On MLK Day, volunteers are welcome to come help maintain plots of vegetables with the entire family. They will have games and activities for the little ones to enjoy as well as provide small tools to participate. All tools, gloves, and equipment will be provided by Blodgett Urban Garden.
Atlanta
MUST Ministries Mobile Food Pantry - January 18 - January 20
MUST Ministries Mobile Food and Distribution Center is looking for volunteers to to support mobile food pantries by assisting clients with food needs and disassembling the pantry afterwards. You can volunteer solo, or as a group. You can also donate items to their donation center, including non-perishable food items, clothing and household items, towels and bedding, books and school supplies, and new unwrapped toys for their toy shop.
The King Center Day of Service  - Through January 16
The King Center will be hosting a day of service where you can get involved in multiple capacities. The service project will consist of donation collections for unsheltered and homeless individuals, donation distribution by ADID in the city of Atlanta to partner organizations, and care package projects for partner organizations. Fill out the volunteer interest form on their website to learn more about how you can help. 
New York City
Meals on Wheels + YM&YWHA - January 16
Families are invited to join the YM&YWHA of Washington Heights & Inwood and Meals on Wheels to pack meals for food insecure older adults. Childrens of all ages are welcome to join. After MLK Day, you can continue volunteering for Meals on Wheels by packing meals, or by delivering meals to seniors in need. 
NYC Parks - Clean Up & Care - January 14-16
Volunteers will help clean up and care for parks across the five boroughs in celebration of Dr. King. Opportunities include beach cleanup in Staten Island, Harlem street tree care, Idlewild Park Coastal cleanup, cleanup of Highland & Forest Parks in Queens and more. All ages are welcome but children under 16 must be accompanied by an adult. 
Celebrate & Honor Dr. King Through Action
We hope you'll take this chance to #DoGood on MLK Day by helping those in your community. As you'll see many volunteer organizations say, MLK Day is a day on –not a day off! Will you be volunteering for MLK Day of Service? Let us know how on Instagram.