Skip to content
Hunger Action Month: How Partake is Taking on Hunger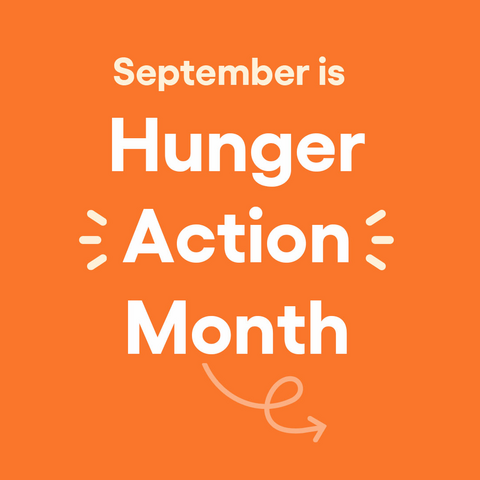 An estimated one in eight Americans, including nine million children, deal with hunger – which means there's a good chance someone you know has or will face food insecurity at some point in their life. While this issue most often affects our neighbors who live in poverty, millions more are just one missed paycheck or emergency away from hunger. 
At Partake, our passion for championing food inclusivity extends to getting safe food into the hands of food-insecure families who need it. We actively support Hunger Action Month, a nationwide campaign led by Feeding America to raise awareness about food insecurity & encourage people to take action. We're proud to extend our fight against hunger beyond creating delicious snacks and partner with organizations working to inspire conversation and drive action around an issue that impacts all of our communities.  
The Impact of Food Insecurity
"Food insecurity" is defined as having problems getting food, a shortage of food in the house, or reduced food intake. For many families, this might be as simple as skipping a meal until the next payday or facing the difficult decision to pay a utility bill rather than purchase food. But these devastating situations can have dire consequences that go far beyond a rumbling belly.
Hunger can lead to malnourishment, which can impair children's development, put them at risk for disease, and make it difficult to learn, weakening their foundation for success in life. Due to financial strain, many people have to choose inexpensive foods with low nutritional value. In addition, many people facing hunger forgo medical care to afford food. As a result of these cycles, families who are food insecure are disproportionately affected by diet-related chronic diseases such as diabetes, high blood pressure, and obesity. 
A Disproportionate Effect
Despite the fact that food insecurity affects every single community in the country, it does not affect all Americans equally. Hunger in African American, Latino, and Native American communities is significantly higher than white populations because of systemic racial injustice. Individuals in all three of these minority groups face food insecurity at rates almost three times higher than white households. Poverty and hunger are closely linked, and discriminatory policies and practices have led Black and brown people to be more likely to face unemployment, underemployment, and financial insecurity. These factors increase the likelihood of hunger.
In addition, rural Americans, senior citizens, and even college students face hunger at rates much greater than the general population – and this effect is compounded for people of color within these groups. In rural areas, it can be difficult to find well-paying jobs, and even those who qualify for benefits may not live close enough to a supermarket to utilize programs like SNAP. Similarly, seniors may not have the mobility or financial resources to access healthy food. 
How Partake is Taking on Hunger
Anyone who has dealt with food allergies or diet-treated illnesses knows it can be extremely challenging and costly to find foods that suit special dietary needs – even under the most ideal conditions. For those facing food insecurity, it can be all but impossible. 
That's why we're so committed to creating products that nearly everyone can enjoy and partnering with organizations that fight hunger in communities nationwide, especially those that serve the food allergy community, like the Food Equality Initiative (FEI). Partake is a founding member of The 7% Fund & Coalition, which FEI created to address economic and racial disparities in food allergies. Black children are 7% more likely to have food allergies compared to white children, and we're proud to support a cause so closely tied to our own founding story. 
To date in 2023, we've also helped Hashtag Lunchbag provide 9,000 meals to our neighbors in Los Angeles and Atlanta, and we've helped The Birthday Party Project and Eat. Learn. Play. Foundation provide access to food, community resources, and advocacy underserved families deserve.
Get Involved
By purchasing Partake, you're supporting our mission to champion food inclusivity and fight food insecurity. But there are so many more ways you can get involved this Hunger Action Month and beyond!
Advocate for better food policy legislation, donate to organizations addressing the underlying causes of hunger, or volunteer your time at a local food bank or food rescue program. Feeding America operates 200 food banks and partners with 60,000 other local pantries nationwide, and they rely on volunteers like you. 
Shop Partake at a store near you and join us in ensuring every community has the food it needs to flourish.