Skip to content
Partake Celebrates Christmas with the Currys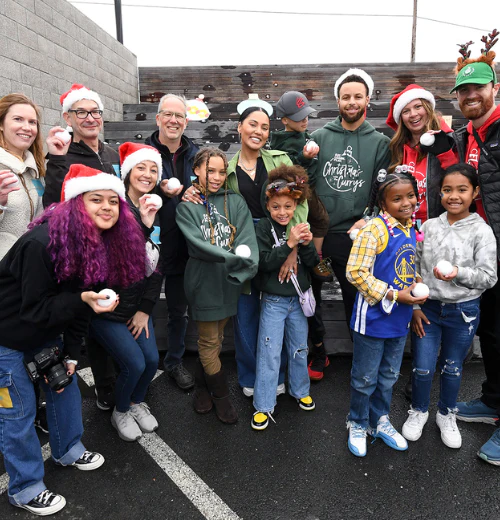 Partake Foods was thrilled to once again participate in Eat. Learn. Play.'s Christmas with the Currys event in Oakland, CA.
Eat. Learn. Play. was founded in 2019 by Steph and Ayesha Curry to fight against childhood hunger, ensure students have access to quality education, and provide safe places for all children to play and be active. The organization is anchored around the message that children are our future and is committed to developing partnerships and initiatives that make a positive impact for generations to come.
Now in its 10th year, Christmas with the Currys is a celebration for families in need around the Bay Area, and this year, the Foundation hosted a winter wonderland-themed event for over 500 families (more than 2,000 people total) to celebrate the holiday season, create magical moments, and spread cheer. Families enjoyed a skating rink, arcade games, real snowballs, face painting, free book fair, bouncy house, as well as hot cocoa and photos with Santa Claus and Mrs. Claus.
Along with the festivities, gifts were provided including new laptops, gift cards, books, non-perishable meal kits, household goods, clothing supplies, toys, basketballs and more. Partake Foods was proud to provide our Crunchy Chocolate Chip Mini Cookie Snack Packs for the meal kits this year. 
In addition to championing food inclusivity, fighting food insecurity remains central to Partake Foods' mission. "Partake is committed to helping food insecure food allergy families have access to safe foods by partnering with organizations fighting to eradicate hunger," says founder and CEO, Denise Woodard. 
Affordability of allergy-friendly foods is exacerbated for low-income families, as WIC food packages and the emergency food system are not designed to address their needs. Food allergies affect one in 13 children across the country, leaving millions of in-need children unable to receive access to safe food. An estimated 10% to 15% of financially challenged children have one or more confirmed food allergies.*
Partake is passionate about getting safe food into the hands of food-insecure families, and we have been honored to partner with organizations such as Eat. Learn. Play., No Kid Hungry, Food Equality Initiative, and 75+ more who are diligently working to serve families in need throughout the U.S. 
 *Source Journal of Allergy and Clinical Immunology