Skip to content
10 Spooktacular Ways to Celebrate Halloween with Family and Friends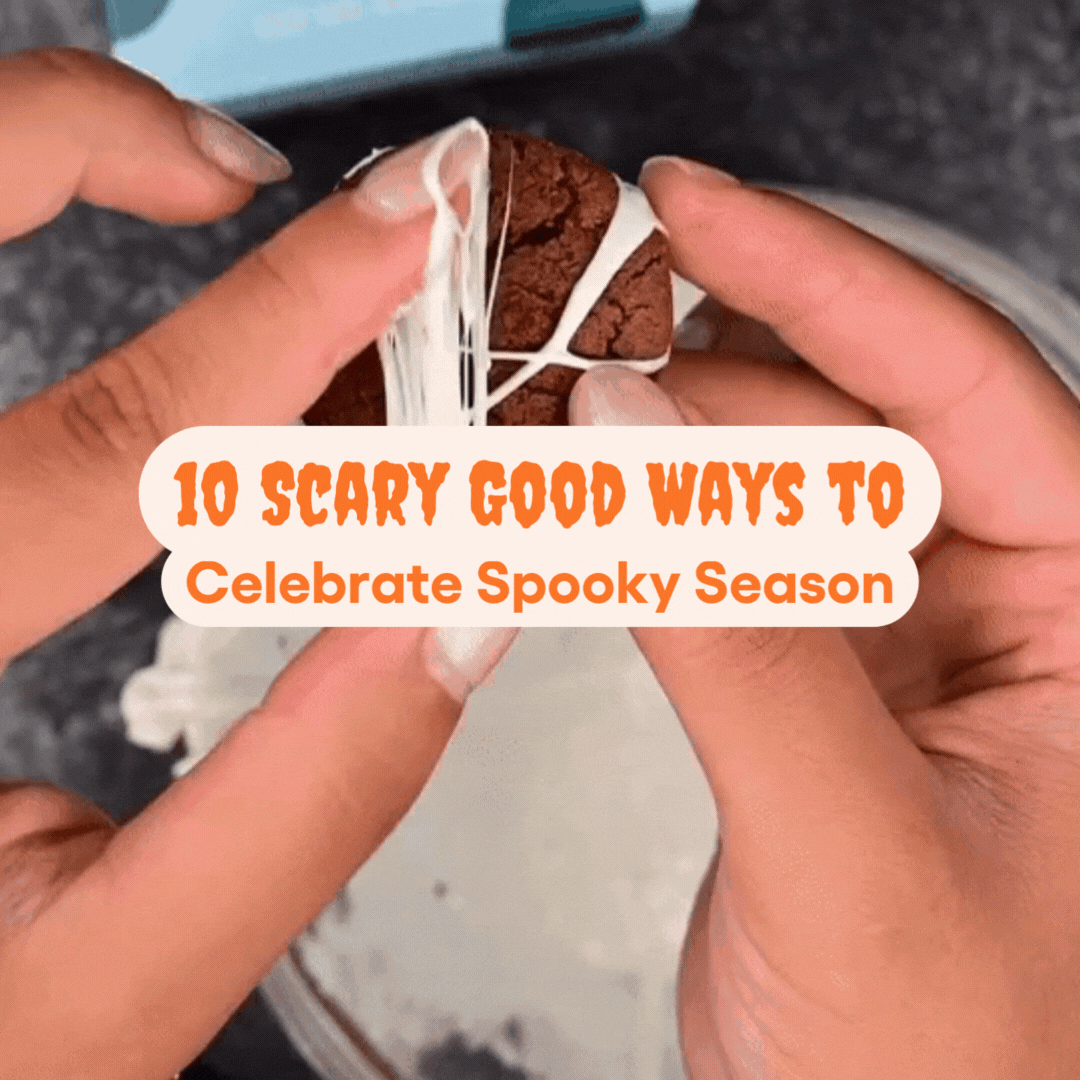 As the leaves change color and a chill fills the nighttime air, Halloween season beckons with its enchanting blend of spooktacular delights and family fun. It's the perfect time to indulge in fun tricks and delectable treats, get creative with decorations, and enjoy the company of loved ones. 
Here are 10 ideas to inspire your spooky season with family and friends:
Transform Your Home into a Haunted House
Turn your humble abode into a spine-tingling haunted house! Create cobwebs, hang fake spiders, and set up eerie lighting. Engage the whole family in designing spooky decorations and props. These don't have to be fancy! Sometimes, the best decorations are handmade. As the night falls, grab a flashlight, build a pillow fort and take turns scaring each other with age-appropriate ghost stories.
Host a Family Costume Fashion Show
Get your family's creativity flowing by organizing a costume fashion show. Each member can pick their favorite Halloween costume, whether it's a classic monster, a beloved cartoon character, or something entirely unique. Strut your stuff on the "catwalk" (in your living room) and vote for the spookiest, funniest, and most creative costumes. Winner gets first dibs on dessert! Speaking of dessert…
Decorate Spooktacular Treats
Indulge your sweet tooth by decorating spooktacular treats together. Create Halloween s'mores using Partake Classic Grahams, marshmallows, and chocolate. Or, decorate spider-shaped cookies with Partake Soft Baked Pumpkin Spice cookies as your canvas. Let your imagination run wild, and don't be afraid to get a little messy!
Coordinate a Family Scary Movie Night
Gather your family around for a bone-chilling movie night. Choose your favorite horror films or opt for family-friendly Halloween classics like "Hocus Pocus" or "The Nightmare Before Christmas." Don't forget to prepare a snack spread with everyone's favorite Partake Crunchy Chocolate Chip Mini Cookie snack packs in our limited edition Halloween pack to munch on in between scares.
Cookies and Cocktails Night with Friends
For a 21+ celebration, host a cookies and cocktails night with friends. Pair delicious Partake snacks with a variety of cocktails or mocktails for an inclusive and festive offering. Think spooky-themed drinks like "Witch's Brew" or "Vampire's Kiss." It's a fun and tasty way to toast to the season with your closest pals.
Explore Trunk-or-Treat Events
Many communities organize trunk-or-treat events where families decorate their car trunks and hand out candy or allergy-friendly non-food treats in a safe and controlled environment. Dress up, deck out your car, and join in the festive fun with your kids. It's a great way to spend time with your neighbors and enjoy some early Halloween treats.
Take a Haunted House Tour
If your family loves a real scare, consider taking a tour of a haunted house. Many cities offer tours of historic homes with legendary lore and ghostly tales. It's an opportunity to learn about local history while getting your adrenaline pumping.
Pumpkin Carving Extravaganza
No Halloween is complete without pumpkin carving! Grab some pumpkins, carve out your favorite spooky faces or intricate designs, and display them proudly on your doorstep. Don't forget to roast the pumpkin seeds for a tasty, nut-free snack while you work!
Explore Neighborhood Decorations
Take a leisurely stroll or drive around your neighborhood to admire the Halloween decorations. Some houses go all out with elaborate displays, and it's a fun way to soak in the spooky atmosphere. Create a scavenger hunt for your kids by looking for specific decorations like witches, ghosts, and skeletons.
Plan a Costume Parade and Contest
Organize a costume parade with friends and family in your backyard or a local park. Everyone can showcase their Halloween attire and give a brief description of their character. To get everyone in the spirit, host a costume contest with prizes for the most creative, scariest, and funniest costumes.
Halloween and the spooky season are all about making memories with your loved ones. Whether you choose to decorate your home, indulge in delicious treats, or explore your community's Halloween offerings, there are countless ways to celebrate together. So, grab your Partake snacks, put on your favorite costumes, and enjoy the magic of Halloween with family and friends!