Skip to content
100 Black Educators, Organizations, and Companies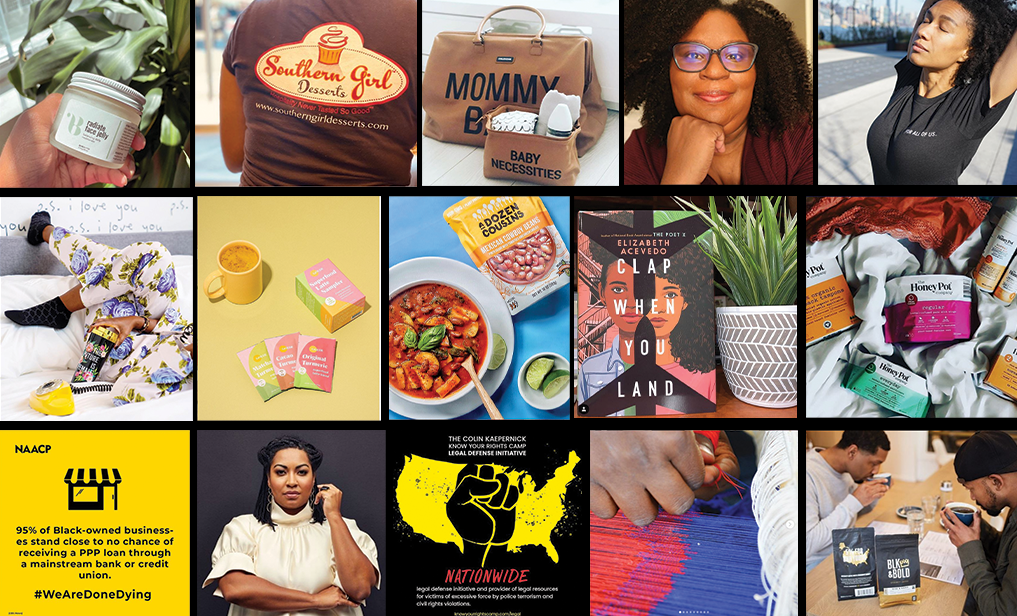 While protestors are marching nationwide for policy change, bringing awareness that Black lives matter, and mourning the deaths of George Floyd, Breonna Taylor, Ahmaud Arbery and countless others killed by police brutality, there are also ways to uplift the Black community by supporting them with your dollars.
Black educators, organizations and companies need our support now and everyday. By buying products, spreading the word to your friends and family, leaving reviews and making it a point to become a repeat customer or regular financial supporter, you help Black business owners provide for their families and create products and resources for everyone.
Donating to organizations that help Black people advance financially, professionally, and mentally, and staying informed of the social issues the Black community faces, helps break down the systemic racism Black people have faced for hundreds of years.
Here is a list of 100 Black-owned companies, organizations and educators to know and support now and in the future. Follow them, share their content, and learn from their voices and missions—keep up the momentum.
---
Organizations
Association for Black Economic Power
The Association for Black Economic Power started the Pimento Relief Fund to provide black business without insurance relief after white supremacists set them on fire during the protests.
Black Lives Matter
Black Lives Matter is a global organization in the US, UK, and Canada, whose mission is to eradicate white supremacy and build local power to intervene in violence inflicted on Black communities by the state and vigilantes.
Black Table Arts
Black Table Arts organizes black artists building community power, educates communities, and create spaces for leadership to thrive. 
Black Visions Collective
Since 2017, Black Visions Collective has been putting into practice the lessons learned from organizations before us in order to shape a political home for Black people across Minnesota.
Black Women's Blueprint
Black Women's Blueprint's purpose is to take action to secure social, political, and economic equality for Black women in American society now.
Campaign ZERO
Campaign ZERO is an organization developed with contributions from activists, protesters and researchers across the nation. This data-informed platform presents comprehensive solutions to end police violence in America. It integrates community demands and policy recommendations from research organizations and President Obama's Task Force on 21st Century Policing.
The Conscious Kid
The Conscious Kid is an education, research, and policy organization dedicated to reducing bias and promoting positive identity development in youth. We partner with organizations, children's museums, schools, and families across the country to promote access to children's books centering underrepresented and oppressed groups.
Fair Fight
Fair Fight is an organization founded by Stacey Abrams that aims to end voter suppression and equalize voting rights and access for fairer elections.
Food Equality Initiative
Food Equality Initiative, or FEI, aims to improve the health of those who are food insecure and diagnosed with food allergies and Celiac disease. Access and affordability issues are exacerbated for a low-income family with multiple food allergies. An estimated 10 to 15% of inner-city children have one or more confirmed food allergy. Current WIC food packages and the emergency food system are not designed to address their needs.
The Know Your Rights Camp
The Know Your Rights Camp is an organization founded by Colin Kaepernick that provides education and training in black and brown communities, set up a legal fund for Minneapolis protestors.
NAACP Legal Defense and Educational Fund
The NAACP Legal Defense and Educational Fund, Inc. is America's premier legal organization fighting for racial justice. Through litigation, advocacy, and public education, LDF seeks structural changes to expand democracy, eliminate disparities, and achieve racial justice in a society that fulfills the promise of equality for all Americans. 
National Black Women's Health Imperative
The mission of the National Black Women's Health Imperative is to lead the effort to solve the most pressing health issues that affect Black women and girls in the U.S. Through investments in evidence-based strategies, we deliver bold new programs and advocate health-promoting policies.
National Black Women's Justice Institute
The National Black Women's Justice Institute works to reduce racial and gender disparities across the justice continuum affecting Black women, girls, and their families, by conducting research, providing technical assistance, engaging in public education, promoting civic engagement, and advocating for informed and effective policies. 
The National Urban League
The National Urban League is a historic civil rights organization dedicated to economic empowerment, equality, and social justice. To help African-Americans and others in underserved communities achieve their highest true social parity, economic self- reliance, power, and civil rights. The League promotes economic empowerment through education and job training, housing and community development, workforce development, entrepreneurship, health, and quality of life.
No White Saviors
No White Saviors is an advocacy campaign led by majority female, African American team of professionals based in Uganda. Their collective experience in the development & aid sectors has led us to a deep commitment to seeing things change in a more equitable & anti-racist direction.
Ocean Collectiv
Ocean Collectiv creates and amplifies solutions for a healthy ocean. Their collaborative of experts supports clients in advancing ocean sustainability, grounded in social justice and provides fresh ideas on policy, science, and commerce. 
Reclamation Ventures
Reclamation Ventures is an impact investing fund investing in the development and growth of underestimated entrepreneurs in wellness. They believe that when we elevate the capacity of diverse wellness leaders to thrive, we can start to close the wellness gap and increase health equities in communities that need it most.
---
Activists & Educators
Catrice Jackson
Catrice is an educator, speaker, and author. She is the founder of Catriceology, an anti-racism education program through which anyone can take a course, donate to the #JusticeisLove fund, and provide support to other course takers.
DeRay Mckesson
DeRay Mckesson is a civil rights activist focused primarily on issues of innovation, equity, and justice. DeRay has advocated for issues related to children, youth, and families since he was a teen. As a leading voice in the Black Lives Matter Movement and a co-founder of Campaign Zero, DeRay has worked to connect individuals with knowledge and tools, and provide citizens and policymakers with commonsense policies that ensure equity. He has been praised by President Obama for his work as a community organizer, has advised officials at all levels of government and internationally, and continues to provide capacity to activists, organizers, and influencers to make an impact.
Here Wee Read
Here Wee Read founder Charnaie connects people with diverse and inclusive books, kid-friendly products, and family experiences they will love. 
Ibram X Kendi
Ibram is one of America's leading historians and antiracist voices, a best-selling author, professor, and director of The Antiracist Research & Policy Center at American University.
Layla F. Saad
Layla is an author, speaker & teacher on the topics of race, identity, leadership, personal transformation & social change.
Rachel Cargle 
Rachel is a public academic, activist, writer, and lecturer. Rachel's work is rooted in providing intellectual discourse, tools, and resources that explore the intersection of race and womanhood. On social media, Rachel guides conversations, encourages critical thinking, and nurtures meaningful engagement with people all over the world. 
Rachel Ricketts
Rachel is an international thought leader, speaker, and author through which her mission is to help heal by dismantling racism.
---
Beauty
BASE Butter
BASE Butter offers crowdsourced skincare products that are easy to use and yield results through simple formulas that safely improve the overall health of the skin for immediate protection and long-term results. Their mission is to help make skincare easy for oily and combo skin types. Their vision is a world in which women accept and love their skin so much they'll do anything to protect it.
Beauty Bakerie
Beauty Bakerie offers makeup catering to all skin tones with fun, eclectic long-lasting lipsticks, eye shadows, concealer, highlighters, and more. They help support as many children as possible by providing qualified orphanages with funds and supplies through their Sugar Homes organization. 
Black Girl Sunscreen
Black Girl Sunscreen is an evolutionary sunscreen for women of color made with natural ingredients. It helps fulfill the need for melanin women to have a sunscreen brand that caters exclusively to them. 

Briogeo
Briogeo is a hair care line focused on texture-specific products to offer something for everyone – from repair, to volume, to curl care. Briogeo takes it back to basics, offering a high-performance, hair care collection that is naturally based, yet performance-driven to provide visible results.
Camille Rose Naturals
At a time when the natural hair industry was just beginning to create an identity for itself, Janell formed Camille Rose Naturals in her kitchen brewing her popular concoctions with food-grade ingredients and gourmet blends. Janell created each handmade product under the mantra that whatever you put on your body should be good enough to put in it. 
Curlbox
Curlbox is an exclusive, affordable, and effortless way to experience products for curly hair. It provides accessibility to beauty products for women with textured, natural curly hair of all types delivered to their doorstep. 
Curls
Curls was founded due to the lack of natural hair products with quality ingredients for women with curls. The goal was to create a product that was of high quality and natural for an overlooked audience.
Lauren Napier Beauty
Lauren Napier Beauty offers cruelty-free, recyclable, and biodegradable makeup wipes for convenient use and without the harsh chemicals. The individually packaged cleansing wipes instantly remove stubborn makeup, environmental pollution, and impurities from the skin's surface.
The Lip Bar
The Lip Bar was founded to create health and inclusion in lipstick. With Melissa Butler's line, the vegan lipstick hopes to empower women everywhere of all ages, races, and body types.
Mented Cosmetics
Mented Cosmetics believes every woman should be able to find herself in the world of beauty, no matter her skin tone. Their assortment of products includes lipsticks, concealers, setting powders, and more. 
Mielle Organics
Mielle Organics is a hair care and beauty brand that believes healthier ingredients encourage healthier hair and skin. It was created by a registered nurse using elements in nature and science. 
Nyakio
Nyakio is a brand founded on a premise of ethically and sustainably sourced clean ingredients and clinically proven results, this whole line is worthy of serious consideration. Nyakio products are handmade small-batch beauty secrets using cold-pressed oils crafted with ethical, sustainable, and natural ingredients from around the world.
PATTERN
PATTERN haircare products focus on hair health and encourage each hair texture to take up as much space as it desires. PATTERN gives you access to the best curls using affordable and effective products and maintains hair health with safe ingredients. 
Pear Nova
Pear Nova nail polishes are designed in Chicago, made in the USA, cruelty-free, vegan friendly, and 5 free, which means no formaldehyde, formaldehyde resin, camphor, toluene, and dibutyl Phthalate DBP. Pear Nova looks to the runway's most innovative designers and wraps the texture of lux fabrics into subtle hues of lacquer. 
---
Clothing & Jewelry
BLK MKT Vintage
BLK MKT Vintage aims to offer a collection that mirrors multifarious black cultural expression and is rooted in their love for black people, black culture, and their own lived experiences. 
EDAS
EDAS was created from an innovative standpoint, initially focusing on sustainability while using unusual home-goods and refurbished elements. Through the maturity of the brand, EDAS now delivers feminine and staple accessories, accommodating the everyday, eclectic woman. We create each piece of jewelry by hand, and we take pride in seeing the hands of the craftsman within our pieces. Their signature is making each item one of a kind, and uniquely tailored to whoever chooses to wear it. 
Jade Swim
Jade Swim is a swimwear brand by fashion editor and stylist Brittany Kozerski that combines her minimalist aesthetic with innovative silhouettes and unique design details. The collection is carefully crafted from luxe fabric with shape retention technology to smooth and sculpt the body. 
Natural Swim
Natural Swim is a sister-run luxury and sustainable swimwear brand with "coverage options for all". After researching fabrics and the process of swim production, the sisters realized how harmful traditional swimwear production is on the environment. This inspired the idea of creating the Natural Swim as a fully sustainable swimwear line designed in the United States but made ethically in Bali, Indonesia.
Oma The Label
Oma The Label is a clothing brand slinging sexy statement staples. They offer unique bodysuits and jewelry that can easily become everyday staples.
T.A.
T.A. is a concept store by Telsha Anderson hat caters to the women-identifying community in New York City. Her focus for T.A. is to provide product that presents a renewed outlook towards luxury living. 
---
Health & Hygiene
BLK + GRN
BLK + GRN is a marketplace that connects Black people with natural lifestyles to high-quality, toxic-free brands that share in the mission of health, wellness and community cultivation.
Browndages
Browndages creates the perfect bandage for brown skin. Browndages was the idea of a husband and wife duo, who were simply trying to fill a void they saw within their own family. 
Femly
Many popular hygiene products contain loads of chemicals that could be harmful to your health. Femly manufactures products to be both healthier, and eco-friendly using ingredients you can actually pronounce.
GOLDE
Golde is an independent, Brooklyn-born beauty brand centered on making superfood-boosted essentials for health and beauty. Their products are always natural, easy, and (most importantly) fun.
The Ho

ney Pot

The Honey Pot is a plant-based feminine hygiene company with a giveback program that provides menstrual care for humans with vaginas who are homeless, low income, or living in poverty.
PROBLK Health
PROBLK Health was founded by a wife and husband duo to support and give back to the Black community through healthy vitamins. They decided to come up with products that not only literally support the health of the people that buy them, but also supports their community. They did some research and discovered that up to 92% of Black Americans have vitamin deficiencies.
---
Home
Alter Planning Co.
The foundation of Alter Planning Co.'s brand lies in the beauty and necessity of structure. Success is not a result of luck, but the product of focus and hard work. Their planners are designed to help you honor your gifts, motivation, and talents. They created planners that challenge you to think bigger, plan more, and hustle harder. 
Bolé Road Textiles
Brooklyn-based designer Hana Getachew started Bolé Road Textiles out of a desire to merge her love of Ethiopian handwoven fabrics with her career in interior design. During her eleven years at a major New York City architecture firm, Hana realized her affinity for vibrant colors and graphic patterns was a direct result of her upbringing in a home filled with amazing traditional Ethiopian textiles. Her designs for Bolé Road are an homage to that cultural inheritance and a reflection of her own personal global modern aesthetic. 
Clare
Clare is on a mission to make paint shopping easy and inspiring, so you can create a home you love. They reimagined a whole new paint shopping experience with designer-curated colors, technology to guide you, mess-free paint swatches, and the highest-quality paint and supplies, delivered. 
Expedition SubSahara
Expedition SubSahara was founded by a photographer and wanted to create a way to give back to the young girls in Senegal. They create handmade goods and profits help into education to build and maintain a girls' school in Senegal with a focus on Science, Technology, Engineering, the Arts and Mathematics (STEAM). Their products are authentically made by African artisans.
Grounded
Grounded was created to help you disconnect and decompress through the appreciation of plants in the spaces we occupy. Their selection of plants has a plethora of benefits designed to elicit a sense of tranquility and mindfulness. 
Home & Aura
Home & Aura is an online home décor boutique for the modern and mindful. They believe in finding sanctuary in your self and creating an oasis in your space. Home & Aura offers unique and beautiful home goods such as candles, bedding, planters, kitchenware, throws & pillows, office accessories, and more. 
Jungalow
Jungalow is a bohemian-modern home decor business inspiring consumers to tap into their own creativity, connect with nature at home, and help them to bring good vibes home. Each time something is purchased from Jungalow, at least two trees are planted with every single order. 
Marie Burgos Collection
Marie Burgos Collection offers design professionals and homeowners bold new contemporary lighting, furniture, and decorative accessories with a fresh perspective. Their pieces emphasize harmony, comfort, and abundant style and draw inspiration from both French design and her family's native home of Martinique. 
PUR Home
PUR Home is a natural, non-toxic, eco-friendly line of laundry detergent and household cleaners. PUR Home was started after Angela Richardson began her journey into eco-friendly living when she made her first-ever natural bar of soap. 
Southern Elegance
Southern Elegance is a candle company designed to foster a sense of community, southern hospitality, and the comfort of home. At Southern Elegance Candle Co., to be southern isn't solely about where you're from. It's about remembering a time when life was simpler and innocence was cherished. Every time you light one of their candles, they hope that as the aromas fill the air, you'll be quietly transported back to that time. 
---
Kids
Callaloo Kids
Callaloo Kids is a children's media brand that promotes cultural understanding and social awareness education for toddlers and children ages 3-7 through books, animation, live performance, digital content, games, and arts education tools. Callaloo's mission is to create, produce and distribute educational content that encourages literacy, cultural understanding, and social awareness for children. 
Darlyng & Co.
The mission of Darlyng & Co. is to give parents one less thing to worry about when it comes to caring for their baby. They always have parents in mind in the design process and are proud to present products that are functional, toxic-free, sourced from high-quality materials, and aesthetically pleasing.
Diaper Dawgs
Diaper Dawgs was founded in 2013 when the founders' wanted to make handling their first son's cloth diapers more sanitary with less hassle. They have invented the only cloth diaper sprayer shield duo that fits in the palm of your hands, needs no assembly, stretches gussets, wrings, and doesn't touch toilet water or cause the Aerosol Effect.
The Fresh Dolls
The Fresh Dolls is a unique line of baby dolls that represent and reflect the beautiful features found in young African-American girls. The dolls come in a variety of specific skin tones — including vanilla, caramel, pecan, and mocha. It became the mission of the founder to inspire African American girls, and all children for that matter, to see themselves for who they are – Beautiful.
Little Likes Kids
Little Likes Kids is a company offering puzzles, memory games, playing cards, and dining placemats for kids aged 6 and under.  
Soapsox
Soapsox is the new generation of washcloths for kids in order to make bathing easy and enjoyable for both kids and adults all while facilitating hygiene through play.
---
Parenthood
Llama Momma Company
Llama Momma Company offers stylish and functional Mommy Bags and Momma Hospital Kits to help first-time moms and all expecting moms. The founder was overwhelmed by the different hospital checklists and YouTube videos and didn't know what she really needed. Now, the Momma Kit is here to provide help and ease mom's worries about having everything for their child.
The Stork Bag
The Stork Bag is a company steeped in an appreciation of the miracle that is Motherhood. They offer products for expecting mothers like books, apparel, pregnancy announcement materials, and more. 
---
Food 
A Dozen Cousins
A Dozen Cousins creates soulfully seasoned beans to inspire families of all backgrounds to eat better food and live longer more vibrant lives with food made with origins from Black and Latino culture.
BE.

Macarons

BE. Macarons specialize in traditional French macarons but have a passion for all things sweet and quaint. All of their products are homemade and made-to-order using only premium ingredients. 
Blanket Pancakes & Syrup
Blanket Pancakes & Syrup strives to implement great tasting, real food that doesn't take long to make. Blanket is a pancake mix and syrup with no preservatives, no high fructose corn syrup, low sodium, and always all-natural. 
Callaloo Box
Callaloo Box is a Trinidad and Tobago and Caribbean subscription box service and online grocery delivering seasonings, condiments, spices, pepper sauces, drinks, snacks & more directly to your door. 
My Chocolate Secrets
My Chocolate Secrets is a gourmet chocolate and fine wine experience. There are seven countries represented in their kitchen and their combined culinary experience exceeds 100 years. With all this talent, it is not surprising that Chocolate Secrets hand makes over 52 flavors of bonbons and truffles, 25 flavors of macarons, 12 flavors of ice cream and sorbets, and over 15 different pastries.
Cocoa Belle Chocolates
Cocoa Belle Chocolates are crafted by Carmen, a chef who traveled to Paris, France, and caught the "chocolate fever!" She gathered techniques from world-renowned chefs and studied at the Notter School for Confectionary and Chocolate Arts in Orlando, Florida. She sells milk chocolate butter, dark chocolate butter, milk chocolate salted caramel sauce, and more.
D-Pro Protein Bars
D-Pro high protein bars are truly where protein meets delicious. They are healthy, whole-food-based bars that are full of organic plant-based ingredients and provide a delicious snack for a protein boost.
EssieSpice
EssieSpice was started by Essie, and her journey started in her mother's tiny kitchen in Ghana where her love affair with spice was ignited. Her flavorful journey continued all over the globe, spurred by her insatiable appetite for travel. She played with exotic palates; she tested cuisines, she concocted condiments. As her experiments with spices grew, so did the demand for her homemade sauces which all boiled down to what you now find in this jar: bottled up joy handed down through three generations to spice up your life.
Iya Foods
Iya Foods offers flour and baking mixes made of cassava, plantain, cauliflower, and more. They offer spices and seasonings familiar to the Black community and whole food powders that can be used to make juices or meals. Their goal is to foster stronger food connections between the United States and Africa for the future and provide nourishing product innovation using African inspired recipes.
Oh-Mazing Food
Oh-Mazing Food strives to inspire its customers to live a life with purpose, passion, and to follow your dreams. Their packs of healthy granola bring the adventure back to snacking.
Mo'Pweeze Bakery
Mo'Pweeze Bakery is a New Jersey bakery that produces products that are free of the top ten main allergens and animal products. 
Sanaía Applesauce
Sanaía applesauce is applesauce made for adults and kids. Available in flavors such as guava, lavender pear, blackberry, ginger, and tamarind, Sanaía applesauce is made with green apples versus red varieties and uses plant-based ingredients that are allergen-free. 
SoCu Kitchen
SoCu Kitchen brings to life Southern favorites like banana pudding pancake and waffle mix to garlic and herb stone-ground grits to fried chicken mix. 
Southern Girl Desserts
Southern Girl Desserts started when two women combined their family recipes to create a Southern cupcake and dessert store based in Los Angeles. They want to remind guests of all the great flavors found in the South. 
Sweet Dames Artisan Confection
Sweet Dames Artisan Confection offers wheat-free and dairy-free coconut macaroons in flavors like pineapple, salted caramel, and chocolate-dipped. 
Trade Street Jam Co.
Trade Street Jam Co. is a chef, woman and minority-owned and certified business that started in a tiny apartment in North Carolina on Trade Street. They strive to share their 10+ years of culinary knowledge in the form of a small batch jar that can be used in cocktails, salad dressings, BBQ sauces, marinades, pan sauces, and more. 
---
Beverages 
BLK & Bold
BLK & Bold was founded by Pernell and Rod to create an intersection between beverages and community impact. 
Brooklyn Tea 
Brooklyn Tea seeks to create an authentic and accessible escape for their customers through their love of tea. Brooklyn Teas is of the highest quality, organic, and fair-trade teas in the market and can be bought from their Brooklyn Tea shop or online. 
Ellis Island Tropical Tea
Ellis Island Tropical Tea is an all-natural, antioxidant-rich hibiscus tea. It is a smooth, flavorful Jamaican blend, steeped in family tradition, brewed and bottled in Detroit. 
Jin+Ja
Jin+Ja is a 100% all-natural elixir that uses only the freshest ingredients. Their drinks include the flavors and health benefits of fresh ginger, cayenne pepper, green tea, lemon and mint. 
McBride Sisters
McBride Sisters is the largest African-American-owned wine company in the United States with an intoxicating story of two sisters who lived continents apart, unaware of each other until 1999.
Me & The Bees Lemonade
Mikaila started Me & The Bees Lemonade after selling it at youth entrepreneurial events and at her lemonade stand out in front of her home, donating a percentage of the profits to local and international organizations fighting hard to save the honeybees. That is why she touts: "Buy a Bottle…Save a Bee." Now at age 15, her little idea from more than 10 years ago continues to grow and grow...by more than 500 percent since the company's humble Austin, Texas-based beginnings. Her idea for lemonade came about when she thought, what if she could make something that helps honeybees and uses her Great Granny Helen's lemonade recipe? She decided to give her beloved lemonade a new twist by adding honey from bees, instead of only sugar.
---
Gifts & Stationery 
By Ms James
By Ms James is a paper goods company that sells fun and creative greeting cards based on the real-life experiences and adventures of the owner. Her beliefs are her own but are shared with and by many. She's a bold, curious woman who is guided by her spirit and creativity. 
Effie's Paper Stationery&Whatnot 
Effie's Paper Stationery&Whatnot is a lifestyle brand setting the trend for the cool accessories to buy, how to travel in style, and how much coffee it's chic to drink on a daily basis.
Greentop Gifts
Greentop Gifts makes fun, gift wrapping made with diverse images for Black and brown families to enjoy during the holiday season.
Oda Creative
Oda Creative is a design company that helps your event stand out by offering luxury stationery. They also provide branding services for businesses and art for home decor. 
UNWRP
UNWRP is a gift wrapping solution to traditional & boring gift wrap. Offering sustainable gifting options that everyone will love. It's gift-giving with a personality that shows images of diverse women and colorful prints.  
---
Books 
MahoganyBooks
MahoganyBooks is an independent, local bookstore in Washington, DC dedicated to meeting the literary needs of readers in search of books written for, by, or about people of the African Diaspora. They ship nationwide.
Reparations Club
Reparations Club is a concept shop and creative space curated by Blackness & POC in Los Angeles, CA. They provide a curated assortment of books, apparel, and creative space focused on the Black and people of color experience. 
Sharee Miller
Sharee is an author and illustrator of four books and is currently working on her fifth. She uses watercolor, colored pencils, and pens to create her happy characters.
---
Pets
Enjoy-A-Bowl
Enjoy-A-Bowl was created by a veterinarian who has a passion for helping pets achieve optimum health. Their goal is to bridge the gap in veterinary medicine and over the counter solutions to the pet industry. Their mission is to listen to the needs and desires of veterinarians and pet owners around the world to produce only the best products and solutions for the longevity of furry companions.
Pet Plate
Pet Plate is a nutritionally balanced and highly palatable dog food company, created to nourish one's dog with the best food for the furry friend.