Skip to content
7 Products the Partake Staff Loves to Indulge in During Pumpkin Spice Season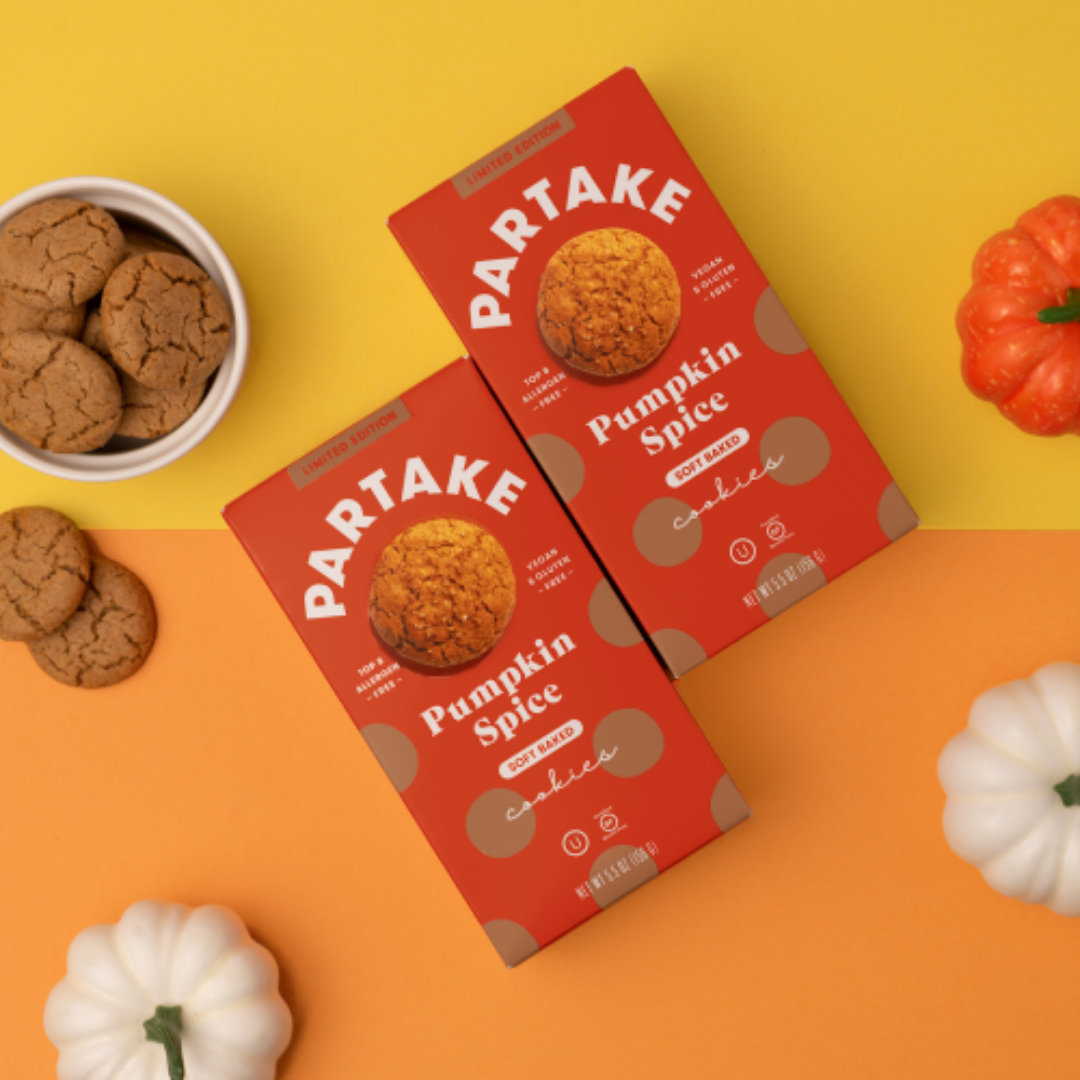 The time has arrived; it's pumpkin spice season. As you prep to see the leaves change colors and fall, pick out Halloween costumes, and even research new Thanksgiving recipes, this could be a bittersweet feeling—summer is over.  But hold on; the sweet aroma of pumpkin, cinnamon, nutmeg, and allspice automatically makes you think of the cozy Fall months to come. 
Now, while we know your favorite product this season is our infamous Soft Baked Pumpkin Spice cookie (which sold out last year!), our staff created a list of additional products they can't live without this Pumpkin Spice season to ensure your Fall feels fab and festive.


Califia Farms Better Half Coconut Cream & Almond Milk Dairy-Free Pumpkin Spice
 To get my pumpkin spice fix every morning, I indulge in Califia Farms' Pumpkin Spice coconut cream & almond milk half & half. Whether I am having an easy day and just need a homemade chai latte or a busy workday and need a double shot of espresso, this half & half comes in handy. The subtle taste of pumpkin fills the glass while remaining smooth and luxe due to the coconut cream combination. Did I mention our Soft Baked Pumpkin Spice cookies are a great addition as a mid-day snack? Pro tip: try dunking our Pumpkin Spice cookie into your drink of choice and enjoy! - Jade, Content Manager
La Colombe's Pumpkin Spice Draft Latte
What's better than coffee and cookies? And a double dose of pumpkin spice, while you're at it! This draft latte isn't too sweet and has some bitter notes, so it's really balanced and I can almost feel a cool fall breeze while I drink it. - Marlo, Vice President of Sales
Swiss Miss Pumpkin Spice Hot Chocolate
The pumpkin spice hot chocolate reminds me of our pumpkin spice cookie in liquid form—the taste, smell, and wholesomeness of the fall season. - Devon, Key Account Manager
Perfect Snacks Pumpkin Pie Bar
When fall rolls around, I always make sure to pick up some Pumpkin Pie bars from Perfect Snacks! They're great to have midday to satisfy a pumpkin spice craving, not to mention they will keep you full with 14g of protein. - Kaitlyn, Digital & Content Coordinator
Purely Elizabeth's Pumpkin Cinnamon Granola
Fall is by far my favorite season, and the perfect time to enjoy all things pumpkin flavored! One of my go-to breakfasts throughout the week is a creamy coconut yogurt bowl. The pumpkin cinnamon granola from Purely Elizabeth adds the perfect amount of crunch and spice to give my breakfast a delicious taste of fall. - Tanya, Brand Associate
Serenity Scent Co.'s Pumpkin Chai Candles
I discovered a Black-owned candle shop based in my hometown of South Florida called Serenity Scent, Co. I am obsessed with their Lavender and Sage candles for relaxation after a long day, but I was even more excited to add the Pumpkin Chai candle and its warm, cozy vibes to my home. I'm all about prioritizing self-care and taking a moment when I feel overwhelmed, so what better way to do that and indulge in the fall season? I'm hype. - Briea, Customer Service and Community Manager
Partake's Pumpkin Spice Cookies
Our limited edition Soft Baked Pumpkin Spice is a fam favorite! These spiced, soft-baked cookies will warm any fall day. Like all things Partake, these cookies are gluten-free, vegan, allergy-friendly, and non-GMO. - Partake HQ
As always, don't forget to follow us on social media @Partakefoods. We can't wait to see!