Skip to content
Allergy Safe Snacks for School (Perfect for Your Kid's Lunch)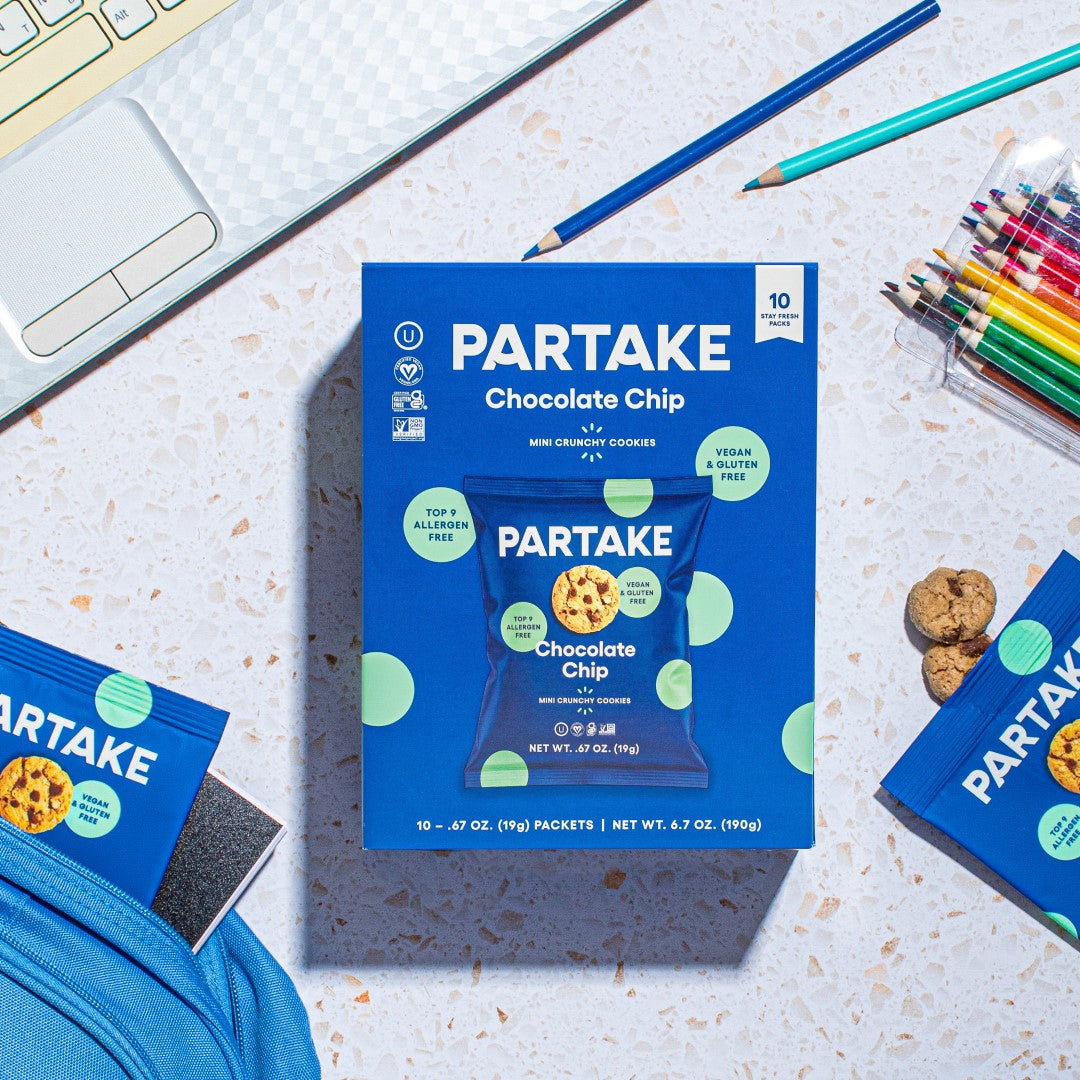 If you're a parent of a child with food allergies or dietary restrictions, the start of the school year might feel like something you're developing a serious game plan to take on.  The importance of school lunchroom and after-school safety, especially when sharing snacks between kids, is inevitable and can be unknowingly dangerous. 
Inspired by her daughter's food allergies, Denise Woodard, Founder and CEO of Partake, set out to make sure all Partake offerings are certified gluten-free, non-GMO, vegan, and free of the top 9 allergens (wheat, tree nuts, peanuts, milk, eggs, soy, fish, sesame, and shellfish). The products are made with better-for-you ingredients and offer a variety of flavors that those with and without dietary restrictions can enjoy.

As much as we'd like to, we can't fill lunch boxes with cookies alone, and with that, we set out to make a list of snack brands to add to your pantry for the ultimate addition to your kid's lunchbox that are not only safe for school but could also be safe to share, depending on the food allergies and restrictions you're navigating around.

P.S We know back-to-school shopping, especially finding products that can be safely shared,  can be a bit of a full-time job. That's why we compiled this list with snacks you can find at your local Target. We know firsthand that food allergies and dietary restrictions are personal and individual! Please read ingredient lists on packaging to ensure they're safe for your household before buying.
Partake's best-selling Crunchy Chocolate Chip cookies are now available in a new *mini* size packaged in lunchbox-sized snack packs—perfect for back-to-school! Each box of Crunchy Chocolate Chip Mini Cookie Snack Packs includes ten (10) individually-wrapped snack packs, ideal for grab-and-go,   making for the perfect afternoon snack. These vegan, allergy-friendly & non-GMO snack packs will go the distance to keep you satisfied. Like all Partake products, these Crunchy Chocolate Chip Mini Cookie Snack Packs are free of the top 9 allergens (peanuts, tree nuts, eggs, wheat, milk, soy, fish, shellfish, sesame), certified gluten-free, certified vegan, Non-GMO Project Verified, OU kosher and contain no artificial preservatives, gums, or emulsifiers. 
Heading to Target for your back-to-school needs? Perfect, pick up a case (or two) of Partake Crunchy Chocolate Chip Mini Cookie Snack Packs at a local Target near you. 
No snack is complete without a beverage you can count on. Honest Kids Organic Apple Juice notes their product is free of the top 8 major allergens, certified gluten-free, Non-GMO Project Verified, and contains no high fructose corn syrup. Using less than half the sugar of other popular kids' juice boxes while maintaining the apple juice taste we all know and love makes it a great addition to lunchboxes and pantries this school year. 
If you can keep a secret, so can we! Hippeas White Cheddar Organic Puffs say they are not only free from 8 of the major allergens, certified gluten-free, vegan, Non-GMO Project Verified, and organic, but they're also made from CHICKPEAS! Adding these white cheddar chickpea puffs to your school safe back-to-school shopping list gives you 4g of plant-based protein and 3 grams of fiber for each serving. 
Sometimes snack time strikes in the morning! Nature's Bakery Raspberry Fig Bar makes for the perfect breakfast on-the-go snack as your little ones head to school. This fig bar notes that all ingredients are Non-GMO Project Verified, certified kosher, and certified vegan.
Additionally, Nature's Bakery says these treats were manufactured in a nut-free facility, making them a great back-to-school option to consider for your child's routine.