Skip to content
Chocolate Chip Rocky Road Bars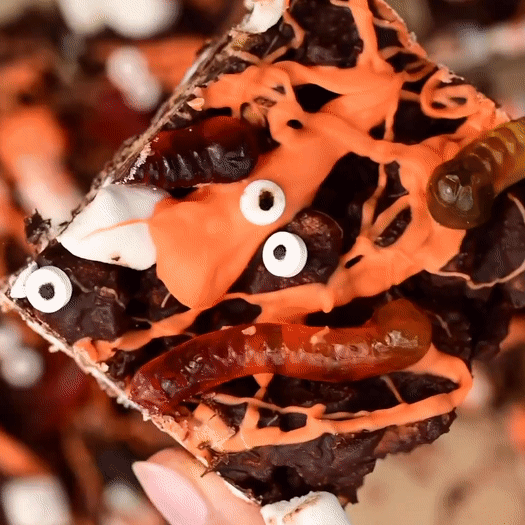 Halloween is just around the corner, and what better way to celebrate this spooky season than with a nostalgic treat that combines the goodness of chocolate chip cookies with the delightful sweetness of marshmallows and a pinch of salt? 
Introducing our Halloween-themed Rocky Road Bars, made with Partake Crunchy Chocolate Chip cookies and other allergy-friendly ingredients, ensuring that everyone can join in the Halloween fun without worries. These bars are not only delicious but also simple to make, making them perfect for spooky gatherings and sweet cravings.
These Chocolate Chip Cookies Rocky Road Bars are a delightful combination of textures and flavors that will bring back childhood memories and add a touch of Halloween magic to your celebrations. Made with gluten-free, vegan and allergy-friendly ingredients, these bars are sure to impress and keep folks coming back for more.

Chocolate Chip Rocky Road Bars
Ingredients
For the Chocolate Base:
12 oz semi-sweet vegan chocolate chips (such as Enjoy Life or Hu Kitchen)

3/4 cup of vegan butter

Pinch of salt
For the Mix-ins:
Partake Crunchy Chocolate Chip cookies, crumbled

Crushed pretzels (gluten-free, if preferred) 

1 ½ cups of vegan marshmallows (like Dandies)

1 cup colorful candy melts (such as Wilton's)
For Decorating:
Gummy worms and candies (like YumEarth)

Edible googly eyes  (such as Wilton's)
Instructions
Prepare the Base

: 

Line a square pan with parchment paper, ensuring it hangs over the edges for easy removal. 

In a large, microwave-safe bowl, melt the vegan butter, semi-sweet chocolate chips, and a pinch of salt together in the microwave. 

Heat the mixture in 30-second intervals, stirring in between until the chocolate is completely melted and the mixture is smooth.
Add the Mix-ins

: 

Stir in the crumbled Partake Crunchy Chocolate Chip cookies and crushed pretzels into the melted chocolate base. 

Mix until all ingredients are well combined. 

Add the vegan marshmallows and gently fold them in, ensuring they are evenly distributed throughout the mixture.
Prepare the Candy Melts:

In a separate bowl, melt the colorful candy melts in the microwave using 20-30 second intervals, stirring in between until smooth and creamy.
Assemble the Rocky Road Bars:

 

Pour the chocolate and mix-in mixture into the prepared pan, spreading it out evenly. 

Dollop the melted candy melts on top of the mixture. 

Use a spatula to swirl and distribute the candy melts throughout the rocky road base, creating a visually appealing pattern.
Get Creative with Decorations: 

While the chocolate mixture is still wet, have fun decorating your Rocky Road Bars with gummy worms, colorful candies, and edible googly eyes. 

Let your creativity run wild and create spooky, funny, or cute Halloween-themed designs on top of the bars.





Chill and Enjoy: 

Place the pan in the refrigerator and let the bars chill until the chocolate is completely set. This will take a couple of hours. 

Once set, use the parchment paper overhangs to lift the bars out of the pan.

Place them on a cutting board and slice into individual bars.
Treat the entire family and whip up these festive Halloween Chocolate Chip Rocky Road Bars in no-time when you grab our Crunchy Chocolate Chip cookies from your nearest retailer. Our
Store Locator
is the best way to find our classic flavor in the snack aisle. Happy spooky season!