Skip to content
Diversity & Inclusion Gift Guide for the Holidays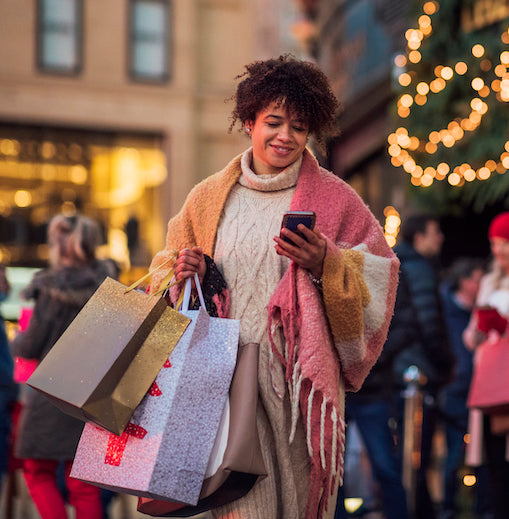 Still have holiday shopping to do? Looking for thoughtful gifts that you can feel good about giving – not just because your friends and family will love them, but because you're supporting diversity and inclusion with your hard-earned dollars? We've got you – keep reading!
Why Diversity and Inclusion are Important to Us
Founded by a Black and Asian American woman, Partake Foods champions food inclusivity and prioritizes supporting and creating opportunities for BIPOC and women-led ventures. Did you know? Partake's CEO Denise Woodard founded Black Futures in Food & Beverage, a fellowship program that mentors HBCU students and helps them secure internships and jobs at the program's end.
Partake Foods is about creating more seats at the table in more ways than one. Whether it is creating a safe space for food allergy families by providing delicious treats that children and adults can share confidently with their friends, or promoting diversity and inclusion through our everyday actions, Partake Foods is about lifting up those around us who may otherwise be held back. 
One way to support diversity and inclusion is supporting BIPOC, LGBTQ+ and women-owned businesses through intentional holiday shopping this year. There are numerous, fantastic brands being led by talented folks who are making names for themselves while giving back to their communities.
Explore our diversity and inclusion gift guide to find gifts for your loved ones this holiday season.
Food & Drink
Premium 18.21 Bitters
Know someone who appreciates a good libation? Shop the premium, small batch, handcrafted cocktail bitters, tinctures, shrubs, syrups and tonic, ginger beer and pre-mixed craft cocktails at 18.21 Bitters. Founded by a wife & wife team, this burgeoning LGBTQ-led business offers holiday gift sets with unique mixers that will pair particularly well with your giftee's favorite beverage. For every can of carbonated drinks sold, the company donates to a select few charities that rotate every year.
Fly By Jing
If you have a love for Asian food, chances are you've seen Fly By Jing somewhere on social media. But these sauces are not just for Asian food; they pair with just about anything, hence the name of this great gift bundle: The Good-On-Everything Trio. It's the best-selling trio of the Sichuan sauces – Sichuan Chili Crisp, Mala Spice Mix, and Zhong Sauce. It's not just to accompany your dumplings or stir-fried noodles, it's eaten on pizza, on salads, even ice cream! The company was inspired by the flavors of the founder's hometown of Chengdu in Sichuan province, China.
Clothing & Accessories
30FirstCo
Searching for the right threads to gift your loved ones this year while also supporting a Black-owned business? 30FirstCo has a selection of hoodies, hats, and tees inspired by California life. As a child, the founder and his single mother moved to California in order to escape the racism they experienced while living in the South, and it was in The Golden State that he found inspiration and the ability to dream. 30FirstCo was launched to pay homage to the thirty-first state's natural and cultural abundance, and feed the dreams of the next generation of urban youth. The company contributes 5% of Net Revenue to fight food insecurity among California's youth. 
Cuyana
If you're looking to give a more luxurious gift, you'll want to browse the minimalist, super-chic options at Cuyana. Their top gift recommendations include leather totes, travel cases, and luxuriously comfy clothes. The CEO of the company grew up in Ecuador and the company's name means "to love" in Quechua, in honor of the craftsman who made its first product. Her co-founder is Indian American, and the duo strives to make Cuyana a heritage-led company that champions the voices and skills of women in their products. 
Beauty
Axiology
For your beauty-loving friend who is also conscientious of the environment, the Balmie Sets at Axiology are a fantastic gift idea. These are 100% plastic free, vegan, multi-use crayons for the eyes, lips and cheeks. They are both cruelty-free and palm oil-free. It is a Latinx-led company with a mission of reducing the waste in our landfills and oceans, while remaining friendly to animals. All of the Lip-to-Lid Balmie boxes are made from island trash and are 100% recyclable. 
KimChi_Chic Beauty
For your most fabulous friends and family members, the palettes from KimChi_Chic beauty will make a super fun gift this holiday season. The "Snack For Two Palettes"collaboration between Miss Kimberly-Chi and Miss Plastique offers a combination of matte and shimmer shades to help create the perfect nude look. Of this set, Plastique said "I want to dedicate this collection to all my Asian youth out there, to remind them that you are beautiful, powerful and unstoppable. As first generation Asian immigrants, Kim and I found our love for makeup and drag to be the gateway to success and happiness." KimChi_Chic Beauty supports the Trevor Project by donating 2% of its sales to the cause of LGBTQ+ mental health and suicide prevention, a cause very near and dear to Kim Chi. 
Home Goods
The Sill
If you were thinking of gifting plants this year, The Sill is a wonderful resource with fantastic gift ideas. Shop plants for pet parents, beginners, floor plants and grow kits. The company was founded on a Filipino family's generational love of plants with this simple premise – plants make us happier, healthier humans. Shop orchids, anthuriums, ferns, philodendrons, snake plants and more. Easy care plants are marked for your friends who require a low maintenance option, and plant care information is available in abundance. With each plant, you can also choose a planter style and color. 
Indigo Arrows
For a beautiful and unique gift, you'll want to check out the handmade napkins and table runners at Indigeonous-led design studio, Indigo Arrows. The striking Bezhig Napkins come in four different colors and are made of 100% linen with black or white pattern. Based in Winnipeg, Manitoba, all of the handmade artisan goods showcase patterns from local Indigenous pottery and bone tools that date from 400 to over 3000 years ago. Shop the pieces on this site to find linens, quilts, blankets and pillows crafted to reflect local Manitoban Indigenous peoples and their history.
Kids 
Lily Frilly
What little munchkin doesn't love slime? Lily Frilly Cupcake Slime has a fluffy, buttery texture with surprise cupcake charms. There's also galaxy slime, and popsicles & sprinkles slime, if that's more your kid's thing. Lily Frilly is the daughter of beauty maven Courtney Adeleye, and the brand's goal is "to teach girls that they are beautiful young women who can do anything they put their minds to." You can also shop bows, clothing and more at this shop. If you are looking to support Black businesses and empower young girls, you know where to go!
Epic Everyday
Designed to celebrate mocha-hued boys and girls and empower underrepresented children to love their skin color, embrace their hair, and own their unique, inherent style, Epic Everyday has a variety of apparel and accessories to shop this holiday season. The Boys & Girls Hoodies are the perfect gift for your kid to sport at school this winter! There's also matching backpacks, lunch bags, and even a home collection for their bedrooms and bathrooms. 
It's Time to Start Shopping
Did you fill out your holiday shopping list with our Diversity & Inclusion Gift Guide? Along with all of these fabulous gifts, don't forget that you can throw in a box of cookies for a sweet treat in your loved ones' stockings! We hope this list helps you shop and support BIPOC, LGBTQ+ and women-led businesses this holiday season. Let us know where you'll be shopping this year on Instagram @partakefoods.