Skip to content
Holiday Gift Ideas from 13 Black-Owned Businesses (Holiday 2022)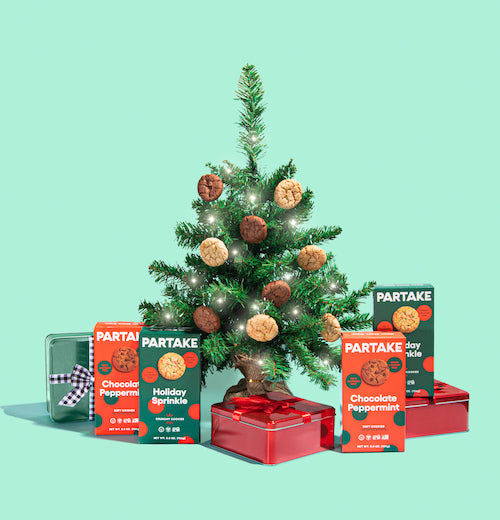 It's the most wonderful time of the year – with holiday parties, family gatherings, and yuletide celebrations galore. This means you've got some gift exchanges in your future, and you'll need gift ideas for family, friends, coworkers, and neighbors. Whether it's something small or something luxurious, something sweet or something fun, several Black-owned businesses are selling unique products that allow you to provide thoughtful gifts while shopping intentionally. 
While we couldn't fit every great gift idea onto this list, we've curated a list of gift ideas that fit different price ranges, tastes, and interests. Whether it's going under the tree or being handed out at the company party, we'll help you gift from Black-owned businesses this holiday season with ease.
Browse the list below and happy shopping!
Food & Drink
Chocolate Secrets Handcrafted Bonbons & Truffles
Made with organic, premium, and natural ingredients, each piece of these handcrafted treats is a harmony of chocolate, artistry, flavor, tradition, and innovation. Available in a variety of sizes, these make a wonderful stocking stuffer or holiday gift for close friends or colleagues. The bonbons are made with beautiful, colorful designs and unique flavors such as ancho chile, bananas foster, brandied cherry, coconut lime, earl grey tea, and butter caramel. The truffle collection features classic flavors such as amaretto, brownie truffle, butter toffee, coconut, dark mint, espresso bean, and hazelnut. 
BLK & Bold Coffee & Tea
Looking for gift ideas for the coffee lovers in your life? Browse the coffee and tea blends of Blk & Bold, a Black-owned business co-founded by lifetime friends. You can find light, medium and dark coffee blends, K-cups, cold brews, loose leaf herbal, black and green teas, and even special edition flavors in collaboration with Marvel Studios' Black Panther Wakanda Forever. 
Partake Foods Cookies
For a sweet stocking stuffer or treat for your co-workers, neighbors, and friends, our cookies are gifts that can be safely enjoyed by almost anyone. Free from the top 9 allergens (peanuts, tree nuts, eggs, wheat, milk, soy, fish, shellfish, and sesame), GMOs, artificial flavors, and preservatives, you can shop from our signature flavors OR gift our limited edition holiday flavors: Soft Baked Chocolate Peppermint and Crunchy Holiday Sprinkle. Partake's cookies are also 100% plant-based and certified vegan. Safe to share, delicious, and made with better-for-you ingredients, these cookies are the perfect snack gift.
Beauty
Curlbox Subscription
This gift idea will last your giftee the whole year! Curlbox provides women with textured hair an effortless way to explore hair care products that are delivered to their doorstep each month. Instead of wasting money on an expensive product that may not work for every woman, Curlbox gives women the opportunity to try several products for the price of one. Each box contains products, such as leave-in conditioner, silk therapy spray, overnight moisture therapy, hair serums, gel curl primer, headwraps, and brushes. Every month different products are featured, so if you have a ride or die curlfriend in your life, this subscription is perfect for them.
Juvia's Place Makeup Bundles & Sets
With prices ranging from $13 to $130, there is a bundle or set fit for any budget when you're looking for a unique beauty gift from a Black-owned business. Choose from eyeshadows and blush palettes, to concealer, lip gloss and liner, highlighters, and more. You can find a bundle or set in the hue that best suits your friend, family member, or whomever you are gracing with an awesome gift this holiday season. These products feature rich, vibrant, high-pigmented colors for bright, bold, and proud looks. Juvia's Place believes in inclusive beauty, with customers who are women, men, light-skinned, and dark-skinned. 
Nyakio Facial Oils Discovery Kit
You can find this gift idea at Target – Nyakio formulas proudly incorporate Fair Trade Shea Butter with carefully selected, globally sourced ingredients inspired by secrets passed through family traditions. The Facial Oils Discovery Kit features Marula & Neroli Brightening Oil, Manketti & Mafura Anti-Aging Oil, and Maracuja & Yangu Rescue Oil. Each bottle is formulated without sulfates, phthalates, parabens, mineral oil, petrolatum, or formaldehyde for a clean, efficacious formula. They are also cruelty-free and from a family-founded and operated company. 
Pear Nova: Layovers Collection
Gift one of these beautiful sets from Pear Nova's luxury faux nail collaboration with Marvel Studios' Black Panther: Wakanda Forever. Rituals + Royals features matte-finish nails with multi-colored brush strokes – inspired by Wakanda's all-female special forces, the Dora Milaje. Wakandan Tech 101 has a transparent nail base with a bold white streak and gray tip, which nods to Shuri's lab + Wakandan technology. Finally, Vibranium Claws features an iridescent green, gold, and blue art design on vibrant blue nails, symbolizing Wakanda's most precious metal: Vibranium. 
Unique Crowd Pleasers
Oma The Label Jewelry
The carefully curated jewelry collection at Oma The Label features gold-plated fashion jewelry designed with only high-quality metals. You'll find a beautiful gift in a wide selection of modern and eclectic styles that can effortlessly pair with countless ensembles. Necklaces, earrings, ear cuffs, and bracelets are designed with 18k gold-plated brass and white-gold plated options. You'll be shopping from a Black-owned (and woman-owned) brand that believes in transforming and reshaping current fashion trends.
Southern Elegance Fall & Holiday Candles
Candles are the fail-safe gift idea that just about anyone can enjoy. Although not the only available candle collection at Southern Elegance, the Fall & Holiday scents include Berry & Bright: Cranberry Chutney, Caramel Latte, Creme Brulee, Christmas Cabin, Fireside, Fresh Brewed Coffee, Orange Spice, Pumpkin Souffle, Sweet Potato & Brown Sugar, Vanilla Noel, and Winter Cranberry. Find Tumblers, mason jars, travel tins, and wax melts to gift this holiday season. This Black-owned business was created to elicit fond memories from the owners' pasts while growing up in the South. 
Expedition Subsahara Hand-Woven Goods
This gift idea is both unique and supports a noble cause. With many vibrant, hand-woven items to choose from, these goods are woven by women in Senegal and provide steady support for their families using their expert weaving skills. In Expedition Subsahara's shop, you can browse baskets (storage, wall, and wishing), vases, coasters, placemats, bowls, and more. These beautiful pieces can be used as decoration or put to everyday use. 
Upbounders Puzzles (for kids 6 & under)
Your little ones will love these jumbo puzzles that celebrate cultural and ethnic differences in a relatable, inspiring, and transformative way. From 24-piece to 100-piece sets, kids will love the colorful images of multicultural friends and families enjoying parties, riding carousels, at the barbershop, or playing sports. A great gift to give from Santa, grandma and grandpa, or mom and dad.
Stationery
Be Rooted Journal & Planner Sets
Featuring designs of Black women created by Black artists, Be Rooted's journals and planners weave culture into every design and message. Find bundles for journaling and intention setting, or planning and achieving with undated planners, journals, notebooks, and affirmation pens. These are beautiful gifts suitable for women of all ages. The products of Be Rooted inspire customers to explore their inner muse and celebrate self. This Black-owned business creates a space for women of color to see themselves in a place they haven't been before.
Black Paper Party Gift Wrap
When it comes to wrapping your gifts, you can also shop a Black-owned business at Black Paper Party. Browse their collection of holiday wrapping paper with nods to the African Diaspora for everyone to enjoy. From gnomies, kids, angels and Santa, to nutcrackers, jungle prints and metallic gold prints, these designs were intentionally curated for Black families to celebrate the holidays with fun and flair. While you're there, you can shop for ornaments, holiday cards, and gift bags as well. 
Start Shopping Black Owned Businesses
Hopefully our list of gift ideas from black-owned businesses gave you the fodder you needed to complete your holiday gift list. This is the season of giving, and while you strive to give quality, considerate gifts to others, you can also give back to the community by supporting Black-owned businesses. 
For more gift ideas from Black-owned businesses, view our list of 100 Black-Owned Businesses to Support. Do you know of other Black-owned businesses we should shop this holiday season? Share with us on Instagram.