Skip to content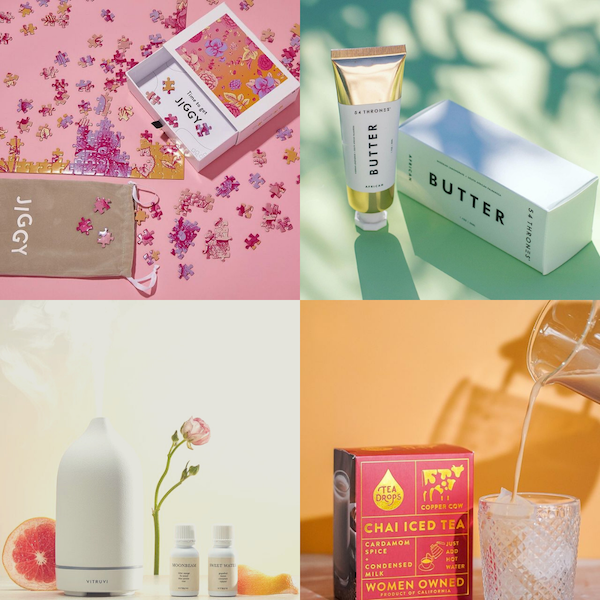 Mother's Day is coming, and we're excited to celebrate all the moms in our life with flowers, homemade cards, and brunch in bed. If the headlines are true (and trust us - they are), moms have struggled over the last year to manage the increased demands of home, school, work, and family. So this year, we're planning to give mom some extra love and attention to show her how much we appreciate her. 
We turned to Partake Founder and CEO, Denise Woodard, to ask what's on her Mother's Day list. As the mom behind the brand, Denise is always in the know on the greatest products, be it food, home goods, or relaxation.  
Read on for our favorite gifts for mom. 
Beauty
54 Thrones
54 Thrones sells botanical skincare that is made with ethical ingredients and sustainably sourced from cooperatives and artisans in Africa. 54 Thrones is dedicated to paying homage to the many African cultures, elegance and essence of the continent. 
Buttah
Buttah's vision is to give melanin rich skin the attention it deserves and truly love the skin you're in. The products help those with multicultural tones get glowing skin as smooth as butter. 
The skincare brand was created by Dorion Renaud, a former model, actor and recording artist who tirelessly searched for skincare products that address the particular needs of his skin often failed to deliver until he discovered raw, organic, natural Shea.
Grace Eleyae
Grace Eleyae makes modern hair protection that actually works. Their stylish silk and satin lined products help eradicate bed head, frizz, breakage and more. The satin protects while the stylish exterior allows you to protect your hair whenever you want.
Grace Eleyae was founded in 2014 after Grace took a trip to Kenya. During a bumpy 8-hour car ride, all the hair on the back of her head broke off - the result of her chemically straightened hair and constant friction against the headrest. Years and 1000+ 5 star reviews later, Grace Eleyae is a leader in the hair protection game.


Food
Brightland
Brightland sells clean olive oil and vinegars that are perfect for baking, cooking, drizzling, and bringing a golden state to any moment. The California-produced oil is consciously crafted, sustainably sourced, and has no fillers. Brightland's goal is to inspire simple, analog moments in the kitchen.
Tea Drops
Tea Drops
creates magical tea moments that connect you to what's important. Their products are organic whole leaf tea shaped into fun drops that melt into tea and range from matcha to boba tea and more.
With each product sold, Tea Drops donates to Thirst Project, a non-profit focused on youth education about the water crisis that helps build water wells and donates clean water to those in need.
Home & Lifestyle
Jiggy
Jiggy makes puzzles worth framing that feature emerging female artists. Each puzzle includes puzzle glue to create a keepsake. Jiggy believes that most things in life can be approached one piece at a time and that a little delayed gratification never hurt anyone.
Slip
Slip creates nighttime products made with Slipsilk™, which has been shown to reduce friction by 43%*, allowing skin to glide along the pillow. Slip makes everything from pillowcases to scrunchies to eye masks that are the perfect addition to your beauty routine.
Bloomscape
Bloomscape sells home ready plants that are delivered to your door. Bloomscape helps strengthen your relationship with plants by making buying plants easy. After plants arrive, Bloomscape will provide instructions, tips, and tricks to help your plants thrive. 
Pamela Card Jewelry
Pamela Card creates jewelry inspired by antiquity. Pamela Card, the creator, travels the world to collect inspiration for her evolving, namesake jewelry collection. Paris was where her love of ancient jewelry began; however, it was while living in Turkey and traveling throughout Rome and Portugal that her love of jewelry as an art form came to life. 
 Vitruvi
Vitruvi creates premium essential oils and diffuser products that look as beautiful as they smell. The products are made with sophisticated essential oil products that are based on the Vitruvi's knowledge of botanicals and traditional blending methods. They believe that diffusing essential oils in your space intentionally sets the stage for how you show up for your loved ones, your work, and yourself.