Skip to content
Partake's Black-Owned Gifting Guide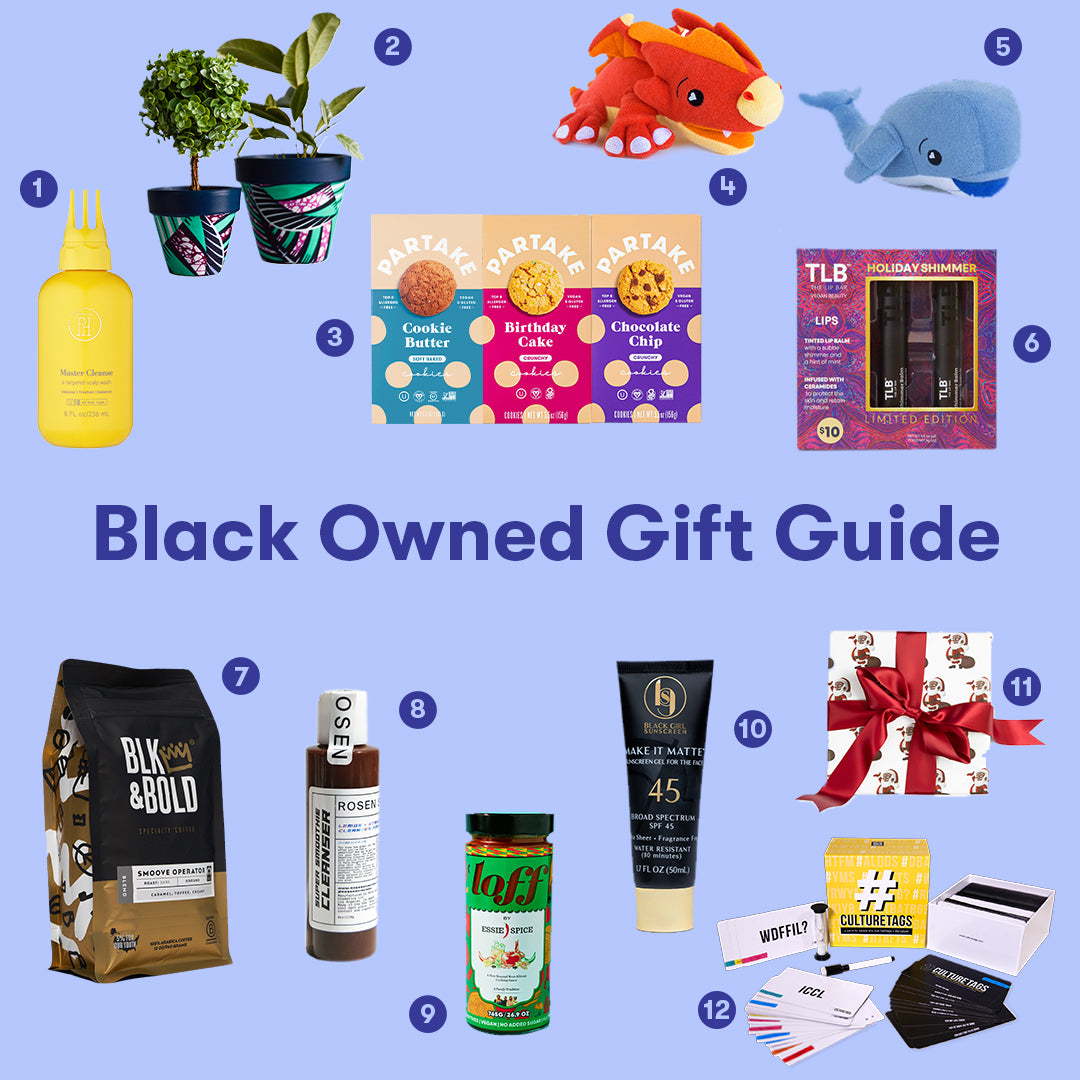 It's the season for gifting, and here at Partake we thought we'd make it a little easier for you to shop for Black-owned gifts that are sure to be a hit with all your loved ones! You can find exclusive savings just for the Partake Fam from some brands when you shop their websites. Keep reading for more info and special savings!
(Check out all our partner savings here. We don't make any commissions from these links, we just want to show some extra love to you and other small businesses this holiday season.)
1) TPH BY TARAJI:  Master Cleanse Scalp Cleansing Wash
Master Cleanse is a tingling, refreshing scalp wash that helps dissolve scalp build-up providing a clean, balanced environment for healthier hair. Their exclusive tri-touch applicator dives deep for a targeted application right where you need it most.
2) 86 & NORMAN: Navy Teal Terra Cotta Pot 
Want to dress up your plants? These beautiful pots feature a unique fabric, hand-painted rim and are coated to prevent damage from watering. These Terra Cotta pots are available in two sizes, 4.5 inches and 6 inches. Use discount code:
letspartake for 20% off any order from their website now until Dec 30, 2021. 
3) Partake Cookies: Soft Baked Cookie Butter, Crunchy Birthday Cake, Crunchy Chocolate Chip 
The trifecta! Our Target flavors are the perfect assortment of cookies to satisfy everyone's pallet. Whether you bring our cookies along to your next holiday party, game night, or even as a gift to a fellow foodie, you will make quite a tasty impression. Shop now.
4 & 5) SOAP SOX: Scorch the Dragon and Jackson the Whale
For the littles in your life, SoapSox® is the next generation of washcloths for kids. Simply "feed" your SoapSox some liquid soap, use the built-in finger pockets to work into lather and voila—clean, happy, kids. Use discount code: BATHFUN for 20% off exclusively on their website until Dec 15, 2021. 
6) The Lip Bar: Shimmer Balm Holiday Collection
Add a kissable shimmer to your holiday pout with The Lip Bar hydrating Tinted Shimmer Balm with a hint of mint. Infused with ceramides to protect the skin and retain moisture, each Shimmer Balm is formulated with nourishing oils to soften your lips and add the perfect wash of color. Available in four sheer shades: Clearly, Brownie Points, Rose Goals LE, and Red Velvet. Use discount code: PARTAKE10 for 10% of all products from now until Jan 1, 2022 on their website.
7) BLK & BOLD: Smoove Operator
Blk & Bold's Smoove Operator is a creamy, dark roast blend that is guaranteed to give you dessert vibes with its flavor notes of caramel and toffee. We couldn't think of a better gift for the coffee connoisseur in your life. Use discount Code: PartakeBoldly for 25% off your entire purchase on their site from now until Dec 31, 2021.  
8) ROSEN SKINCARE: Super Smoothie Cleanser
A gift that keeps on giving. This smoothie textured, slightly exfoliating cleanser comes with a subtle fruity scent. This cleanser is formulated with super-pure fruit powders that work as scientifically-tested antioxidants and antibacterials to help smooth out textured skin, balance sebum levels and brighten the complexion. Use discount code: PARTAKESSC for 20% off of SSC on their website until Dec 1, 2021. 
9) ESSIE SPICE : LOFF by Essie Spice
This slow-roasted simmer sauce is a perfect gift for the cook in your life. It takes all of the guesswork out of making the one, the only, JOLLOF rice: a burnt-orange rice dish made with lush tomato sauce infused with West African and Northern Ghanaian spices, peppers, garlic & magic. Think of a slow-roasted tomato base for all your home-cooked meals that will bring everyone around the table.
10) BLACK GIRL SUNSCREEN: Make it Matte 45
Say it with me, sunscreen is for all year round! Make it Matte is a broad-spectrum SPF 45 specifically crafted for women of color with a formula infused with natural ingredients such as aloe, squalene, and shea butter that help moisturize, soothe and heal your skin.
11) Green Top Gifts: Clarence Claus Gift Wrap
Clarence Claus™ wrapping paper is the perfect option to make your gifts truly pop under the tree. Use our discount code: PARTAKE2021 for 15% off all products on their website from now until Jan 15, 2022.
12) CULTURE TAGS:  CultureTags game
The number one rule of the holiday season, never show up empty-handed. CultureTags is a spirited game that will test just how well you know the culture. Grab a card, show your team the #CultureTag (acronym) and give hints to help them guess the phrase without saying what it is. IYKYK! Make sure to check out their expansion packs for an endless amount of fun! 
Now until Dec 8, 2021: Enter to win a prize inspired by this gift guide and valued at $896. All the prizes in our Holiday Gift Guide Giveaway can be found at Target. Enter our Holiday Gift Guide here.