Skip to content
Our Favorite Plant-Based Foods Giveaway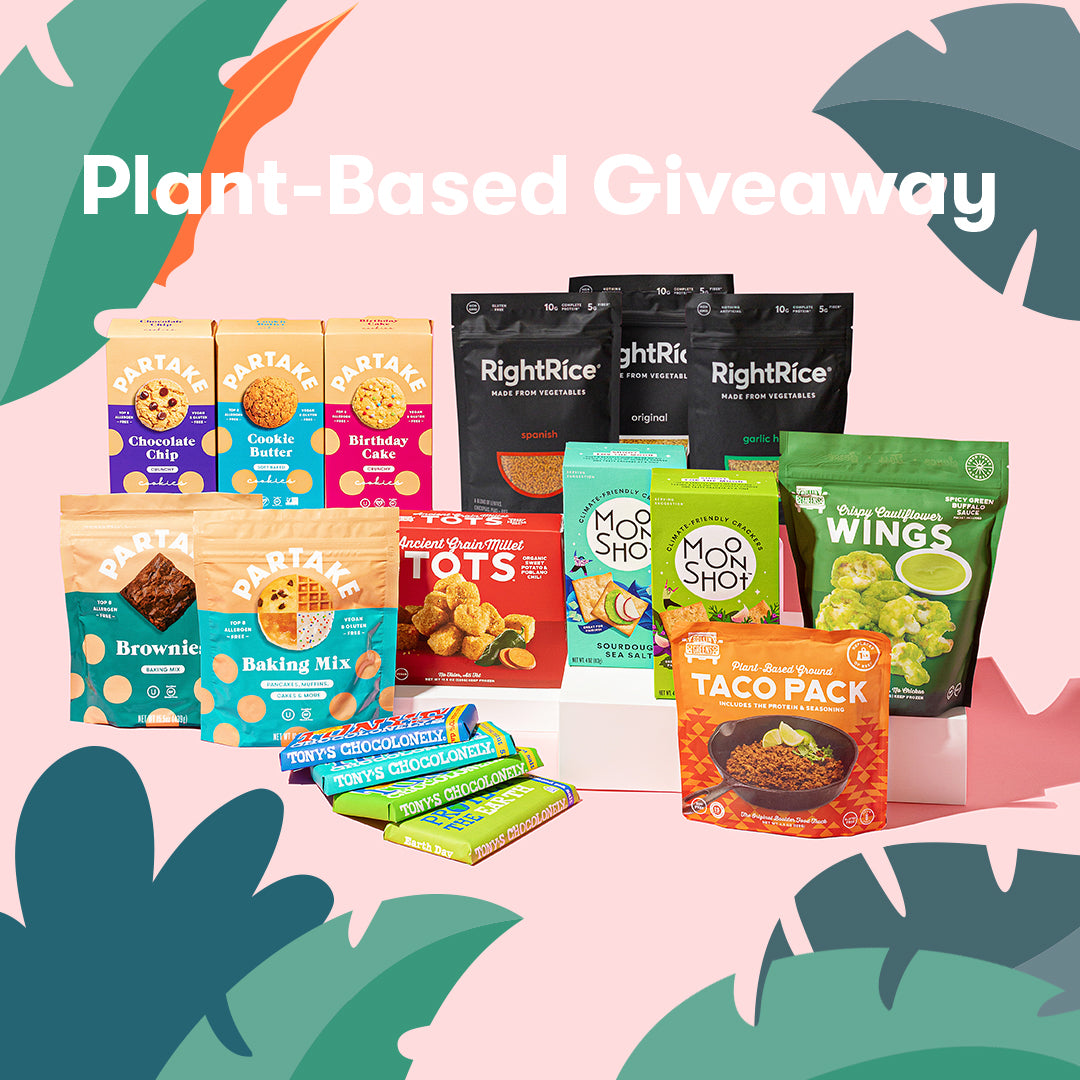 Earth Day is less than two weeks away and we want to celebrate! We partnered with a few of our favorite plant-based food brands to give away a $250 prize pack that will have you snacking for weeks! Each brand creates plant-based food that nourishes your body with good-for-you (and delicious!) ingredients.
There are a million different reasons to eat plant-based, whether it's for the environment, your health, or dietary restrictions. Whatever the reason, we're committed to finding and sharing brands that taste good, give back, and are making the world a better place. 
Here at Partake Foods, we're dedicated to lifting as we climb. As we continue to grow, we are using our momentum to help other brands grow with us. Continue reading to learn more about some of our favorite plant-based brands that celebrating an early Earth Day with us.  
Head to Partake's Instagram to enter to win! A winner will be chosen on Friday, April 16.
RollinGreens
RollinGreens creates great tasting, clean-label products, using whole, simple ingredients, inspiring generations to live with purpose by eating good food that provides great fuel to live your best life. They're known for their best-selling Cauliflower Wings, Millet Tots & NEW Taco Pack!
Ryan O Cunningham, founder of RollinGreens, is a pioneer from Boulder, Colorado. He worked as a personal chef, at one of L.A's top rated restaurants, and is nationally recognized for his unique, healthy and delicious offerings. 
RightRice
RightRice Medleys are a modern twist on a culinary classic, rice. RightRice blends veggie-packed RightRice with ancient grains and even more veggies to deliver plant-based protein and fiber in a variety of quick, simple, and flavorful meal solutions. It's the perfect boost for your burrito, paella, and a reimagined Risotto!
RightRice joined the 1% Pledge to support our partnership with No Kid Hungry and help fight childhood hunger.
Moonshot Snacks
Moonshot Snacks
makes crazy delicious snacks. The difference is, with each bite of our climate-friendly treats, you're taking part in a movement that's helping to tackle climate change. 
Moonshot is
 deeply committed to being climate-friendly at every level and are proud to be a carbon neutral company. They consider everything: the ingredients, the packaging, and even how their snacks are made. They're on a mission to prove that you can make a delicious snack while being a good steward of the planet.
Tony's Chocolonely 
Tony's Chocolonely is a Dutch confectionery company that makes 100% slave-free chocolate. Chocolate production starts farmers who produce cocoa and ends with consumers who enjoy chocolate. The in between is dominated by a handful of chocolate giants that profit from keeping the price of cocoa as low as possible. As a result, farmers are forced to live in poverty, which leads to child labor and slavery.
Tony's Chocolonely chooses to work in Ghana and the Ivory Coast where the worst child labor and slavery problems are so they can make a positive impact. Tony's goal is to make all chocolate 100% slave-free. In Ghana and the Ivory Coast, 1.56 million children are working in illegal circumstances and 30,000 people are victims of modern slavery.