Skip to content
Pumpkin Spice Szn: 6 Pumpkin Products in Our Pantries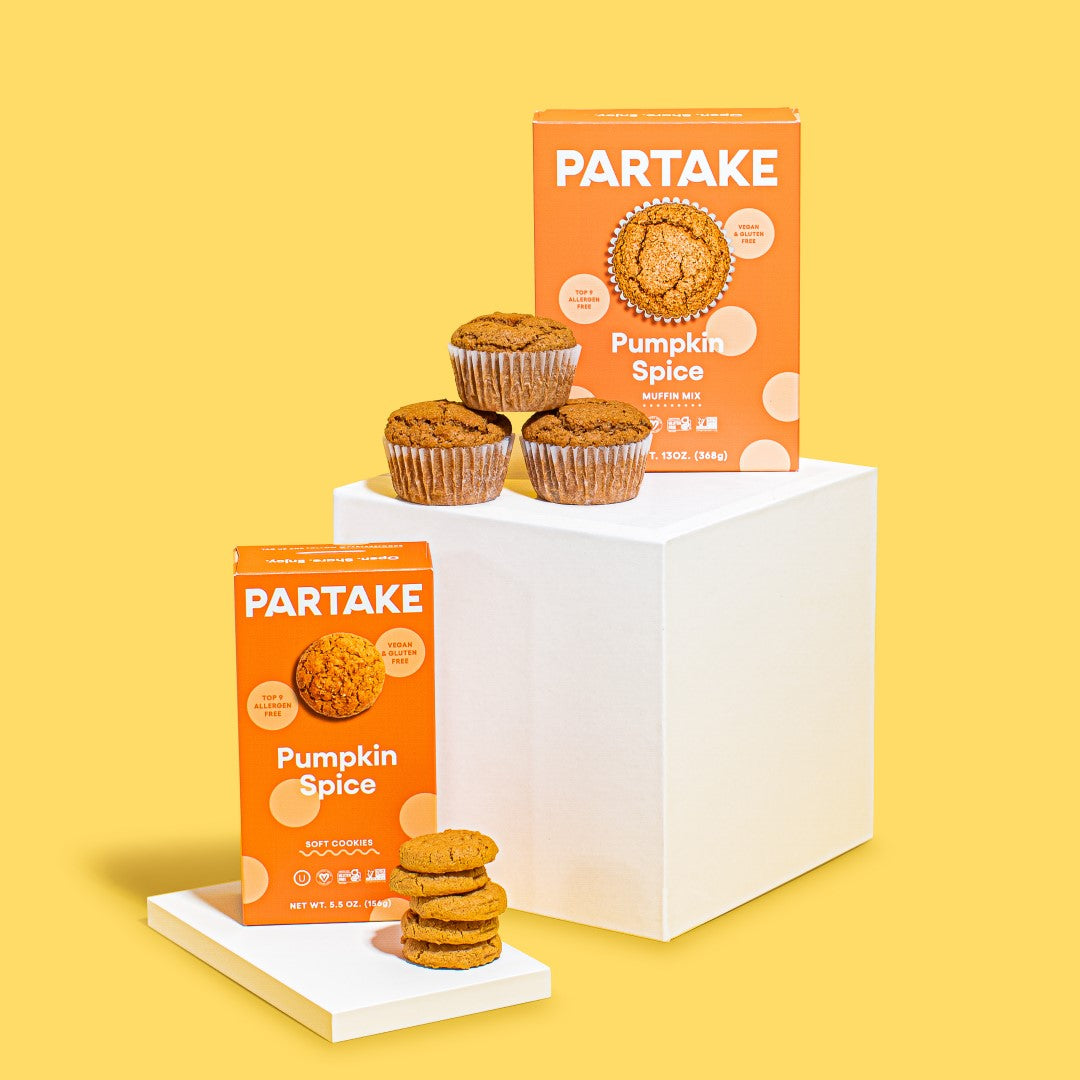 Is it just us, or is pumpkin spice season getting earlier and earlier every year?

Not that we mind, we're obsessed with all things pumpkin spice at Partake HQ. We've been waiting all year to bring back our best-selling, Limited Edition Soft Baked Pumpkin Spice cookies. Upping our game, we've also created a NEW Limited Edition Pumpkin Spice Muffin Baking Mix for you to enjoy this pumpkin spice season! We'll be munching on Pumpkin Spice muffins and cookies for as long as we can. Our Soft Baked Pumpkin Spice cookies sold out in 2020 and 2021, so be sure to stock up!
We always say we can't have too much pumpkin spice, that's why we compiled some of our favorite pumpkin-flavored products that pair great with our Soft Baked Pumpkin Spice cookies. Keep reading to get the scoop on all of our other favorite pumpkin-spiced products.
Our new Pumpkin Spice Muffin Baking Mix is sold at Lidl and partakefoods.com. You can shop our Soft Baked Pumpkin Spice cookies at partakefoods.com, Kroger, Sprouts, HEB and more. Head to our store locator to find our Pumpkin Spice cookies near you. 
Don't forget: our Pumpkin Spice cookies and muffin mix are only available for a limited time so stock up while you can!
Nutpods Pumpkin Spice Creamer & Califia Pumpkin Spice Latte Cold Brew 
Get your pumpkin spice latte on with our favorite Califia Farms Pumpkin Spice cold brew coffee and the best dairy-free Pumpkin Spice Creamer from Nutpods. What pairs better with our Pumpkin Spice cookie than a pumpkin spice latte? You can shop both of these products and pick up other flavors of our cookies at your local Target.
Pumpkin Shortbread Candle
Can you have pumpkin spice szn without a pumpkin-scented candle? We don't think so. Pick up this sweetly scented candle at Target and burn it while you're whipping up some of our Pumpkin Spice Muffin Mix to fill your house with an irresistible, fall aroma.
Pumpkin Spice Dark Chocolate Hu Kitchen
If you're in a chocolate mood, head to Whole Foods to pick up this holiday edition Pumpkin Spice dark chocolate from Hu Kitchen. Push a square of the chocolate into one of our freshly baked pumpkin spice muffins and enjoy once the chocolate has melted into the center of the muffin.
Pumpkin Rolls from Trader Joe's
Another crowd favorite is Trader Joe's Pumpkin Rolls. A fall take on the classic cinnamon roll, these sweet rolls come ready-to-bake. These Pumpkin Rolls are a worthy addition to your pumpkin spice spread.
Pumpkin Butter at Trader Joe's
Pumpkin butter is another Trader Joe's favorite that pairs especially well with our pumpkin spice muffins. Cut a warm muffin in half and spread the pumpkin butter in a generous layer. You can thank us later, Partake fam. ;)