Skip to content
Small Businesses to Support in 2022 Across the US on Small Business Saturday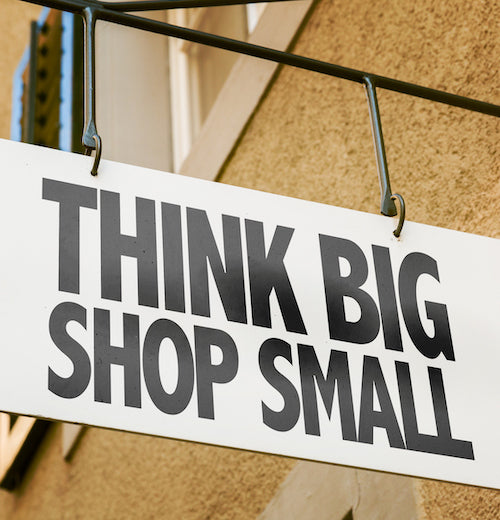 Small Business Saturday recognizes and celebrates the importance of supporting small businesses nationwide. As a small brand, we understand firsthand how much of a positive impact small businesses can have. What started as a simple snack solution for families with food allergies has blossomed into a small business now in the position to use our platform to shine a light on other emerging start-ups.

According to American Express, the backers of the Shop Small® Movement, for every dollar you spend when you Shop Small, approximately $.67 stays in the local community.* That's something we can all get behind. 

Because we know just how important every in-store purchase, online order, and word-of-mouth referral is to a small business with a limited budget, it is our mission to lift as we climb, amplify small businesses, and help them connect with their communities. 

If you want to join us in being more intentional about your spending, this list of small businesses to support in 2022 is a great place to get started, with products ranging from food to fashion and beauty. Follow the social channels of the small businesses we've included and leave a comment below to show love to the ones you're supporting throughout the holiday season. 
Atlanta
With ideal book options for kids and young adults alike, the Brave + Kind Bookshop is a small business that curates a collection of texts with stories for the people we want to raise and be in the world. Featuring diverse and inclusive characters that any book lover will see themselves in, this shop has a variety of product bundles, including vivid picture books, beautiful non-fiction tales, and much more.
Visit their website to get some holiday gift ideas or keep up with them on Instagram at @braveandkindbooks.  
Created by tea lovers, for tea lovers, Just Add Honey Tea Company is sure to put an extra pep in your step with their assortment of fresh, flavorful, thoughtfully blended teas with natural, pure, and easily recognizable ingredients. The founders, Brandi & Jermail Shelton, take pride in crafting unique products that can fit effortlessly into your morning routine, like their rich Black Coconut Tea and fruity Georgia Peaches Tea. 
Help them pour into their communiTEA by checking out their website and following them on Instagram at @justaddhoney.
​Founded in 2011 by Sarah O'Brien, Little Tart Bakeshop serves delicious, thoughtfully-produced pastries, pies, coffee, and other treats. As a small, Atlanta-based business, all ingredients are sourced locally from local farmers, beekeepers, and butchers. Plus, each purchase directly supports their employees, with 10% of their year-end profits going to their staff. Shop a bevy of daily goodies, like their buttered croissants, or opt for something a bit more festive for the season, like their fruit and lemon cookies. They offer same-day pick-up or pre-orders for holiday gifting here. 
Follow them on Instagram at @littletartbakeshop.
Los Angeles
Folia Collective
The Los-Angeles based Folia Collective was born out of the wonder and joy of summer days spent outside. With various plant options like beginner-friendly and pet safe, you will find the perfect greenery for everyone on your holiday gift list. Plus, this small business has plant-focused interior design services to help you or a loved one transform your home or office space. Develop your green thumb with tools, hardware, and accessories from their website or head to their Instagram at @foliacollective to find out more. 

Vinovore
Vinovore is a woman-owned small business based in the Eagle Rock neighborhood of Los Angeles offering woman-made wine + more. The gifting possibilities are endless with their assortment of red + white wine, charcuterie boards, flowers, greeting cards, and other thoughtfully sourced products. According to their website, "Natural wine isn't just a buzzword; it's becoming a movement!" So learn more about their natural spirits and bevy of gifting options, and give them a follow on Instagram at @vinovorela.
Houston
Genara is a small business named after the founder Alicia's grandmother. The name represents creativity and the ability to change any room into a magical space, just like her grandmother did. And that's what the brand's intentional home + self-care products help shoppers do. With a range of items from journals and pencils to candles and table lamps, just to name a few, each piece adds a calming feel to any humble abode. 
Shop and support on their website and browse their feed of intentional products on Instagram at @shopgenera. 
Love & Make Candle Co. gives the opportunity to step outside the box and make smell-good products that are unique and memorable with your family and friends! In addition to giving the experience of in-person or virtual candle and soap-making workshops, you can shop their handcrafted, premium soy candles directly on their website, including the woodsy limited-edition scent Winter Light, plus trimmers and snuffers to make the aroma last even longer. Shop and take a glimpse at photos from the latest workshop on Instagram at @love_and_make.
Washington, D.C. 
Launched in 2015 by founder Torrance Hart, Teak & Twine is a full-service gifting company where you can send anywhere from 1 - 25,000+ gifts. It offers curated gift boxes for everyone—from a friend to a corporate colleague—and the products are design-forward, high-quality, and sourced from many BIPOC, woman-owned small businesses. You'll have so much fun shopping for every occasion, including milestone birthdays, holiday celebrations, or as a simple 'thank you.' 
Learn more about their custom gifting options and follow them on Instagram at @teakandtwine and LinkedIn. 
Based in Washington, DC, Rock Paper Plant specializes in botanically-inspired DIY kits and classes. This woman-owned small business helps its community members become one with nature, fuel their creativity, and liven up their living spaces. You'll find plenty of gift sets, mounted plants, and DIY kits to give to anyone on your list, but especially those with a penchant for crafts. And you can register for public or private workshops to make your own! 
Shop online and follow them on Instagram at @rockpaperplant.
After being inspired by a conversation with her childhood friend about skincare and how exfoliation could help to rejuvenate skin and aid in fading dark spots, founder Rebeca sought to craft a body care line with natural ingredients you can easily pronounce. With a wide array of relaxing exfoliants, moisturizers, and beauty bars, your loved ones won't be able to get enough of the refreshing mint and lemon burst scents, plus many other cozy fragrances. 
Head to the website to shop and share with others and follow her on Instagram @body_scrubs_by_rebeca. 
Exclusively Online
Born out of a desire to do good with the gifts we give, Packed with Purpose is a woman-owned small business with gifts that help transform lives, enrich communities, and preserve the environment. Whether you're looking for a gift for a work BFF, your sibling, your neighbor, or other close relative, they have curated gift collections for everyone from chocolate lovers, those needing to relax and unwind, or those looking for positive vibes only. Partake is proud to be included in their Gluten & Nut-Free Vegan Treats, Black-Owned Spotlight, Nut Free & Vegan Delicious Delights, and Something for Everyone holiday boxes.
Shop their website and follow them on Instagram @packedwpurpose. 
Basquet
Founded by Ivanhova Kaufman & Ana Isabel Diaz, Basquet is a new female-founded online grocery store that brings together the very best of allergen-friendly foods. Offering a carefully curated assortment of established and unique brands, Basquet strives to simplify the lives of those with food allergies, dietary needs, or lifestyle preferences. 
Shopping is made quick, easy, and stress-free with the help of an ultra-user-friendly filtering system. With Basquet, you'll spend less time reading labels and more time fueling your culinary spark. Plus, you can find Partake's cookies, including our limited-edition seasonal flavors, and baking mixes. 
Ready to get cooking? Visit shopbasquet.com and follow them on Instagram @shopbasquet and TikTok at @shopbasquet.
This Small Business Saturday, join us in being intentional and vocal with your spending, and make a plan to diversify your dollars by finding small businesses like these to support.
------
*The statistic cited is an estimate based on calculations using data on small businesses with under 100 employees from the U.S. Small Business Administration, as reported in the 2018 Small Business Economic Impact Study conducted by Econsult Solutions, Inc. (ESI) on behalf of American Express.