Skip to content
Spot Us at Target: Junea Rocha of Brazi Bites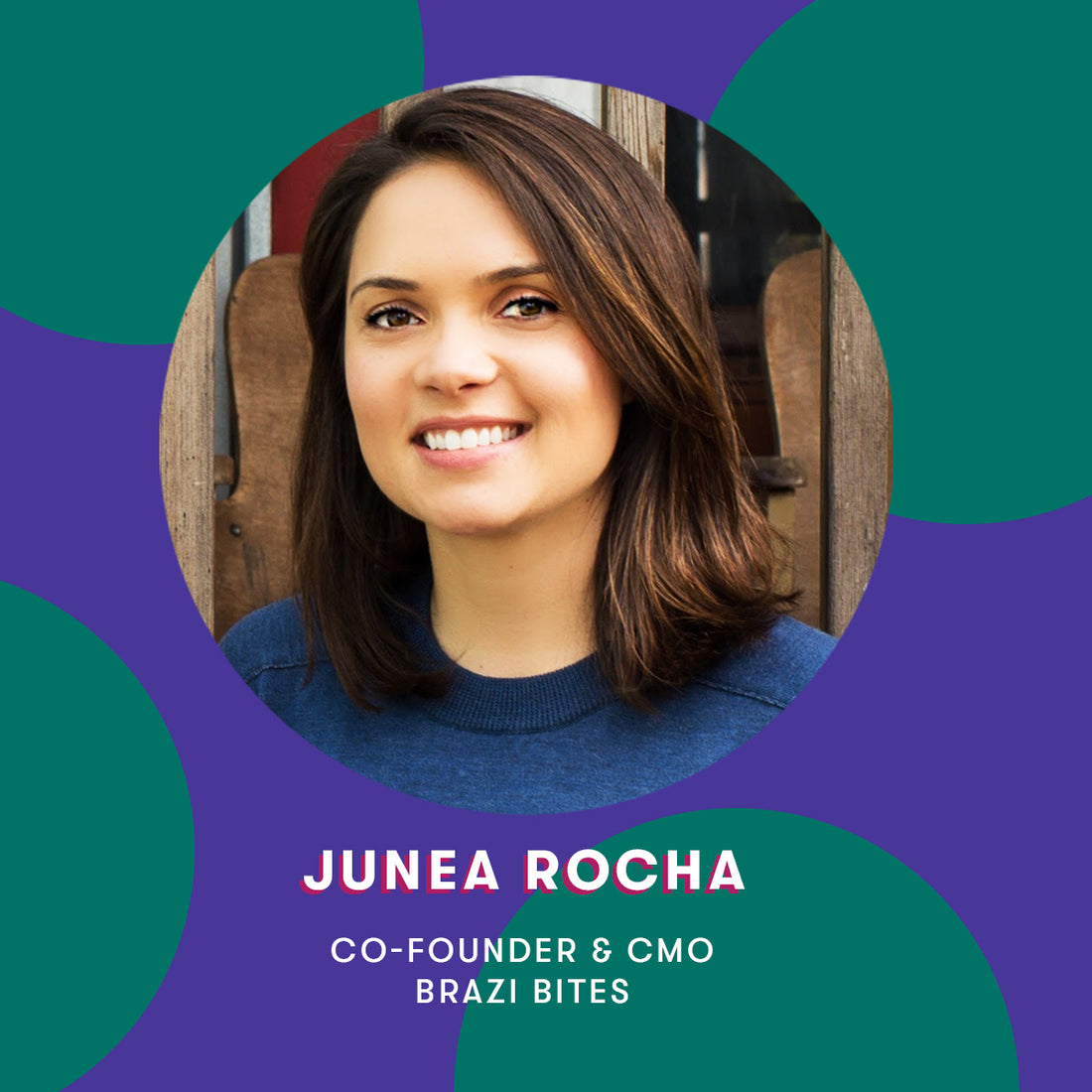 To celebrate Partake cookies launching at Target stores nationwide and on Target.com, we're excited to launch Spot Us at Target. Over the next few weeks, we'll be showcasing some of our go-to Target brands and interviewing their founders to hear their inspirational stories of taking their product from idea to Target shelves.
And the best part? Now through June 15, you can enter to win a prize pack that includes products from some of our favorite brands at Target and a $500 gift card. Learn more and enter HERE.
Today, we'll hear the story of Junea Rocha, founder of Brazi Bites. Originally from Brazil, Junea grew up with the time-honored traditions of the spontaneous gathering of family and friends. These occasions are always marked by lively conversation and great food. Enter Pão de Queijo, a scrumptious little bun-like Cheese Bread made from simple ingredients and enjoyed by all ages. Every freezer in Brazil is stocked with it in anticipation of the next impromptu get together.
When Junea moved to the United States, she desperately missed her family's light, fluffy Cheese Bread. She called her mother in Brazil and asked for the family recipe. After making her own tweaks to the recipe, Junea and her husband decided to sample it at a food show and sold out. Brazi Bites was born. 
A Q&A with Junea Rocha 
Q
How and why did you begin Brazi Bites? What inspired this venture?
A
I founded Brazi Bites to bring the beloved Brazilian food, Pão de Queijo (Cheese Bread), to Americans. I grew up in Brazil where it's a staple and a wonderful part of life and culture. My family's recipe has been treasured for generations and uses only the finest naturally gluten-free ingredients. I thought Americans were missing out and would love it as much as I did.
Q
In the beginning, what were the biggest challenges and how did you overcome them? 
A
I didn't have any background in the food industry, so I had to learn everything from the ground up. The industry is complex and there are a lot of moving parts to navigate around manufacturing, distribution, branding, and what it takes to meet consumer needs and ultimately succeed. There is no playbook so we had to figure it out, keep doing it, and fight through the challenges. 
Q
What are some of your greatest successes in business and how do you believe you achieved them? 
A
Our greatest achievement is that we were able to introduce a delicious new product to consumers. And we're now able to bring joy to millions of people every day.
Q
For anyone who has an idea but doesn't know what steps to take or can't find the courage to make it a reality, what would you tell them?
A
Get out there and try it. It's okay to start small and test. Your idea doesn't need to be fully baked and perfect to start. Remember "perfect is the enemy of good" so just get out there and do it.
Once you learn how consumers are responding to your offering, stay laser-focused on what is working and drop everything that is not.
Q
What is something exciting on the horizon for you and your company?
A
Brazi Bites is constantly innovating and I'm very excited to bring another delicious, Latin-inspired, naturally gluten-free product line to market later this year. We currently offer four varieties of Brazilian Cheese Bread and four varieties of Empanadas. We are pushing boundaries with this new product line and will be launching in a new section of the freezer aisle.  
Q
What are other brands and founders that you admire? Why?
A
Other founders have always been my greatest source of learning, strength, and inspiration in the journey of building Brazi Bites.  We have a great founder community in the natural foods industry supporting one another to bring clean-label, delicious products to market. We are open, real, and honest with each other. It's incredible how much trust is involved.
I admire founders that put everything on the line for what they believe and keep grinding. It's an epic challenge to start a business and there is no overnight success. There are too many examples to list but I love the stories of Larabar, Wild Friends Foods, Siete Foods, and Siggi's.
To learn more about Junea and Brazi Bites, visit brazibites.com. Follow them on Instagram, Facebook, Pinterest, and Twitter.