Skip to content
Spot Us at Target: Pernell Cezar of BLK & Bold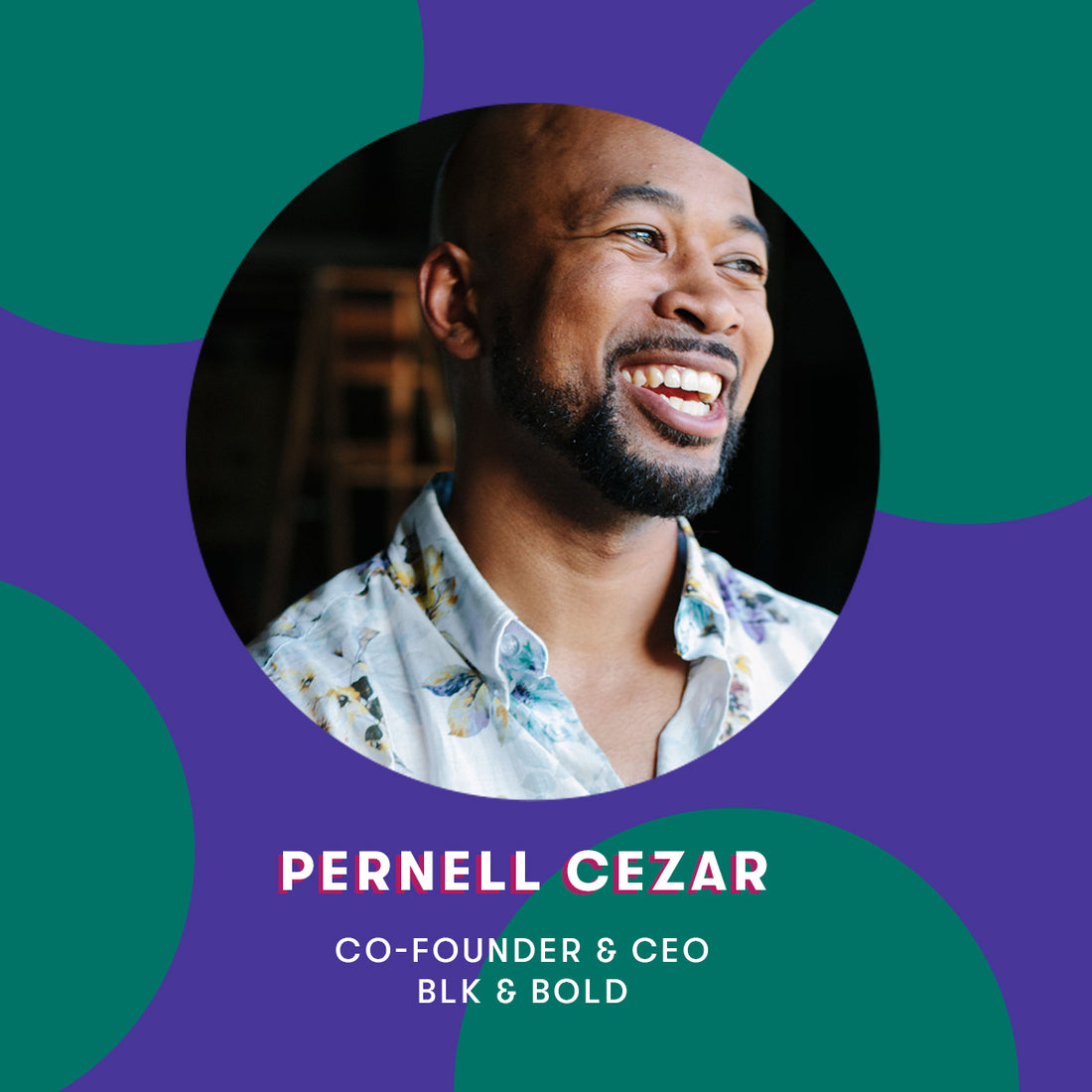 To celebrate Partake cookies launching at Target stores nationwide and on Target.com, we're excited to launch Spot Us at Target. Over the next few weeks, we'll be showcasing some of our go-to Target brands and interviewing their founders to hear their inspirational stories of taking their product from idea to Target shelves.
And the best part? Now through June 15, you can enter to win a prize pack that includes products from some of our favorite brands at Target and a $500 gift card. Learn more and enter HERE.
First up is Pernell Cezar, co-founder and CEO of BLK & Bold, which he founded with his childhood friend, Rod Johnson. They felt unfulfilled by legacy brands and opted to build one that represented their core values, the communities they identified with, and the opportunity to allow anyone to partake in realizing a greater shared societal purpose. BLK & Bold pledges 5% of its profits to initiatives aligned to sustaining youth programming, enhancing workforce development, and eradicating youth homelessness.
A Q&A with Pernell Cezar 
Q
How and why did you begin BLK & Bold? What inspired this venture? 
A
BLK & Bold began as a consumer-enthusiast approach to aligning our values to the products we consume every day, coffee and tea. While we consumed these products at home, work, and also enjoyed the coffee-shop culture, it was our curiosity in what we were actually drinking that led us to challenge why the better quality and more sustainable products found in specialty shops weren't as accessible in everyday shopping destinations. We believed these products could have a greater purpose in benefitting the youth within the communities that consume these goods, thus creating a positive cycle that adds more meaning to someone's daily ritual of drinking coffee.
Q
In the beginning, what were the biggest challenges and how did you overcome them?
A
We launched as a bootstrapped, "fighter" brand in a very crowded segment, so our initial priorities were to determine proof of community and proof of product integrity before we prioritized expansion. We gained that proof via pop-ups and activating at tons of events that allowed us to share the brand, but more importantly, gave us a wide range of insight into the journey spectrum of everyday coffee drinkers. This was huge for us because having coffee conversations in non-coffee spaces allowed people to more comfortably share what they knew about coffee and the "why" behind their preferences. That time put in has really shaped our assortment strategy and roadmap with being focused on high quality, competitively priced products that meet and advance consumers further on their coffee journey. 
Q
What are some of your greatest successes in business and how do you believe you achieved them?
A
My pre-founder background is split between retailer merchandising and supplier business development. That background combined with my passion for supporting cause-driven and indie brands has allowed me to advise and mentor many founders in the packaged goods space. It brings me great pride to see many of them win because a win for them is a win for entrepreneurs, for social impact, for the communities the brands and their founders represent, and the quality of future options we have as consumers.  
BLK & Bold celebrates two years on the market this June, but it's been a life's journey to get here. The brand's ethos is truly an embodiment of the co-founders and the brand community's values: youth empowerment, representation, quality, and uncompromised access. As a conscious consumer myself, playing a role in mainstreaming conscious consumerism via the beverages we love is a dream we get to live out every day. 
Q
For anyone who has an idea but doesn't know what steps to take or can't find the courage to make it a reality, what would you tell them?
A
Don't rush yourself or compare your timing to others. Entrepreneurship is often glamorized, but not spoken of are the challenges that come with it. So study up and learn about the lifestyle needs and personal development needed to be ready for winning in entrepreneurship. Knowing those things will reduce risk and make you more content with whatever decision you make.
Q
What is something exciting on the horizon for you and your company?
A
While expansion is always great, it is even more meaningful when there's a positive gain to the communities you're entering beyond just a purchase. So our current focus is on expanding within retailers and markets that we can build long-term partnerships with while deepening our impact with our domestic pledge partners. 
We also have a product innovation roadmap that we're excited to continue to bring to the market. First up is our steeped single-serve coffee pack innovation, which combines nitro-flushing and compostable packaging to give you the freshest grounds for on the go self-served coffee! 
Q
What are other brands and founders that you admire? Why?
A
The consumer goods space is very tough to crack into as well as to remain competitive within. While there are many I admire, the founders I selected are ones that resonate with areas of my own identity as a cause-driven, professional-turned-entrepreneur.
Arsha Jones 
Arsha Jones of Capital City Mambo Sauce is a creative juggernaut who has been a mentor and coach for female entrepreneurs well before launching Capital City Mambo Sauce, which is a DC-based staple that's also found across many grocery stores. Despite her husband and business partner, Charles, passing away last year, she has shown tremendous grit and determination to build upon their legacy. Capital City has become one of the top ten sauce brands on Amazon and launched at both Walmart and Target.
David Simnik 
I've been fortunate to know David, of Soapbox Soaps, for over five years and have watched him lead his fearless team across retail shelves and into more households and creating even greater impact, with their buy-one, give-one model. I've seen him lean into his brand's purpose time and time again to further cement its "why," which has allowed the brand to further evolve and scale even in the crowded personal care and beauty market.
Denise Woodard
Denise and I are both "parents first, entrepreneur second." I admire Denise's conviction to build a snack brand that is inclusive of kid's health needs and their sense of belonging. She combined her packaged goods corporate expertise with her passion to solve a need for her child and for many other households. It's such an admirable story that manifests itself via delicious cookies...win-win, right?!
To learn more about Pernell and BLK & Bold, visit blkandbold.com. Follow them on Instagram, Facebook, and YouTube.