Skip to content
Spotlight: Local Black-Owned Businesses in 7 of Our Favorite Cities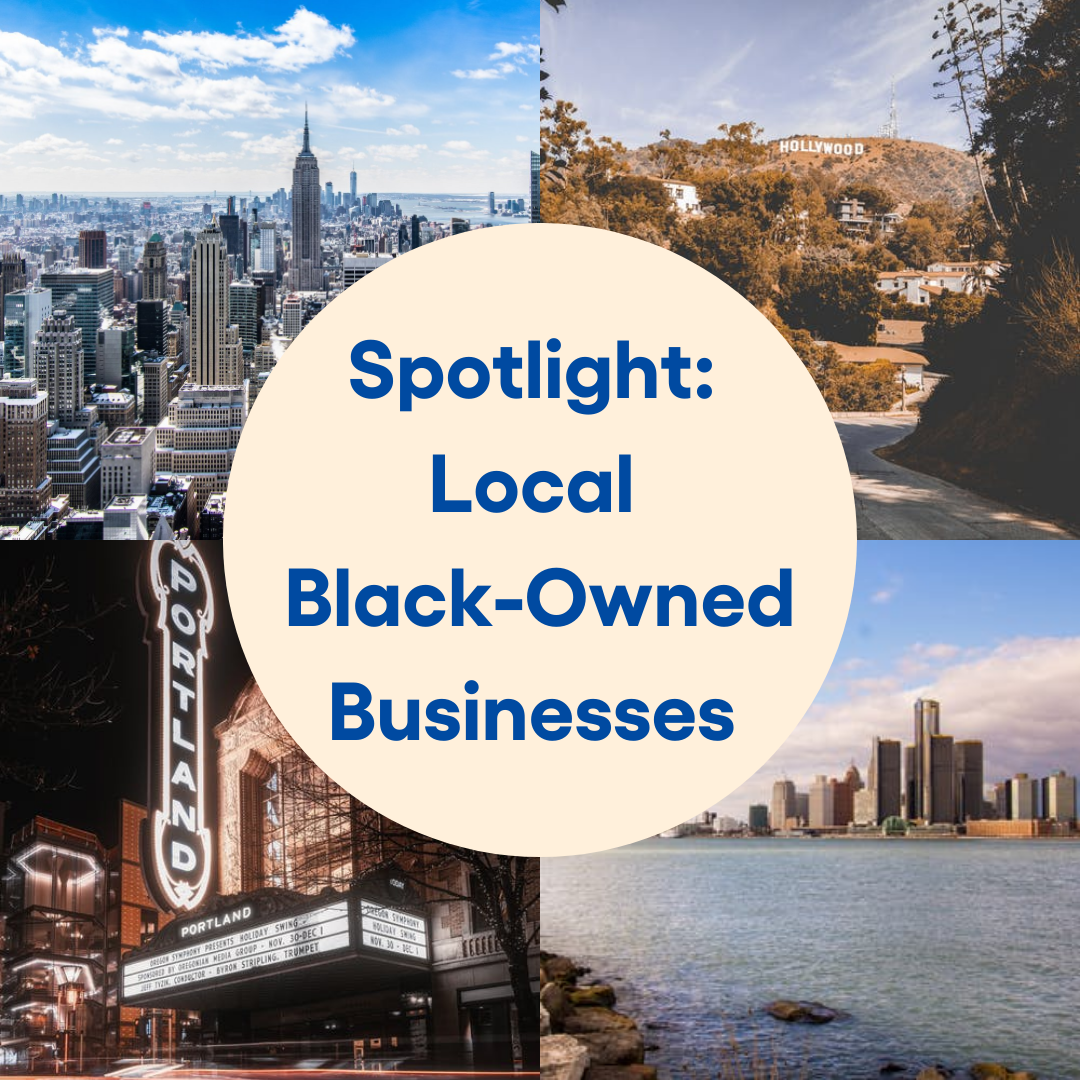 This Black history Month, we're loving on our small businesses that keep these 7 cities across the U.S. moving forward. From Coast to coast, these are just a few of the Black-owned businesses that nourish, inspire, entertain, and educate us.
Keep reading for coffee shops, restaurants, fitness studios, and more that you can support this month and beyond in Atlanta, Detroit, Los Angeles, New York, Philadelphia, Portland (OR), and Washington, D.C. 
Portland, Oregon
Deadstock Coffee is the coolest coffee shop you'll find in Portland. Enjoy a delicious cup of coffee and people watch all the stylish customers at Deadstock. The owner, Ian Williams, also sells in-house beans that are roasted each Tuesday and shipped fresh each Thursday. 
This contemporary soul food restaurant with Cajun, creole, and low country flair is a delicious spot in Portland to get your soul food fix.
The first recorded Black winemaker in Oregon, Bertony Faustin waves goodbye to the traditions that the wine world can come with. Instead, he has a tasting room that blasts hip-hop, a wine club you have to earn your way into with being part of the community, and a crisp chardonnay ripe for summer sipping.
Cydnie Smith-McCarthy makes delicious and fresh cold-pressed juices that can be ordered online by Thursday each week for delivery the following Friday. 
Los Angeles, California 
Stuzo clothing is a streetwear company that sells bold and fashionable clothing and accessories made in Los Angeles. Stuzo Clothing is Black owned, women owned, and queer owned.
Harun Coffee is serving a first-class collection of smoothies, cold brews, and teas. But there's more than just coffees here - co-owned by Chace Johnson, a former music executive who used to manage A$AP Rocky, Harun is a community hub, where you'll find a gallery filled with artwork by new Black artists, free panels by entertainers and influencers, and a lifestyle clothing brand.
Ekua Ceramics makes unique and functional clayware like bowls, mugs, and vases.Ekua provides both neutral and bold color options.
Compton vegan serves delicious vegan and allergen friendly southern comfort food. Head to their Long Beach location to enjoy vegan-ified favorites like mac & cheeze, fried chik'n, and gumbo.
Atlanta, Georgia 
44th & 3rd Bookstore is a family-owned, multi-cultural book and culture brand headquartered in the heart of Atlanta, GA. Their mission is to be a source of unbiased literature that is true to the rich culture of excellence experienced and expressed in the Black community world-wide.
Creative Soul specializes in lifestyle photography and authentic, visual storytelling. They believe that everyone deserves to truly be seen, and aim to tell your unique story through photographs that last a lifetime.
Just 4 Girls Salon specializes in the growth and maintenance of healthy, natural hair for all girls. Just 4 Girls Salon is the premiere salon in the Atlanta area exclusively dedicated to children's hair care. With two locations in the metro area, we service ALL hair types and textures.
Slutty Vegan brings vegan options and food awareness to Atlanta's West End. This is the spot when you're craving over-the-top, mouthwatering burgers, whether you're vegan or not.
If you're in Detroit and need a new florist, you can purchase beautiful floral arrangements from Ashley's Flower's
Founded in 1997, Cornbread has been a go-to spot for southern comfort food. Visit their restaurant, food truck, or order catering for a soul food feast.
Art in Motion is a small, proud, independently-owned ceramics studio and gallery in Detroit. Head to Art in Motion to create your own ceramics or admire the art from local artists on display.
New York, New York
With a few locations across Manhattan, Mikey Likes It serves creamy and delicious scoops of ice cream. Whether you're looking for your favorite classic flavor or an innovative flavor combination, Mikey Likes It has what you're looking for. 
Teranga serves flavorful and delicious food rooted in traditional African home cooking that emphasizes African-grown ingredients. Order food on their website, or enjoy a meal in person at their Harlem and Midtown locations in Manhattan.
Brooklyn Blooms makes beautiful and unique flower arrangements inspired by fashion, nature, and art. Order online or head to their location in Brooklyn for all your flower arrangement needs,
Harlem Hops is a brewery and event space where you can gather, socialize, relax and enjoy the taste of some of the world's most delicious and hardest to find beers. Many of the beers served are made by local, small batch, family owned and small businesses and in some great cases, by people of color. 
Ode to Babel is a cool low-key chill cocktail bar and lounge in Crown Heights, Brooklyn. You can also reserve the space for private events.
Philadelphia, Pennsylvania
The Colored Girls Museum is a memoir museum, which honors the stories, experiences, and history of ordinary Colored Girls. The Colored Girls Museum is headquartered in the historic neighborhood of Germantown in Philadelphia
Uncle Bobbie's Coffee & Books is a Coffee Shop and Bookstore located in the heart of the Germantown section of Philadelphia. Uncle Bobbie's was created to provide underserved communities with access to books and a space where everyone feels valued. They also hold free author talks, workshops, and other events, including weekly story time for kids and back to school drives.
Early Literacy Academy Childcare Center is a safe, clean and nurturing environment for children six weeks to five years old. We provide children with research-based learning opportunities designed through play and inquiry that capitalize on a child's natural curiosity and excitement.
For your wedding planning and design needs, The Styled Stem can provide their unique approach to wedding planning to curate your dream wedding day.

Washington, D.C. 

Mahogany Books is a local independent bookstore that believes in social entrepreneurship. They take a leadership role in the African American community by promoting reading, writing, and cultural awareness as tools to improve self-esteem, and self-love.
Lee's Flower Shop is your go-to florist that provides an assortment of always-fresh arrangements, handcrafted bouquets and trusted same-day flower delivery throughout the greater DC area. 
Cut Seven is a workout studio that focuses on different muscle groups each day to achieve complete muscle failure with optimum recovery. Get your sweat on at Cut Seven,
Located on Capitol Hill, Skin Beauty Bar is the D.C. spot facials, waxing, sugaring, airbrush tanning, eyebrow/lash tint, eyelash lift, & body contouring.
Boombox Boxing club that aims to empower and inspire, while making the health benefits of boxing-inspired training accessible to all fitness levels and backgrounds.