Skip to content
Stephen and Ayesha Curry are Making Seasons Bright with Eat. Learn. Play. Foundation and Partake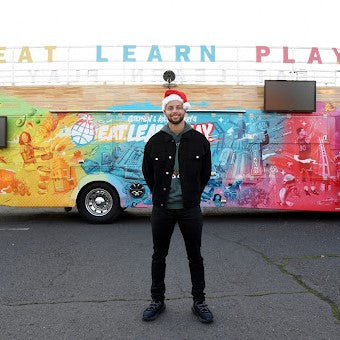 The season of giving is upon us. Partake is proud to partner with Eat. Learn. Play. this year for their 12 Days of Christmas with the Currys events.
Founded by three-time NBA champion and newly all-time most three-point record holder Stephen Curry, and entrepreneur, chef, host, and The New York Times bestselling author, Ayesha Curry, Eat. Learn. Play. was created to serve communities and provide them access to a joyful, healthy, and prosperous childhood. Nutritious and better-for-you food, a chance at excellence through education, and the opportunity to play and be physically active are the three totem poles of the foundation. 
"It's no secret that this has been an especially challenging year for families in our community and beyond. That's why we wanted to really go all out this year and show love for the most resilient people and organizations right here in our backyard….We're excited to show the world what's in store for the 9th annual Christmas with the Currys, and are so grateful to be in a position to bring some holiday cheer to the Bay Area." said Stephen and Ayesha Curry, Co-Founders of Eat. Learn. Play.
"Here at Partake, we share with the Currys the belief that great quality, safe and delicious foods should be available to all families, not a select few, and we are honored to partner with Eat. Learn. Play. as they serve kids and families in the Oakland community." said Partake Founder & CEO, Denise Woodard. 
Starting December 13 and until Christmas Eve, Stephen and Ayesha's hometown, Oakland, California will receive donations and surprises as the season of giving continues. 
Looking to follow #12DaysOfChristmasWithTheCurrys? Head over to @eatlearnplay on social media, as they honor some of the most deserving people and organizations in the Bay Area. 
Also providing support this year are partners BriteBrush, Callaway, Chipman Relocation & Logistics, CLIF Bar, Clover, Curry Brand, DICK's Sporting Goods, DonorsChoose, Flexpower, Ghirardelli, Go Go Squeez, Golden State Warriors, Goldman Sachs, GoodGood Eats, HAPE Toys, JP Morgan Chase, JustFab, Kaboom!, Lineage Logistics, Literati, Lyft, Mezzetta, Oakland A's, Partake (That's US!), Pixar, Rakuten, Ripple, Soul Focus Sports, The Olympic Club, Under Armour and Whole Foods.