Skip to content
Stocking Stuffer Gift Guide Featuring Black-Owned Businesses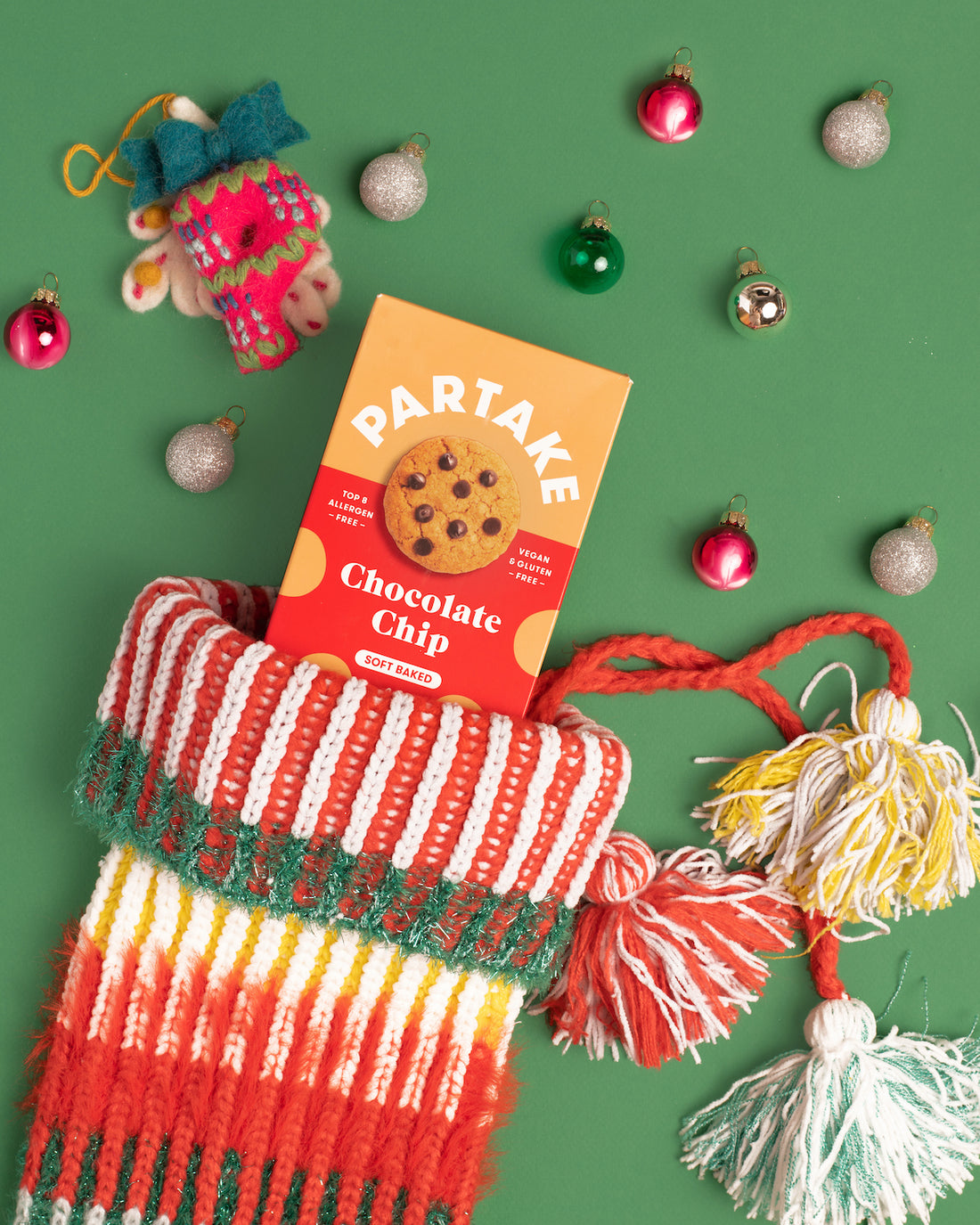 When we were kids, we couldn't wait to see the little goodies that filled our stockings. Sure, the presents under the tree were the main show, but the stockings were always filled with thoughtful surprises and lots of sweet treats. 
As time has gone on, we've turned into the magic makers ourselves but the magic of stockings still endures. We love to fill them with cookies, little games, gizmos, and the necessities you're always looking for, like chapstick. And this year, we decided to stick to the theme of our gift guide and choose stocking stuffers from Black-owned businesses like us. 
Read on for the goodies we'll be filling our families stockings with this year, including yummy sweets, necessities, and little toys and treats to keep your kiddos busy. 
Yummy Sweets
Partake Soft Baked Chocolate Chip Cookies
Our Partake cookies are gluten-free and free of the top 8 allergens (peanuts, tree nuts, eggs, wheat, milk, soy, fish, shellfish). This chewy take on the classic is with better-for-you ingredients and only 2.5 grams of sugar per cookie.



Chocolate Secrets - Santa Drives a Roaster
My Chocolate Secrets is a gourmet chocolate and fine wine experience. There are seven countries represented in their kitchen and their combined culinary experience exceeds 100 years. Their collection of holiday chocolates includes a Texas Santa, a chocolate nutcracker, and chocolate-dipped cherries.

Sweet Dames - Peppermint Dark Chocolate Coconut Macaroon Bites
Sweet Dames Artisan Confection offers wheat-free and dairy-free coconut macaroons in dozens of flavors. Their seasonal treat features slightly crisp and toasted shredded coconut macaroon bites and are flavored with peppermint, dipped in rich dark chocolate, and topped with crushed candy canes.
Brooklyn Tea 
Brooklyn Tea offers the highest quality, organic, and fair-trade teas on the market. One of the most popular flavors for fall is Marsala Chai, a common Indian spicy tea dating back for many centuries. 
For the Kiddos
Paper Play and Wonder - Affirmation Cards
If you're looking for a gift but shipping deadlines have passed, look no further. These printable affirmation cards will encourage and inspire your little ones to believe in themselves.
Browndages 
Created by a couple who saw a void within their family, browndages creates the perfect bandage for brown skin. These kid-focused browndages feature Jasir the Judge and Nuwayla the Ballerina.
Pretty Please Teethers 
Pretty Please Teethers makes safe, stylish, and natural handmade items for baby that are the perfect gift for a teething little one.  We love the boho-inspired rainbow teether. 
Alaffia - Kids Bubble Bath
Alaffia kids products contain no sulfates, parabens, phthalates, silicones, mineral oil, artificial color or synthetic fragrance. Their lemon lavender bubble bath is made with lemon lavender oils and fair trade unrefined "raw" shea butter from our Alaffia cooperatives in West Africa.
The Necessities 
Kind Socks
Kind Socks reimagined a classic sock in a fun ethical way - giving an everyday essential the love it deserves. They are made with organic cotton socks that is contains no pesticides or toxic chemicals. 
KNC Beauty Eye Masks
Eye masks might not seem like a necessity, but after all the merry making, parents deserve a little pampering too. These KNC eye masks are retinol-infused to give you fresh, hydrated, smooth, depuffed, bright eyes.
Scotch Porter
Scotch Porter was started by Calvin Quallis, who left his corporate day job and opened a neighborhood barber shop. He began experimenting with botanicals and other ingredients to createe products to solve the problems our customers talked about. Their beard balm is a best seller and it immediately moisturizes and conditions.
Black Girl Sunscreen
Black Girl Sunscreen is perfect for everyday use. It's made with natural ingredients that will protect your skin from the sun and doubles as a moisturizing lotion and dries clear.