Skip to content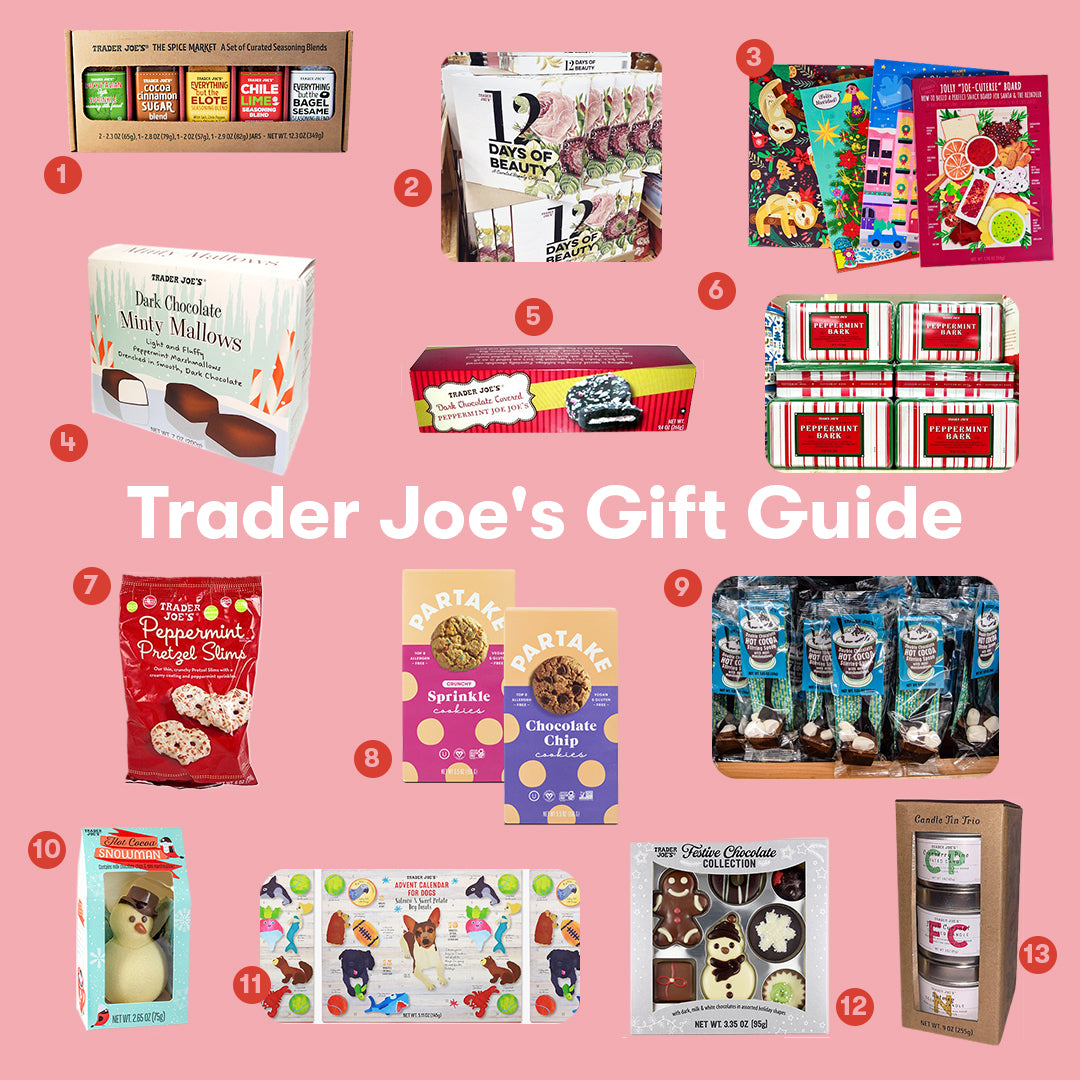 Who doesn't love Trader Joe's!? And for those of us who are really into a seasonal moment, TJ's always comes through. With home, beauty, and food items, Trader Joe's makes for a great one-stop shop for affordable presents for all your loved ones. Gift giving is all part of the holiday season—whether the gift is big or small, store-bought or homemade. Everyone loves a token of appreciation, whether it's the special item they've been eyeing, a favorite dessert, or a homemade card. The old saying rings true, it's the thought that counts! And those thoughts can be easy on the wallet.
Check out our Trader Joe's Gift Guide for stand alone presents and stocking stuffers! (As always, read labels to ensure you and/or the recipient can safely enjoy.)
1) The Spice Market: Curated Seasoning Blends

Trader Joe's is well known for their delicious seasoning blends. Get the chef in your life a set that they can use in all their creations!
2) 12 Days of Beauty Advent Calendar
For the beauty obsessed friend in your life, give the 12 Days of Beauty Advent Calendar. With 12 gifts wrapped into one, your friend will love it whether they open it one day at a time or all at once.
3) Advent Calendars 
Trader Joe's has a lot of fun advent calendar options you can pick from to best fit the person you're gifting! If they have a sweet tooth, go with one of the classic chocolate advent calendars. If they have a savory tooth, opt for the Jolly "Joe-Cuterie" Board advent calendar.
4) Dark Chocolate Minty Mallows
5) Dark Chocolate Covered peppermint Joe Joe's
6) Peppermint Bark
7) Peppermint Pretzel Slims
If you have a loved one that's obsessed with Chocolate Peppermint, Trader Joe's has so many great options. A few of our favorites are the Dark Chocolate Covered Peppermint Joe Joe's, the Peppermint Pretzels Slims, and the classic Peppermint Bark. Buy one, or buy them all for the ultimate Chocolate Peppermint package. (Looking for a vegan, gluten-free, allergy-friendly Chocolate Peppermint option? Check out our Soft Baked Chocolate Peppermint cookies.)

8) Partake Cookies

For any friend that loves cookies (That's everyone right?), give our best-selling gluten-free, vegan, allergy-friendly cookies. You can't go wrong with Crunchy Chocolate Chip and Sprinkle cookies!
9) Hot Cocoa Stirring Stick & 10) Hot Cocoa Snowman
Sweet treats always make for a great stocking stuffer. The hot cocoa stirring spoon and snowman make hot chocolate extra festive. They're small and easy to fit into a stocking for an extra dose of sweetness!
11) Advent Calendar for Dogs
The only thing the pet parent in your life would appreciate more than a gift for themselves is a gift for their pet! Get them Trader Joe's Advent Calendar for Dogs. A happy pet makes for a happy pet parent!
12) Festive Chocolates Collection
Headed to a holiday party? Grab a bottle of champagne and these festive chocolates for your host! There's no better party gift than champagne and chocolate.
13)  Candle Tin Trio
For the homebody in your life, get them a set of holiday scented candles. Trader Joe's makes great festive natural soy candles that cozy up any home.
That wraps up our Trader Joe's gift guide, let us know what you picked up for your loved ones on
Instagram
.