Skip to content
Valentine's Day Gifts for Every Type of Relationship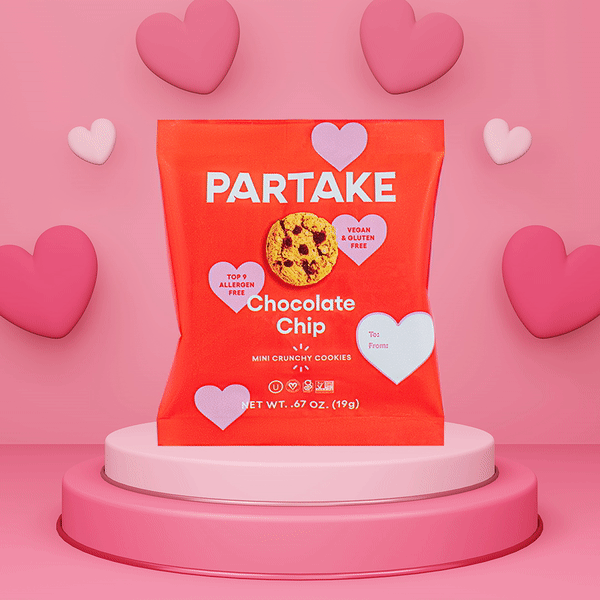 Valentine's Day is a day to celebrate love – but not just romantic relationships. It's a time to celebrate our friends, family, co-workers, even your students if you're a teacher! But what's the ideal Valentine's Day gift for every type of relationship? Of course Valentine's Day is most famous for exchanging sweets. Candies, chocolate-covered fruit, cookies, and cakes are all fair-game and appropriate gifts for this holiday. But what else can you buy for Valentine's Day to show your love?
We've compiled a list of ideas for shopping Valentine's Day gifts for your kids, your friends, your students, and yes – even yourself. Self-love and appreciation is important, and what better day to acknowledge this than the most infamous day of love.
Browse below to get your Valentine's Day gift ideas flowing and you can start shopping brands that fit your style, values and your budget. (PS - if you're looking to support Black-owned businesses this February, we have compiled a list of brands that fit into a number of these categories listed below!)
For Your Child
How many times have you posted a picture of your kid on Instagram with the caption "my heart" – or at least seen others do it? It's a widely shared sentiment in parent-child relationships, so it is suitable that you'd give your kids a heart-themed Valentine's gift to show your love. No matter what your kids' age, getting them their favorite sweets is to be expected. But to accompany their favorite candy, cookies, or chocolate covered strawberries, you may consider another small gift. See below for suggestions according to age. 
For toddler - elementary aged children:  
Books: There are a lot of great books that would make great Valentine's Day gifts, but here's just a few for your consideration.
"Hair Love" by Matthew A. Cherry – the tale of a dad learning to create a super-special hairstyle for his daughter (a story that was adapted into an Oscar-winning short film).
"Guess How Much I Love You" by Sam McBratney is a classic children's book about parental love told through the store of Big NutbrownHare and Little Nutbrown Hare.
"The Giving Tree" by Shel Silverstein is another family favorite, telling the sweet story of a little boy and the tree that loves him. 
Small Toys & Crafts: Heart Pop Fidget Toys are sure to please, even if your kids already have a few at home in other shapes.
Kid Made Modern makes a Valentine's Craft Collection with over 250 supplies of cardstock, doilies, foil paper, googly eyes, stick-on gems, and more, but you can find them in a number of other brands as well. Your elementary school kids will have just started to safely appreciate jewelry, and a gold-shaped necklace or bracelet will be a big hit.
LEGO also makes several small Valentine's sets at just over 100 pieces. Let's not forget the classic go-to gift: the plush animal. Whether it's a teddy bear, unicorn, or their other favorite creature, this is a classic gift that is guaranteed to please this audience.
For Tweens & Teens:
Jewelry: A mood ring is a nostalgic gift for parents, but one your kids will still love. A personalized bracelet or necklace with their name engraved would also be cherished by tweens or teens – the more minimalist the style the better. 
Cooking: A Heart-Shaped Mini Waffle Maker, or baking mold is a great gift for your tweens or teens who have an interest in cooking. 
Beauty: Heart-shaped bath bombs or shower steamers are a delightful treat for both adults and teens/tweens. Hair scrunchy sets and lip balm sets are another great gift, as well as a new razor or shaving kit. 
Gaming: Have a gamer in your family? Don't overthink it. There's nothing they'll want more than a gift card for their Xbox, Playstation, V-Bucks, or Robux. They also make gummy candies and chocolates in the shape of a gaming controller!
For Your Friend
Who knows your bestie better than you? This Valentine's Day, buy them something you know they'll love and that perhaps, they wouldn't buy for themselves so that it's an extra treat.
Potted Plants - For their desk at work or end table at home, buy them a plant that will suit their style and last longer than a bouquet. A pink cactus would be a very cute and on-theme gift for V-day. Other than succulents, you can gift a potted snake plant, money tree, peace lily, ficus ginseng, or whatever fits their style. 
Candles - This may seem too easy, but aromatherapy is important to a lot of people and would be appreciated as a gift. Just be sure to shop for the scent / essential oil type that you know your friend prefers. 
Friendship Bracelets - They aren't just for teenagers, grownups can exchange them, too! And there are a number of brands that make quality choices that you'll both enjoy. 
Journals - Give your BFF a place to write their creative thoughts and goals with a stylish journal that suits their personality. 
For Your Students
If you're a teacher, we know you love your students and especially if you're teaching elementary school or preschool, you want to give them a little something to show your affection on Valentine's day. We know you want to give them something that sparks joy, but also won't break the bank. 
Stationery - Fun-designed pencils, scented pens, stickers, heart-shaped post-its, and more make fun and affordable gifts that you can give individually, or bundle together. 
Heart-shaped stress balls/squishy toys - There's something about small, soft items that kids really love to play with. A Valentine's-themed version is sure to please.
Valentine's Donuts - If you're having a Valentine's Day party, most donut shops sell Valentine shaped treats that you can bring to class if your kids do not have food allergies.
Bubbles - Especially for the youngest students, bubbles are always a crowd pleaser!
Silly glasses - You can go with lens-free heart-shaped glasses but really, any shape will be a fun, giggle-inducing gift for the kids.
Treats - If you didn't go for donuts because they aren't safe for all of your students or any other reason, you're bound to create joy when you gift any other sweets or snacks. Whether you go for candies, individual bags of cookies, or even crackers or chips that the kids love, they're the easiest go-to-gift for Valentine's Day. Many grocery retailers will have fun options that are allergy-friendly (like our Valentine's Day Mini Cookie Snack Packs you can find on Amazon, Target, or Instacart).
For Yourself
This section is about self-care. That's going to look different for everyone – but we've got a few categories that should please many of you, fam.
Bath - A bath salt set is a great gift for yourself to try out new scents, or essential oils that help you relax. A bath tray/caddy that holds your devices, book, and drink is another fantastic gift to get yourself.
Beauty - Buy yourself an eye mask – whether it is made of jade or silk, you can reduce puffiness and improve sleep quality with this gift. Also buy yourself a face mask that suits your budget and your skin type and wear it while you're relaxing in the bath, or find 20 minutes to sit down and take a moment for yourself. 
Wine subscription or non-alcoholic cocktail kit – Maybe you took your Dry January into February and have made a lifestyle change. Maybe you love your glass of red after a hard day of work. Either way, a wine subscription or a non-alcoholic cocktail kit will give you the opportunity to explore new drinks to decompress.
Journal/Planner - We know we recommended journals for your friends, but it is also a great gift for yourself. A journal or planner to help you focus, plan your goals, carve out time for yourself, and get creative is a wonderful thing to give to you, from you. 
Your favorite treat! - Did you have a New Year's resolution to eat healthier? That's great and we're proud of you. But there's a time to #treatyoself and Valentine's Day is one of them. Go ahead, enjoy!
For All of the Above
No matter who is on your Valentine's Day gift list, sharing goodies that are inclusive, safe to share, and super delicious is always a hit! On this day of love, share the goodness with our themed Valentine's Day Mini Cookie Snack Packs. Each pack has a customizable To/From label on the front, perfect for writing a special message to your friends or family members. Plus, you can gift worry-free knowing they are certified vegan, gluten-free, non-GMO, and top 9 allergen-free. Find boxes of these mini cookies on Target shelves nationwide and target.com. 
Happy Valentine's Day from Partake
Who are you shopping for this Valentine's Day? Have any other great gift ideas to celebrate the relationships in your life this year? We want to know about your ideas for the best Valentine's Day gifts for every type of relationship. Let us know on Instagram! We hope you share the love, and feel love this year on February 14, and every day.