Skip to content
Women's History Month Feature: Alison Cayne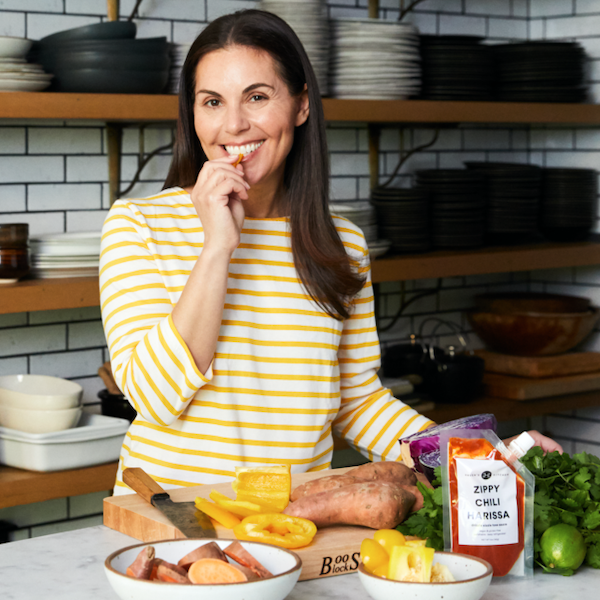 Alison Cayne is the founder and CEO of Haven's Kitchen, a creative cooking company a mission to change the way people feel about cooking.

In 2018, Haven's Kitchen launched the first line of refrigerated, globally-inspired sauces in a pouch, now available online, as well as in over 2000 stores across the U.S. Alison is the author of Haven's Kitchen Cooking School (Artisan 2017) and has contributed to publications such as The New York Post, Forbes and Cherry Bombe.

She is an adjunct professor of Food Studies at NYU, a guest lecturer at ICE and a featured speaker at TEDxManhattan.

Alison works to support other early-stage food entrepreneurs as an advisor and hosts In the Sauce, a podcast about building consumer brands.
What has been the best part of your entrepreneurial journey?
Several times a week we hear people say that cooking with our sauce made them feel like a hero, a chef, a champion. It's that confidence that we're giving to our consumers that makes me feel so excited about what I do. I've also loved learning about the packaged food industry and building deep relationships with my team and other founders in the space.
How has working from home impacted the way you work and live? What does balance mean to you in this new normal?
Ah, balance. I'm not sure I even know what that means. I think one benefit of all of this has been truly opening up my whole self to the people I work with. It's always scary being vulnerable, not knowing the answers, worrying if I'm letting them down by letting them in. But every time I let that guard down, they rise to the occasion and we build even more trust.
How do you stay motivated and overcome challenges?
I know we're making something that is genuinely improving people's lives. It's a huge motivator.
What are some rituals you've adopted to practice self-care around the home?
I like to sprinkle eucalyptus essential oil in my morning shower and pretend that I'm at a spa. I also love to end the day with a novel in a bathtub.
Who is a female founder you admire and why?
Miyoko Schinner has always had deep conviction about veganism and has built Miyoko's into an incredible brand while staying 1000% true to herself. She's unafraid to have opinions and take a stand. She also founded the company in her 50's which I think is awesome.
What's one thing in your home you can't live without during quarantine?
I bought a Gaggia espresso maker at the beginning of all of this and it is critical for sure.
What advice do you have for female entrepreneurs or working women during this time?
Everyone I know has imposter syndrome. Every single person I know (except for the Narcissists, and you don't want to be one of them).