Skip to content
Womens History Month Feature: Ashley Rouse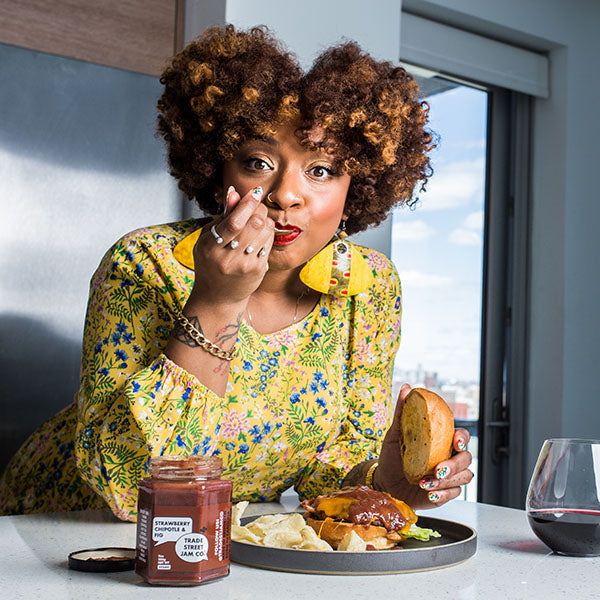 Ashley Rouse, founder of Trade Street Jam Co., has a background in food service, food marketing, and social media management, but her passion for culinary creativity led her down another road. A chef for almost 15 years, she created the name for her minority and woman-certified small batch jam company in 2008 while living in an apartment on Trade Street in North Carolina. Now, some 10 years later, Ashley and her Brooklyn-based company create fruit forward and clean tasting vegan jams that are low in sugar and high in flavor. Her jams are best used in craft cocktails, BBQ sauces, glazes for meats or vegetables, baked goods, yogurt, overnight oats, salad dressings and more!

Why did you start your business?
I've always enjoyed preserving as a hobby, but moving from North Carolina to Brooklyn, New York, is what really inspired me to start making jams again. I wanted to introduce the world to a concept bigger than sugar, unhealthy jam on toast, so think cocktails, roasted meats or veggies, salad dressings, baked goods and more.
What has been the best part of your entrepreneurial journey?
Being able to share things I've learned with entrepreneurs who're coming up behind me or running alongside me has been the best part. It's something I always try to make time for. I talk about the trials I face, the tools I've found helpful, how it is raising a baby and running a business at the same time, and more. If I'm able to help even one person avoid some of the challenges I've had or inspire someone to leave their 9 to 5 and take entrepreneurship head on, I feel like this is all worth it.

How has working from home impacted the way you work and live? What does balance mean to you in this new normal?
Before COVID-19, I worked from home. I literally ran my business out of the Brooklyn apartment that I live in with my husband and daughter, Zola. But, trying to be productive with a newborn at home brings its own set of challenges! It has also definitely impacted how I work as far as dealing with shipping delays, fulfillment issues, jar shortages and other problems that have come about due to COVID. When everything first shut down, I wasn't even allowed inside of my manufacturer and that was very difficult as I'm a very hands on person. Having balance is definitely important, but it is really hard to do when you literally cannot go anywhere. However, I'm passionate about self care and make time for myself. I rest when needed. I cook often, love making fun jam cocktails (jamtails!) and try to spend time doing DIY projects.

How do you stay motivated and overcome challenges?
Entrepreneurship is hard, but actually digging in and staying positive and persistent is a whole other thing. One thing that definitely helps is taking a 'big picture' mentality. This is not a sprint for me; it's a marathon. When things get tough, I remember that building and growing a successful Black-owned business is bigger than me because it's not about just me - it's about the culture, it's about my daughter. I try to take everything one day at a time, and step back every now and then to look at all I've been blessed to accomplish.

Who is a female founder you admire and why?
I love what so many females are doing! Partake, Black Girl Baking, Justice of the Pies, Boss Blend Coffee, Granbaby Cakes, Ayako & Family...so many!
What's one thing in your home you can't live without during quarantine?
Our jam, of course! I'm obsessed with the Blackberry Mulled Merlot and Plum + Rose (mix it into champagne with a little St. Germain), but they're all so amazing. I also need hot sauce, which we're working on to release later in the year, so I'm literally putting that on everything.

What advice do you have for female entrepreneurs or working women during this time?
Network with everyone. Email, have coffee meet-ups (if possible), ask questions. I've learned so freaking much from like-minded entrepreneurs around me. Every single piece of information I've heard has somehow helped me get to the next step in my own business. Listen, learn and stay the course.