Skip to content
Women's History Month Feature: Molly Fienning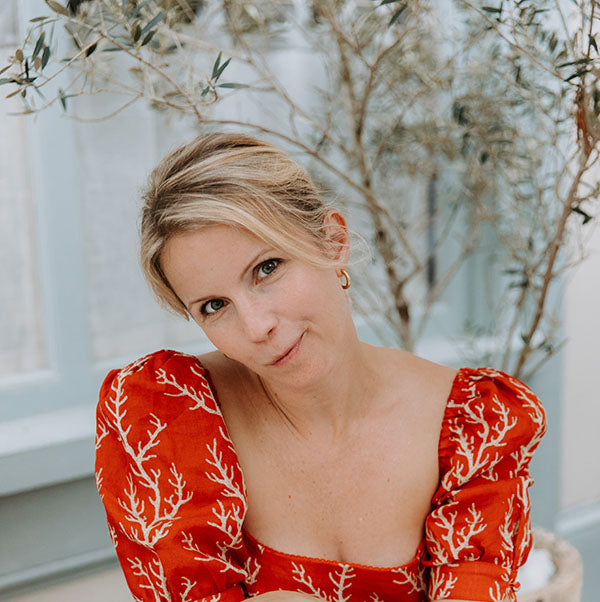 Molly is Co-founder and CEO of Red Clay Hot Sauce, a cold-pressed, Southern hot sauce & hot honey brand named "Tabasco for the 21st century" by Food and Wine Magazine and a "hot honey to elevate your meal" by The New York Times. In the past year, Red Clay has grown 400% in gross revenue and has rolled out to Publix, Whole Foods Market, Harris Teeter, Food 52, The Fresh Market and hundreds of additional retail doors.

Prior to Red Clay, Molly Fienning was Co-Founder and Co-CEO of Babiators, one of Forbes' 100 Most Promising Companies and now the leading sunglasses brand for babies & kids (with over 4 million pairs sold). Molly graduated from Harvard University with a BA in Engineering Sciences. She lives in Charleston with her husband Ted and their two sweet sons, Sawyer and Fox.
Why did you start your business?
A genuine enthusiasm for the sauce and desire to bring it to market!
I was literally a customer at my favorite oyster bar in Charleston, South Carolina, when I first tried my partner Chef Geoff Rhyne's original hot sauce. I fell in love with the product, it was the best thing I had ever had...and I wasn't even a hot sauce fan at the time! Two weeks later, I had invested in co-founding Red Clay. A few years after launch, I stepped in as CEO to scale this cult, cold-pressed Charleston hot sauce nationally.
What has been the best part of your entrepreneurial journey?
All the beautiful relationships I get to build along this wild journey--whether that is with my Red Clay teammates, other entrepreneurs & leaders, enthusiastic customers who love our sauces or the deeper connection to and knowledge of myself as a person through many exciting and challenging experiences.
How has working from home impacted the way you work and live? What does balance mean to you in this new normal?
Prior to COVID quarantine, I already worked from home and was remote from my teams for almost a decade. So, I was pretty used to that dynamic. The difficult challenge for me this year was working from home while also having my two boys home from school for months. What I learned in this "new normal" is there is no such thing as balance as a working mama, so we need to throw that concept out the window.

When we try to balance or multi-task as women who work, we end up feeling like we're doing nothing well, we deplete ourselves and we frustrate those around us. I'd like us to give up multi-tasking and to return to the value of uni-tasking--namely, being fully present in whatever we're doing right now, this very moment. When it's work, it's work. When it's family, it's all family. If I'm playing Legos on the floor with my son while distractedly answering a text on my phone to a colleague, no one's cup is getting filled. Be present, focus, give all you have to what's in front of you right now.

How do you stay motivated and overcome challenges?
Whenever I find I'm lacking in motivation at work, I try to take quality time away. Sometimes, a short walk outdoors makes a difference. Other times, it might be a nice day off or a longer, awesome vacation to return rejuvenated and ready to get back to work with new insight and excitement.

Running your own business is all-encompassing and often exhausting. Time to pause and bring back a fresh perspective can do wonders for your own well-being and your company's growth.
What are some rituals you've adopted to practice self-care around the home?
For me, the bookends of a day are super important.

I love to begin the day with reflection, a prayer, a few moments breathing in the outdoors or some stretching & meditation before I check my phone or begin working. It helps me set a balanced, more grateful tone for the day, and it gives me perspective on the inevitable little fires that will surface in my day ahead.

And at night, just before my sons' bedtimes, I take a sunset walk along the Charleston waterfront by myself--no matter what the season. Sometimes I call my parents at home, sometimes I listen to music or a book, but usually I walk in silence and soak in the world around me. It's the one hour each day I have completely alone and free of responsibility -- it brings me such joy, it helps me sleep, it's therapy.
Who is a female founder you admire and why?
I have recently gotten to know and develop a friendship with the amazing Stephanie Summerson Hall of Estelle Colored Glass. I am so impressed by her outlook on leadership and her thoughtful, deliberate strategy on scaling her business. Stephanie knows exactly what her brand stands for, and she's not willing to sacrifice anything (the quality, the design, the sales channels) to get there any faster. She inspires me to be deliberate and thoughtful about my companies--to make sure I take my time and get it right...which she sure has. I can't wait to watch and see where she takes Estelle.
What's one thing in your home you can't live without during quarantine?
Besides my sons? :)

I'd have to say red wine and chocolate.
What advice do you have for female entrepreneurs or working women during this time?
Real success is entrepreneurship is a marathon, not a sprint.

Building a business is a long road, and it's important to truly love what you're doing and to believe in the impact your business is making. You need to love the game, or you'll burn out. You also need to feel some sense of purpose beyond making money, or you'll also burn out.

A million small decisions contribute to whether or not a small business succeeds. Few things ever go the way you expect all the time, and that's fine. There's no one right-or-wrong move. The key to success is perseverance, a commitment to getting up day after day and do the hard work, to put out the small fires, and to pivot, flex and change course when you feel you need it.