Skip to content
3 Simple Recipes with Classic Grahams - Pie Crust, S'mores & a Parfait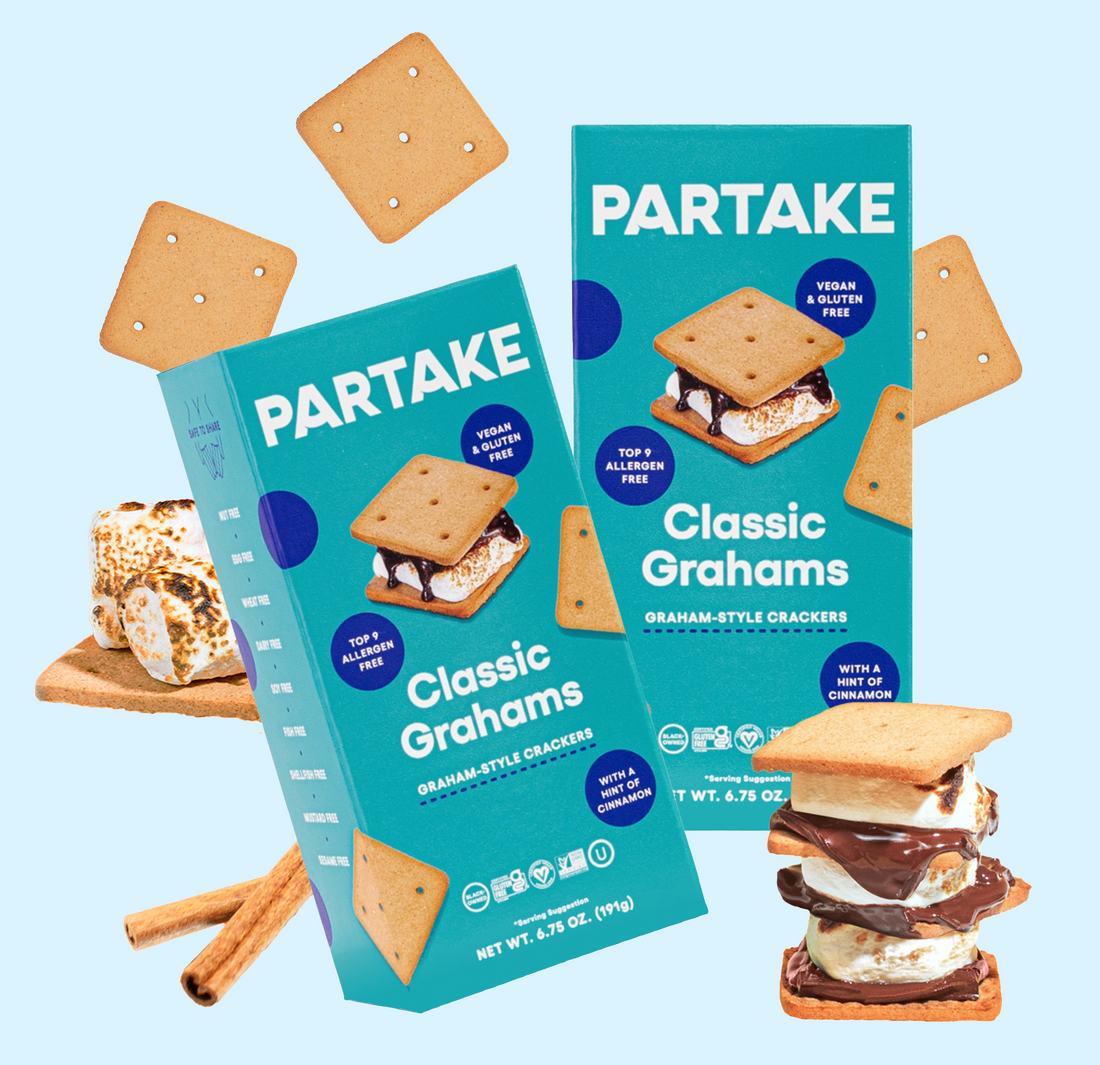 If summer is calling you to backyard gatherings, beach hangs and going up, up and away, our Partake Classic Grahams are your new pantry BFF. 
Like all Partake offerings, our Classic Grahams are gluten-free, vegan, top 9 allergen-free, non-GMO and—most importantly—so delicious. They're also versatile with a capital "V." Use them 1:1 in any recipe that calls for a graham cracker, and these squares will come through with the classic flavor you know and love and just the right amount of cinnamon. 

Find Partake Classic Grahams at a Target store near you.
Here are 3 ways the Partake team is loving using our Classic Grahams. 
Graham Cracker Crust
Makes 1 crust

Ingredients
1 pkg of Partake Grahams (1 1/2c)

1/4c of granulated sugar

6 tablespoons of butter, melted.
Instructions
In a bowl or food processor: Crush the grahams into crumbs, mix in the granulated sugar and butter. 

Pour the mixture into an ungreased 8-inch, 9-inch, or 10-inch pie dish, cake pan, springform pan, or square pan. 

With medium pressure using your hand, pat the crumbs down into the bottom and up the sides to make a compact crust. 

Note: Do not pack down with heavy force because that makes the crust too hard. Simply pat down until the mixture is no longer crumby/crumbly.
Campfire S'mores 
Makes 1 s'more
Ingredients
2 graham squares

1 marshmallow

1-2" square of chocolate
Instructions
Over a flame, roast marshmallow

Layer chocolate and toasted marshmallow between graham squares and enjoy.


Berry Trifle
Ingredients
1 cup whipping cream

5 oz of cream cheese

1 box Partake grahams

2 tsp lemon zest

4 oz preserve jars

Fresh strawberries (diced to blueberry size) and blueberries 
For topping—
Whipped cream

1 tsp lemon zest
Instructions
For the filling—
In a medium-sized bowl, add in the whipping cream and cream cheese. Whip on low speed, to prevent it splashing out the bowl, then turn to high speed. Whip until thick. This will take around 5 minutes. The mixture should be thick and creamy.

Fold in 2 tsp lemon zest until combined. Do not overmix.
To assemble—
Crumble 1 box of grahams in a food processor and cover the bottom of each mason jar with a thin layer of crumbles.

Scoop or pipe your cheesecake filling into the jar for your second layer.

Add a layer of berries

Add another layer of crumbled grahams on top.

If you have taller mason jars, you can continue to layer in this order until you reach the top.

Place jars in fridge for 2 hours until filling is firm.

Top with whipped cream and more lemon zest.