Skip to content
Allergy-Friendly Double Chocolate Chip Cookie Mousse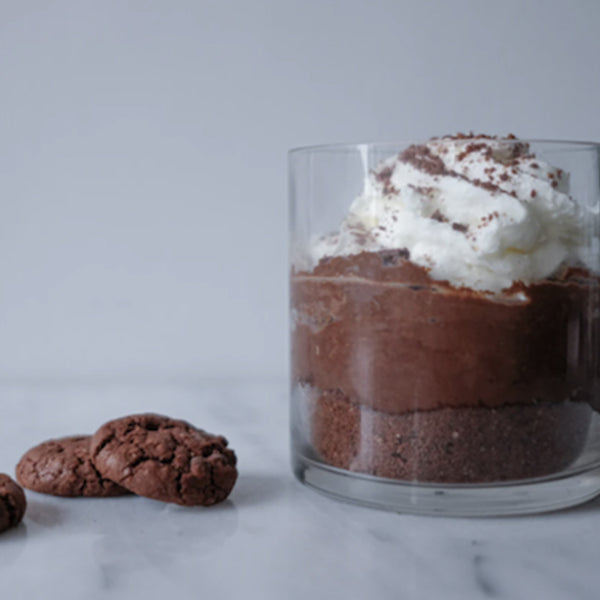 In honor of National Chocolate Pudding Day, we have a new recipe for you to try with your little ones. Today we're sharing a yummy recipe that Denise loves to make with her daughter, Vivi. 
Denise loves this recipe because it is, "a quick dessert that Vivi can get involved in making, from the pouring and mixing to the cookie crumbling. It meets all of her dietary restrictions and can be made gluten-free and/or vegan easily. It's a great recipe for celebrations."
Denise shared her recipe with our friend, Michelle from Feeding our Toddlers, and she perfected it for us. It's the perfect summer dessert that your kids can get involved in making.  
Enjoy! And make sure you share any of your Partake Cookie creations on Instagram and tag #partakeabite,
Allergy-Friendly Double Chocolate Chip Cookie Mousse
Ingredients:
1/4 cup water

3 tablespoons sugar

1 cup dark or semisweet chocolate chips

1/8 teaspoon salt

1/4 teaspoon ground cinnamon

1 cup heavy cream or coconut heavy cream

Whipped cream or whipped coconut topping
Instructions:
1) Place water and sugar in a small pot over medium heat and bring to a boil
2) Remove pot from heat and add chocolate chips, salt, and cinnamon. Stir until chocolate is fully melted and let cool to room temperature.
3) Meanwhile, add cookies to a food processor and pulse until broken into tiny pieces (or add to a Ziploc bag and let your toddler help crush them!). Set aside.
4) In a standing mixer with the whisk attachment or with an electric mixer, whip the heavy cream for about five minutes or until fluffy. 
5) Once the chocolate mixture has cooled, add a big spoonful of the whipped cream to the chocolate mixture and stir to combine. Then fold the rest of the whipped cream into the chocolate mixture until all combined. 
6)Let set in the refrigerator for at least an hour before serving. Note: the mousse can stay covered in the refrigerator for about four days.
7) To serve, place crushed cookies in the bottom of a bowl or cup, top with mousse, whipped cream, and a sprinkle crushed cookies on top.