Skip to content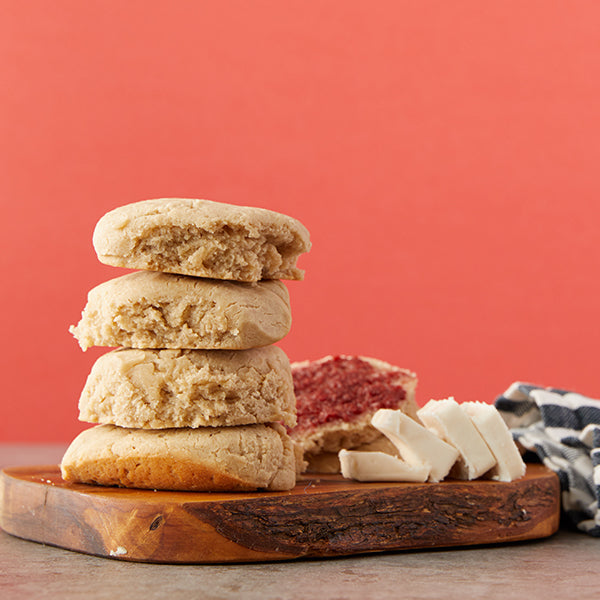 Next time you're looking for the perfect side dish, look no further than our Partake biscuits. Made with Partake Classic Pancake & Waffle Mix, these biscuits are not only fun to make but are free from gluten, dairy and the top 8 allergens. 
This recipe uses yeast, which can feel intimidating to work with if it is your first time. But trust us, it's actually a very easy ingredient! In the recipe, we share two ways to incorporate it for perfect biscuits. 

Read on for an exclusive recipe from our Partake at Home: with Friends Digital Magazine, Biscuits.

Download your Partake at Home: with Friends Spring 2021 Digital Magazine HERE. 

We hope you'll make this recipe with your family! If you do, tag us on Instagram.
Biscuits
Yields: 6 - 8 biscuits depending on size of cutter
Ingredients:
1 1/2 cups finely milled white rice flour

1 tsp instant yeast (if using active dry, add it to water)

1/4 tsp sea salt

8 tbsp butter or butter alternative

1 1/4 cups water

1 tbsp apple cider vinegar

Optional: more buttery stick, melted, to brush on top of biscuits
Instructions:
Yeast preparation:
If using Active Dry Yeast: Add yeast to water and apple cider vinegar and bloom if using active dry yeast.

If using Instant Yeast: Add directly into dry mix.
Dough:
Preheat the oven to 350°F.

Combine Partake Mix, rice flour, and salt.

Add wet ingredients to the dry ingredients and mix until sticky dough forms. This will not be like a traditional wheaten biscuit.

Scrape into the bottom of the bowl and allow it to sit for ten minutes. After 10 minutes, spray down the surface or parchment with non-stick spray and scoop dough onto the surface. Pat into 1" tall round.

With a cutter sprayed inside and out with non-stick spray, cut into desired size or shape.

Place on the pan either apart or together for a dinner roll look.

Brush with butter. Allow to sit under plastic or covering until slightly risen.




Place in the oven underneath another pan to 'steam' bake for the first 10 minutes.

After steam bake, remove cover, bake for 15-20 mins or until top is golden brown.