Skip to content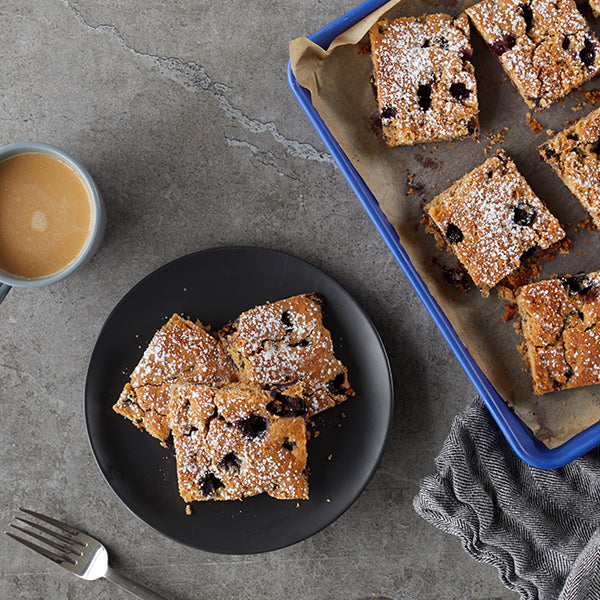 If you're anything like us (and you probably are — you're part of our Partake fam after all), you love discovering new recipes and having fun in the kitchen. ⁠⁠And that kitchen is probably full of kiddos who want to lend a helping hand. 
Blueberry Maple Cake is the perfect recipe for helpers. It's a dump cake, which essentially means you "dump" the ingredients on top of each other in a pan and bake. Voila!  
Keep reading for an exclusive recipe from our Partake at Home: with Friends Digital Magazine, Blueberry Maple Cake. 
Download your Partake at Home: with Friends Spring 2021 Digital Magazine HERE.
Blueberry Maple Cake
1 pint blueberries
1/2 cup maple syrup
1/4 cup packed brown sugar
1/4 tsp salt
2 tbsp neutral-tasting oil
1 cup butter or butter alternative, melted
1/4 cup water
1 cup confectioners sugar (optional) 
Instructions:
Preheat the oven to 350°F.
In the bottom of a non-stick medium baking pan or cookie sheet, combine blueberries, maple syrup, oil, brown sugar and salt.
Toss together and spread out evenly over the bottom of the pan. If you are not using non-stick, line the pan with parchment before placing blueberries.
Spread Mix over blueberry mixture and shake vigorously so that mix is evenly distributed.
Combine melted buttery stick and water, and coat as much of the top of the mix as possible. You can move the pan a bit to help distribute the butter once it's been poured over the top. (It's important to make sure there are no dry spots.)
Lay another baking pan over the cake mixture to completely cover, and place in the oven to bake for 20 minutes.
Remove cover and bake for an additional 20-25 minutes uncovered.
Optional: Mix 1 tbsp confectioners sugar and 2 tsp water. Drizzle over the top.