Skip to content
Breakfast For Dinner: BLW—The Ultimate Vegan Bacon & Lettuce Sandwich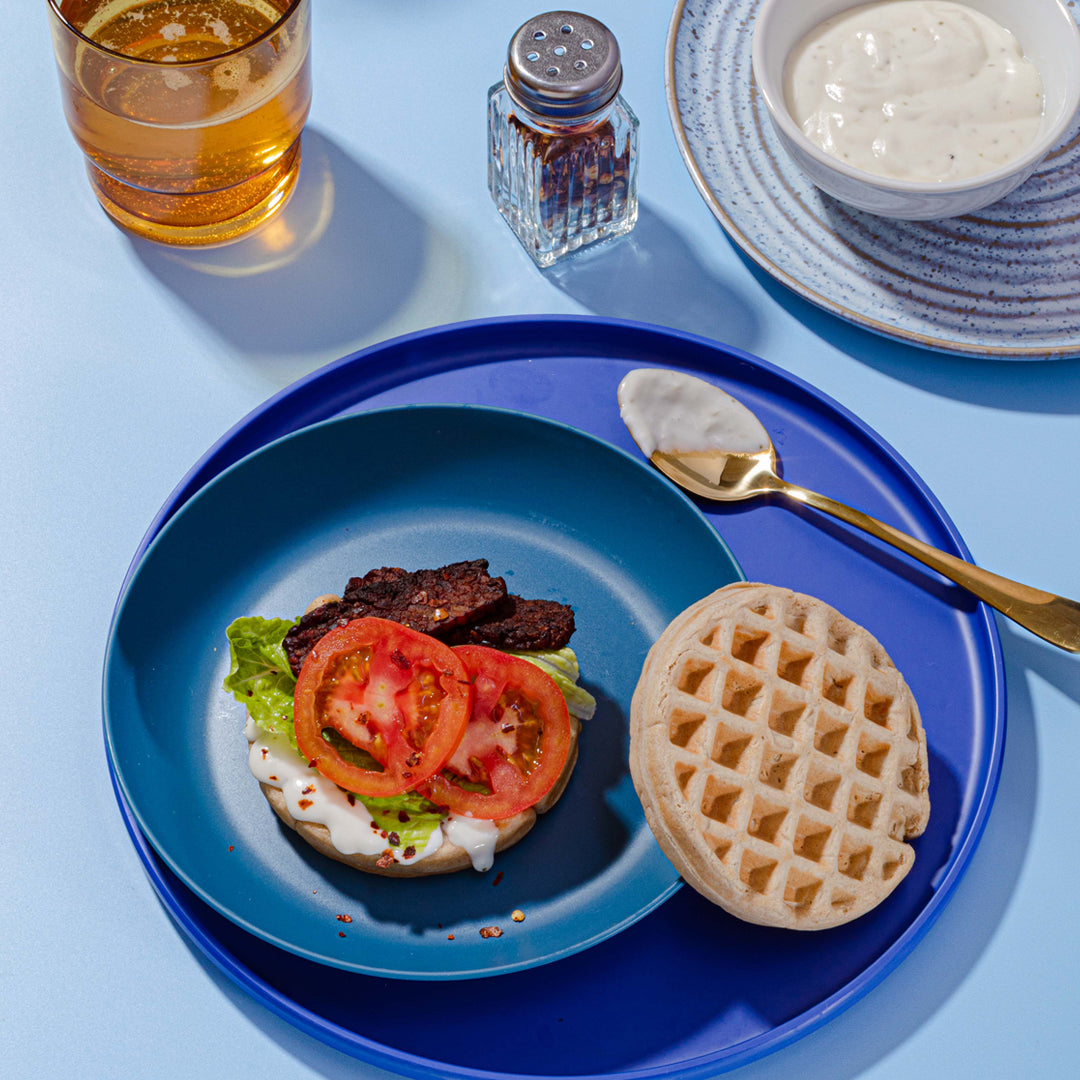 We're kicking off March with our highly requested "Breakfast for Dinner" series. If you've been craving savory meals more often than sweet, this is the series for you. We'll be featuring a few of our favorite Breakfast for Dinner recipes, featuring our Classic Pancake & Waffle Mix so stay tuned and follow us on Instagram for our recipe drops! You can find our Classic Pancake & Waffle Mix at select Target stores, target.com, and partakefoods.com. Find your nearest Target store here.

First up, a vegan Bacon and Lettuce Waffle sandwich—we call it a BLW for short. This vegan take on the classic BLT is an easy and mouth-watering dinner (or breakfast) option. This sandwich is a great way to end off a long day. Remember, breakfast can be an anytime meal!
BLW (Bacon & Lettuce Waffle Sandwich)
Ingredients:
1 cup Partake Classic Pancake & Waffle Mix

⅔ cup water

2 tbsp neutral tasting oil or melted butter

Lettuce

Sliced tomatoes
Tempeh Bacon
4 ounces tempeh (ensure gluten-free as needed)

1/2 tbsp oil (avocado oil // if oil-free, omit or add slightly more tamari and maple syrup)

1 ½ tbsp tamari (or coconut aminos if soy-free, just use a bit more as it's not as salty as tamari)

1 ¼ tbsp maple syrup

Dash of sea salt

¾ tsp smoked paprika

1/4 tsp ground black pepper (plus more for coating)

Dash cayenne (optional)
Vegan Garlic Aioli
½ cup vegan mayonnaise

2 large garlic cloves

1 tbsp fresh lemon juice

½ tsp salt
Instructions:
Waffle
Preheat waffle maker.

Combine water and Partake Mix.

Once fully combined, add oil or melted butter. Mix until combined.

Cook according to waffle iron instructions.
Tempeh Bacon
Slice the tempeh in half widthwise (so you have 2 even squares), then thinly slice into rectangle pieces. You should have ~9 pieces of tempeh.

In a shallow bowl, rimmed plate, or baking dish, whisk together the oil, tamari, maple syrup, salt, smoked paprika, black pepper, and cayenne (optional). Taste and adjust flavor as needed. It should be quite salty, smoky, a little spicy, and plenty sweet (even a little too sweet, as it needs to balance the bitterness of the tempeh).

Add the tempeh and toss to coat (using a pastry brush is helpful for fully coating). Marinate for 10-15 minutes, flipping once for even flavor dispersion.

Preheat the oven to 400°F and line a baking sheet with parchment paper.

Transfer tempeh (reserving excess marinade for brushing) to the parchment-lined baking sheet and arrange in a single layer.

Bake for 10 minutes, then remove from the oven, flip, and brush generously with reserved marinade. Bake for 8-10 minutes more, or until browned and slightly crispy.

Enjoy immediately or store cooled leftovers in an airtight container in the refrigerator for 5 days, or in the freezer for up to 2 months. Reheat in a 350°F oven or on the stovetop over medium heat until hot.
Vegan Garlic Aioli
Prepare garlic paste: Peel and finely mince the garlic. Sprinkle the garlic with a bit of salt and then using your knife, gather the garlic together into a pile. Holding the blunt side of your knife with both hands at a slight angle, drag the sharp side of the blade across the garlic, so that it presses and flattens the garlic. Work the garlic back into a pile and repeat the process for about 1-2 minutes, or until you'll have a thick and smooth paste. You can also do this with a mortar and pestle instead if you have one. 

Transfer the garlic into a medium-sized bowl along with the remaining ingredients and mix until uniform.

Adjust seasonings to taste.
To assemble
Spread vegan garlic aioli onto one waffle. 

Place lettuce, sliced tomato, tempeh bacon on top.

Top with remaining waffle.

Enjoy!
Don't forget: You can find our Classic Pancake & Waffle Mix at select Target stores, target.com, and partakefoods.com. Find your nearest Target store here.