Skip to content
Breakfast For Dinner: Vegan Pancake Tacos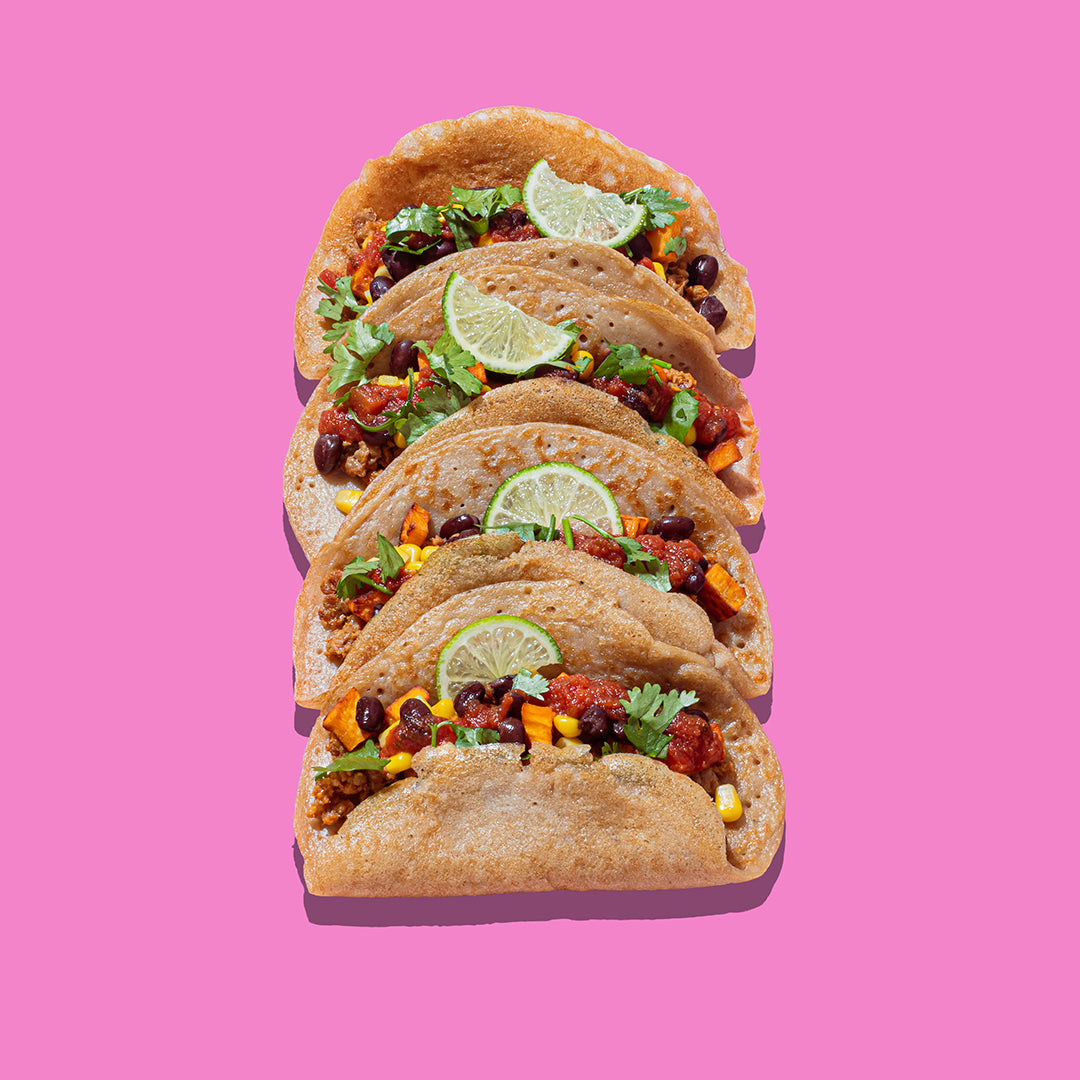 We are continuing our "Breakfast For Dinner" Series with this recipe: Breakfast. Pancake. Tacos. They're 3 of our favorite words here at Partake HQ, so you know we had to find a way to combine them. If you haven't tried swapping tortillas for pancakes, we recommend it. Our Classic Pancake & Waffle Mix makes this recipe quick, vegan, and gluten-free. And don't forget to make this recipe your own by adding any of your favorite taco toppings!

You can find our Classic Pancake & Waffle Mix at select Target stores, target.com, and partakefoods.com. Find your nearest Target store here. Make sure you check out the rest of our Breakfast For Dinner Recipes on our blog here.
Vegan Pancake Tacos
Ingredients:
Pancakes
1 cup Partake Classic Pancake & Waffle Mix

⅔ cup water
Roasted Sweet Potatoes
2 medium sweet potatoes, peeled and diced 

2 tablespoons olive oil

Salt and pepper to taste
Black Bean and Corn Mix
15 oz. canned black beans, rinsed and drained

15 oz. canned corn, drained (You can also use thawed frozen or fresh corn.)

3/4 cup red onion, finely chopped

1 tablespoon olive oil

1 tablespoon garlic, minced 

1 teaspoon chili powder
Garnish
1 avocado, chopped 

2 limes cut into wedges

2 tablespoons fresh cilantro, chopped
Instructions:
Pancakes:
Preheat skillet or griddle over medium heat.

Stir Partake mix and water in a bowl until fully combined.

Cook over medium high heat on a preheated, greased skillet. Flip once, and serve when golden brown.
Sweet Potatoes:
Preheat your oven to 425F degrees. Line a baking sheet with foil and spray with nonstick cooking spray. Wash your potatoes, then peel and cut them into bite-sized pieces.

Toss or drizzle potatoes with 2 tablespoons of olive oil and add to baking sheet in a single layer. 

Bake for 20 - 25 minutes, stirring halfway through. 

When complete, sprinkle and toss with salt and pepper.
Hint: During the last 10 minutes of baking, start making the beans and corn.
Black Beans and Corn:
In a large skillet, heat 1 tablespoon of olive oil over medium heat. Saute chopped onion for about 5 minutes, or until tender. Add the minced garlic to the pan and stir for 30 seconds.

Add the chili powder, drained black beans, and corn to the pan and cook for about 2-3 minutes. Add the roasted sweet potatoes and chopped cilantro to the pan and stir to combine then remove from heat.
Assemble:
Spoon the sweet potato and black bean mixture onto the pancakes. Add the chopped or sliced avocados. Finally, add any additional toppings that you would like such as cheese, cilantro-lime crema or anything else you might like. Serve immediately with fresh lime wedges for squeezing over your tacos.
Don't forget: You can find our Classic Pancake & Waffle Mix at select Target stores,
target.com
, and
partakefoods.com
. Find your nearest Target store
here
.