Skip to content
Cheesy Garlic Tearaway Bread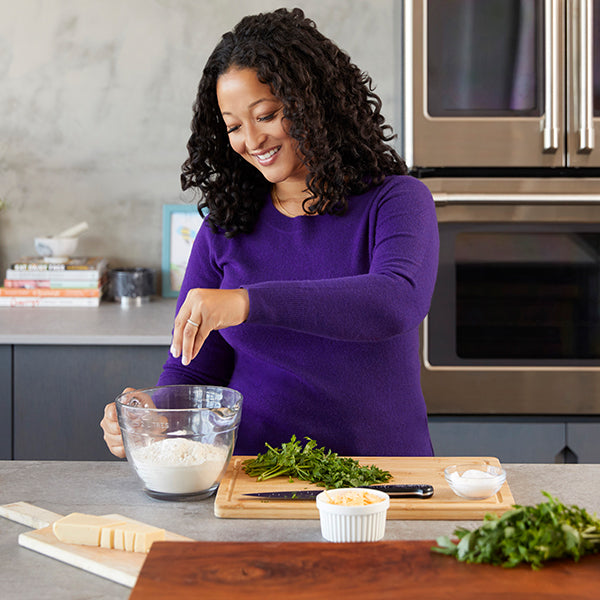 Pasta night is nothing without cheesy garlic bread! When we launched our Classic Pancake & Waffle Mix, which has the convenience of a multi-purpose mix while being free from gluten, dairy and the top 9 allergens, we knew the recipes were endless. But this recipe transformation even surprised us!
This Cheesy Garlic Tearaway Bread is packed with flavor and will make your kitchen smell like an Italian restaurant. It's perfect for family dinners when you have dietary restrictions but still want all the yummy flavor. From shallots to red pepper, garlic, and parsley, this Cheesy Garlic Tearaway Bread will be gone before you know it. 
Read on for an exclusive recipe from our Partake at Home: with Friends Digital Magazine, Cheesy Garlic Tearaway Bread. And don't forget to tag us on Instagram if you make it with your family!
Download your Partake at Home: with Friends Spring 2021 Digital Magazine HERE.
Cheesy Garlic Tearaway Bread
5 oz shredded vegan cheese (parmesan or cheddar)
1/2 stick butter spread, melted
1 shallot, chopped
3 garlic cloves
1/4 cup parsley
1/4 tsp crushed red chili flakes
1/2 tsp flaky sea salt
1 1/2 cups Partake Classic Pancake & Waffle

 

Mix
1 1/2 cups white rice flour
1 tsp instant yeast (if using active dry, add to water)
1 1/4 cups water
1/4 tsp sea salt
3 tbsp olive oil
Bread Instructions:
Note: Dough will not be very firm.
Combine instant yeast with 5-in-1 Partake Baking Mix, white rice flour, sea salt. Mix.
Add in water, 1⁄4 cup at a time and mix until dough starts to come together, then add in olive oil. Continue to mix til dough forms. It will be sticky and not look like a bread dough. That is fine!
Scrape dough into the center of the bowl and allow it to sit for 10-15 minutes. The outside will start to feel a bit dry.
Divide dough into 2" pieces. If the dough is too sticky, wet hands to handle.
Assembly Instructions:
Combine cheese substitute, buttery spread, shallot, cloves, parsley, chili flakes and sea salt in a food processor and blend until it makes a very coarse paste.

Lightly oil a pan or skillet with non-stick spray or line with parchment.

Sprinkle the bottom of the pan with a thin layer of the cheese/shallot/parsley mixture. Place about five pieces of dough on top. Sprinkle more cheese/ shallot/parsley on pieces. Add more dough and repeat until all dough is placed in the pan. Top bread pieces with a layer of the cheese/shallot/parsley mixture.

Cover with parchment or plastic wrap and allow to rise a little, about 30-40 minutes.

Before placing it in the oven, cover the top of the pan with aluminum foil, a lid, or a larger pan. This will help dough steam and rise before browning.

Bake in a 350°F oven for 20 minutes with the lid on.

Remove the lid and allow bread to bake for an additional 25 minutes uncovered or until tops of bread turn golden brown.

Serve when slightly cooled.