Skip to content
Coco-nilla Cookies and Cream Popsicles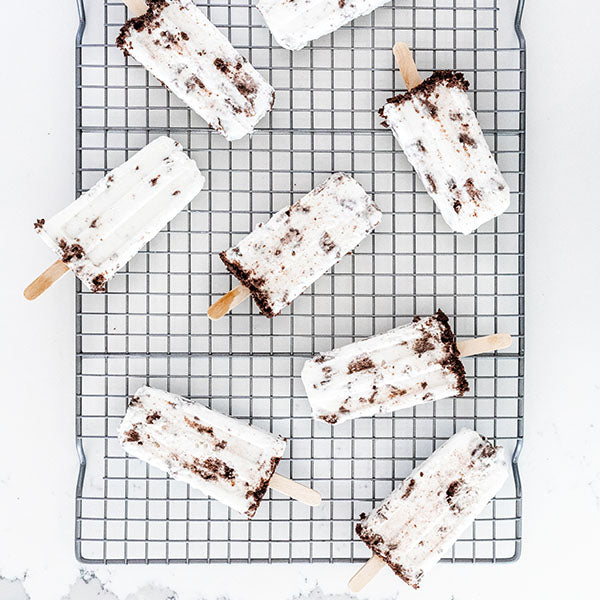 Nothing screams summer treat quite like a popsicle does. Remember chasing down the neighborhood ice cream truck in the sweltering heat of a summer afternoon, just to snag one of those crazy cartoon ice cream pops? You'd race down the street, following that musical truck with a level of determination you wish you could apply to your current exercise routine... 

Once you'd finally caught the ice cream man, traded in the loose change you'd saved from your allowance and specifically set aside for this very instance, meticulously selected a popsicle of choice, you'd finally have your pop in hand and all was right in the world.


 
Nowadays, because most of us aren't physically chasing our ice cream down, we thought it might be a good idea to offer up a healthy ice cream alternative that will sneakily satisfy the cravings of even the biggest sweet tooth! When you combine a few delicious good-for-you ingredients like coconut milk and organic yogurt with a good-for-the-soul ingredient like cookies, you know you've got a top-notch treat.

However, we're taking our healthy indulgence popsicle one step further and using Partake cookies, the ultimate stealthily healthy snack! We promise when your dessert tastes good, looks good, and leaves you feeling as good as these coco-nilla cookies and cream popsicles do, you'll be transported back to those carefree days when your biggest worry was finishing your popsicle before the summer sun melted your colorful treat. 

Get ready to beat the heat with the perfect healthy summertime sweet. Just be sure to make a big batch - once word gets out about these pops, the whole neighborhood will be running to your kitchen. Sorry ice cream man, there's a new sheriff in town, and we're serving up a nutritious twist on everyone's favorite dessert during the dog-days of summer. A special thanks to Lindsay over at Week Night Bite for inspiring us with her own peach perfect popsicle creation!
Coco-nilla Cookies and Cream Popsicles
Ingredients
- Partake Cookies (to your liking) - we love using either Double Chocolate Chip or Chocolate Chip for this recipe - it's your prerogative!
- 1 can full-fat coconut milk
- 1/2 cup organic yogurt (go for Greek yogurt for a more protein-filled pop)
- 2 tbsp pure maple syrup (or 5 drops organic liquid stevia*)
- 2 tsp vanilla extract (optional: add the seeds from 1 vanilla bean pod)
- Pinch of salt

Directions
To a blender, add the entire can of coconut milk, the yogurt, the vanilla extract, and your sweetener of choice. Blend until smooth.

If using the seeds from a vanilla bean: run a paring knife from top to bottom of the pod to split open. Open up the bean and using your knife, gently scrape out the tiny seeds from the inside. Add the seeds into the blender, and blend for a few more seconds.

In a food processor or ziplock bag, add in your Partake cookies. For a food processor, pulse the cookies for a few seconds until they reach your desired "cookie chunk" size. If using a ziplock bag, simply use a rolling pin to smash the cookies to your ideal size.

Add crushed cookies into the blender with the coconut yogurt mixture, and blend for a few seconds until the cookie chunks are evenly distributed. You can also manually stir in the cookies into the mix or in the popsicle molds itself if you prefer larger cookie chunks for your pops.

Pour the coco-nilla cookie mixture from the blender into your popsicle molds. Gently shake the molds and give them a few taps on the countertop to eliminate air bubbles.

Using the instructions for your specific popsicle molds, freeze the treats accordingly. 

Let your pops freeze for at least 4-6 hours (the hardest part of this recipe is the wait! We recommend enjoying a few Partake cookies in the meantime).

When you're ready to enjoy your frozen goodies, place the molds under warm running water for just a few seconds. Then, simply pull the popsicles from the molds & enjoy!
If you've been looking for a creamy treat that excites you the same way the sweet serenade of an ice cream truck used to excite you as a kid, these coco-nilla cookies and cream pops are just the ticket! Not only are they delicious, but they're deceptively healthy and the perfect pop to please the whole family!