Skip to content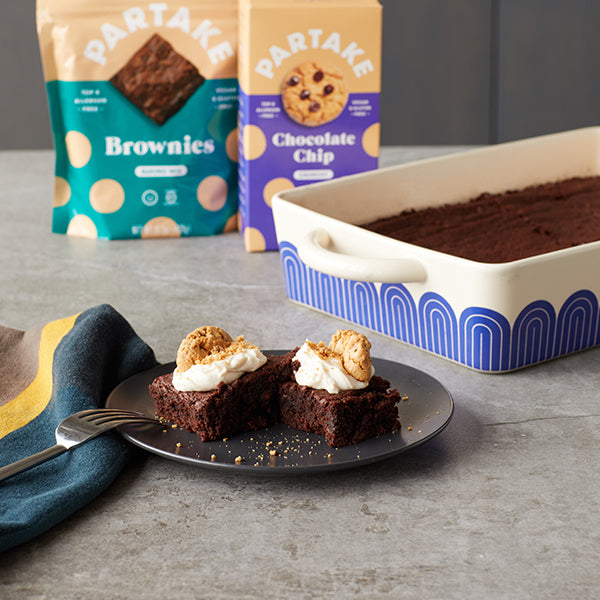 There's something nostalgic about brownies, from mixing the thick batter, to spreading it into the pan, and the yummy smell that comes from the oven while they bake. But for those with food allergies, brownies are often a no-no.
So we took matters into our own hands and created Partake Brownie Mix. It serves up a decadent and super satisfying treat while being free from gluten, dairy and the top 8 allergens. 
And why not make those brownies even better with Partake cookies, too? Read on for an exclusive recipe from our Partake at Home: with Friends Digital Magazine, Cookies & Cream Brownies. And don't forget to tag us on Instagram if you make it with your family!
Download your Partake at Home: with Friends Spring 2021 Digital Magazine HERE. 
Cookies & Cream Brownies
Yields: 18 brownies
Ingredients
Instructions:
Preheat the oven to 350°F.




In a bowl, combine brownie mix, oil and water.

Spread into a greased 8x8 pan. Bake for 18-20 minutes or until a toothpick inserted comes out clean.

Remove from the oven and allow to cool before topping with frosting.

For the cream cheese frosting, use an electric hand mixer to combine the cream cheese, powdered sugar, and vanilla extract until smooth.
Assembly 
Spread or pipe cream cheese frosting over the top of the brownies.

Top with crushed, crunchy cookies.

Cut and serve.