Skip to content
DIY Allergy-Friendly Gingerbread House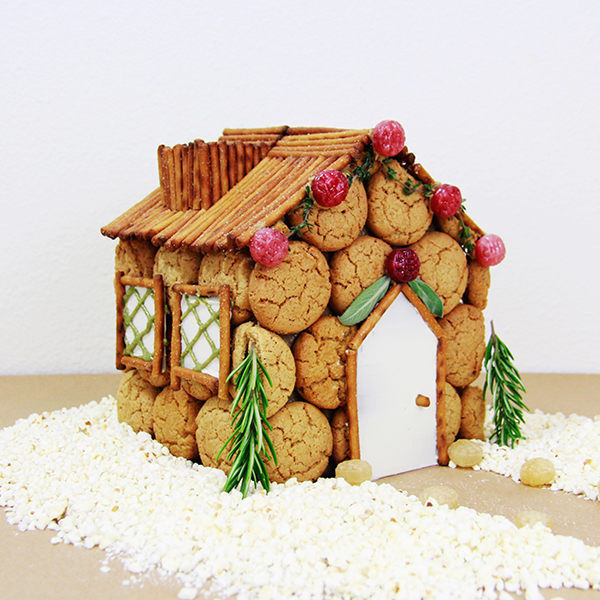 The holiday season isn't complete without building your own gingerbread house masterpiece! So we created our own and of course, it's allergy-friendly! The best part about gingerbread decorating is snacking on all the delicious goodies, so we put together this cookie house using our Carrot Cake cookies and a few of our favorite allergy-friendly products (all available on Amazon Prime). Gluten-free, dairy-free, nut-free, soy-free, and WORRY-FREE for some safe and sweet holiday fun everyone can partake in!
DIY Holiday Cookie House
Yields one house
MATERIALS:
Frosting spatula or knife

Small round frosting tip (we used Wilton #3)

Piping bag or small ziploc bag

2 boxes of Partake Foods - Carrot Cake / Sweet Potato Millet Cookies

Quinn Snacks - Honey Pretzels and Maple Kettle Corn

88 Acres - Vanilla Spice Sunflower Seed Butter and Pumpkin Seed Butter

Torie & Howard - Organic Hard Candy

Optional: Homemade Vegan Frosting and Fresh Herbs
DIRECTIONS:
Use a frosting spatula or knife to spread a thin layer of sunflower seed butter on all sides of the house-shaped tissue box cover, including the roof and chimney. It might be easier to work on one side at a time.

Line cookies from the bottom up, leaving no gaps and trimming cookies as needed to fit along the side and top edges. A sharp knife works best for cutting the cookies, or you can bite them to desired size - yum!

Break (or bite!) pretzels to fit the chimney sides, and line them vertically.

Line pretzels along the top pointed part of the roof until it touches the chimney - about 5 pretzels on each side.

Add sunflower seed butter to the edges of the cookies along the roof. Cover the remainder of the roof, lining these pretzels perpendicular to the pretzels in step 4 and letting them hang off the sides of the house.

Decorate! Feel free to create your own work of art or recreate our decor following the steps below.

To make the door and windows, add white frosting to a piping bag with frosting tip attached and spread on house where desired. You can use a frosting spatula or knife to smooth out. Use another piping bag with frosting tip attached to pipe lines on the windows using the green pumpkin seed butter. Frame door and windows with pretzels.

To add colorful decor, use seed butter to stick on candies and fresh herbs. We used thyme to line the roof, a couple sage leaves above the doors, and placed rosemary upside down to make trees!

Lastly, make it snow with maple kettle corn! Just pulse it a few times in a food processor to make finer crumbs and spread around the house.
HAVE FUN, AND HAPPY HOLIDAYS!