Skip to content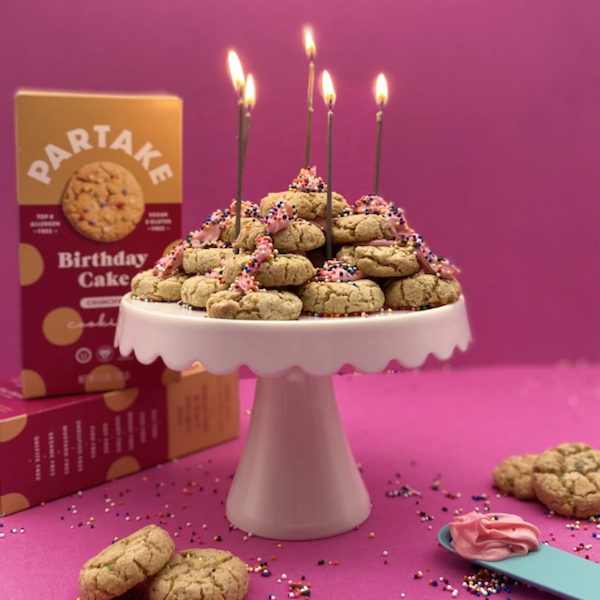 In honor of Partake's birthday this month, we decided to forgo the typical birthday cake and blow out the candles with our favorite thing: cookies! We turned our Crunchy Birthday Cake Cookies into the ultimate celebration cookie - a DIY Cookie Tower. 
Next time you need to celebrate, create this DIY Cookie Tower using the instructions below. And make sure you share your recipes on Instagram and tag #partakeabite. 
And don't forget that this June, 10% of all sales on partakefoods.com will go to the amazing efforts of Food Equality Initiative to help food-insecure families with food allergies have access to the food, education, and advocacy they need and deserve.
DIY Cookie Tower
Ingredients:
Instructions:
First, mix a little bit of food coloring into the frosting you've chosen.
Start by placing three cookies in a circle around the center of the plate.
Before you move on, put a small amount of frosting on the bottom of each cookie before placing it on the plate to act as glue. 

Continue creating circles of cookies around the smaller circles. 

To create layers on top that get smaller as you go up, follow the instructions above but place the last circle of cookies in a smaller circle on top of the layer underneath. 

To make a pattern, place cookie in between two cookies instead of directly on top.  

Layer cookies until you get your cookie tower to your desired height.

 
Enjoy!