Skip to content
Double Chocolate Chip Cookies & "Nice" Cream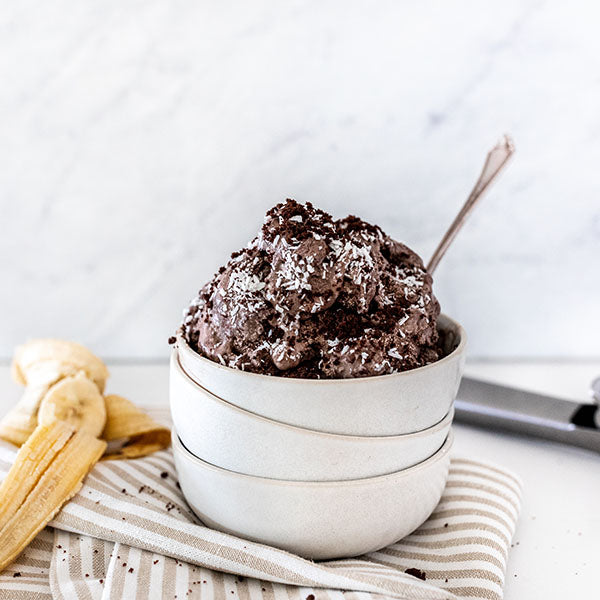 During our lifetime, we've been pretty fortunate to be introduced to some seriously fabulous duos, foodie or otherwise! You've got the classic peanut butter (or almond butter!) and jelly, the newly quintessential Netflix n' Chill (hi, millennials!), and let's not forget the epic musical marriage between Beyonce and JAY-Z!
But today, we're here to shake up one of everyone's favorite pairings with a healthy, allergy-friendly spin that will have your tastebuds reminding you that some things truly are better together. We're coming at you with our spin on the classic sweet-treat combination, cookies and cream, with a delicious, dairy-free recipe: double chocolate chip cookies and "nice" cream! And just in time too! July just happens to be National Ice Cream month, so if you were looking for the perfect excuse to eat ice cream every day, now is your chance! Hey, it's a national holiday after all (designated by Ronald Regan himself!), so indulging all of your ice cream dreams for the month of July is just the patriotic thing to do!
So what's "nice" cream you ask? It's a delectable frozen treat that's as simple to make as it is tasty to eat! Using just four all-natural ingredients for the base, we've gone ahead and upgraded this superfood sweet with a Partake Foods twist, adding in a generous dose of our founder's favorite cookie, the Double Chocolate Chip! 
Already got your mouth watering? Well, we're not finished yet! We're taking our cookie-clad, creamy concoction just one step further and drizzling atop a healthy, heavenly chocolate syrup that's nearly effortless to throw together but will take this good-for-you goodie to level ten on the tastebud Richter scale.
Cookies and milk? Pretty darn good.
Cookies and cream ice cream? Can't deny the yum factor there!
But double chocolate chip cookies and "nice" cream? That's a kind of deliciousness that's worthy of being served up in say, the actual World Cup to the greatest women's soccer team of all time, Team USA! A trophy filled to the brim with chocolatey goodness? Sounds like the perfect way to celebrate a World Cup win!
A special shout out to Kat from Loopy Whisks for inspiring this crave-worthy creation with her own
4-Ingredient Healthy Chocolate Ice Cream!
And now, without further ado, enjoy our Double Chocolate Chip Cookies and "Nice" Cream!
Partake Double Chocolate Chip Cookies & Nice Cream
Ingredients
For the double chocolate chip cookie nice cream:
1 1/2 cups coconut cream

3 tbsp maple syrup, honey, or agave syrup

3/8 cup cocoa powder (go with dark cocoa powder for a richer flavor)

3 medium frozen bananas

A heavy handful of

Double Chocolate Chip cookies

from Partake Foods (add in as many cookies as you'd like depending on how many cookie chunks you'd like swirled into your nice cream)
For the chocolatey, sweet superfood sauce:
1/4 cup melted coconut oil

2 - 3 tbsp maple syrup, honey, or agave syrup

3/8 cup cocoa powder (dark cocoa powder for a stronger chocolate taste)
Optional Nice Cream Toppings:
Instructions
For the Double Chocolate Chip cookie nice cream:
In a large mixing bowl, stir together the coconut cream, maple syrup (or agave/honey) and cocoa powder until smooth and free of any cocoa powder clumps.

Using a high powered blender or food processor, add in the cookies, pulse until crumbly (but not entirely decimated-you want some larger cookie chunks in there).

Next, add in your frozen bananas to the blender. Blend until creamy. 

Add the chocolate, coconut cream mixture into the food processor or blender and blend until everything is smooth and creamy. It's best to do a taste test here to increase the sweet factor if necessary (with a bit more syrup/honey).

Pour the chocolate nice cream mix into a freezer-safe container and let freeze for a minimum of 6 - 8 hours.




*

For a more creamy nice cream, stir the mixture every 1 - 2 hours while it freezes.
For the chocolatey, sweet superfood sauce:
Stir together all of the chocolate sauce ingredients until it's silky smooth. Again, adjust the sweetness as needed based on taste preference.
Serving up your Double Chocolate Chip Nice Cream!
Dollop a hefty scoop of the nice cream into either a bowl or onto an ice cream cone. Then drizzle those glorious treats with the chocolate sauce, making sure to get every nook and cranny covered with this crave-crushing creation. Then top it all off with a sprinkle of cookie crumbles and a pinch of coconut flakes (great idea if you like to take your toppings over the top!)
Dig in!