Skip to content
Fall Inspired Cookie Lasagna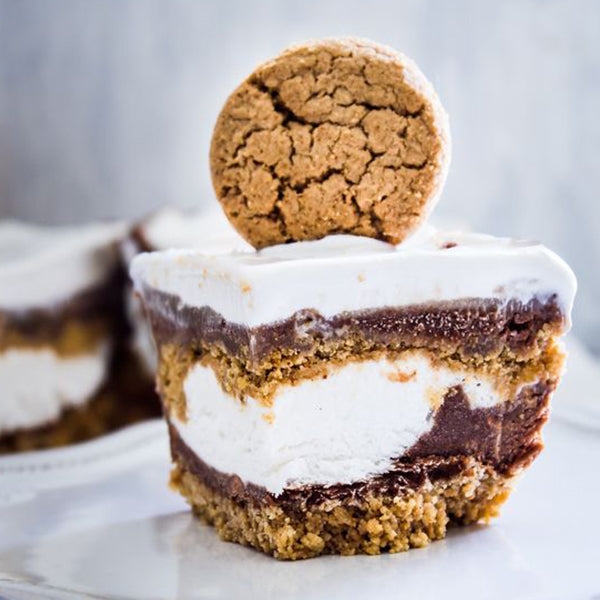 It's the most wonderful time of the year, which means sweet treats are plentiful and irresistible! Just because we're living with food allergies, doesn't mean we can't partake in scrumptious desserts - it just takes a little bit of creativity. 
We're currently swooning over this 
HealthyLittleVittles
 Cookie Lasagna beautifully layered with a 
Ginger Snap
 cookie crust, chocolate sweet potato pudding, pumpkin spice tahini caramel, and topped with fluffy coco whip - are you drooling yet?! And yes, it's completely gluten free and vegan! It's also super simple (no baking required), so whip up one for that upcoming holiday party or make it for yourself because you deserve to treat yourself and enjoy a little indulgence!
Fall-Inspired Cookie Lasagna
Yields one 6-cup rectangular baking dish
INGREDIENTS:
2 boxes of Partake Foods - Crunchy Ginger Snap cookies





1/3 cup coconut oil / vegan butter (for crust) + 1 tbsp (for pudding) + 1/4 cup (for caramel)





2 small sweet potatoes





1/2 cup coconut milk (or other alternative milk)





4 tbsp unsweetened cocoa powder





1/2 cup maple syrup (for pudding) + 1/2 cup (for caramel)





1 tbsp coconut oil





1 tsp cinnamon





1 tsp vanilla





1/4 tsp salt





1/2 cup tahini





1/2 tsp pumpkin pie spice





1 tub coconut whipped topping




DIRECTIONS:
FOR THE CRUST:
Blend cookies to make crumbs.

Place cookie crumbs in medium bowl. Add melted coconut oil or vegan butter. Mix until well combined.

Line an 8x6x2in baking dish with parchment paper. Press half of the crust mixture into the bottom and save the other half for another layer.
FOR THE CHOCOLATE SWEET POTATO PUDDING:
Microwave sweet potatoes for 5 minutes. Turn sweet potatoes over and microwave for an additional 5 minutes. 

Remove sweet potatoes from the microwave and let cool.

When completely cool, peel off the skin and cut into rough chunks.

Blend sweet potato chunks, milk, cocoa powder, maple syrup, cinnamon, vanilla, coconut oil and salt until smooth.
FOR THE PUMPKIN SPICE TAHINI CARAMEL:
In a small saucepan, melt tahini, maple syrup, coconut oil, and pumpkin pie spice over medium heat and whisk constantly.

As the mixture heats up, it will thicken up. Heat until consistency resembles caramel.
TO LAYER THE LASAGNA:
Spread half of the chocolate sweet potato pudding over cookie crust.

Use half of the whipped topping for the next layer.

Add a layer of pumpkin spice tahini caramel.

Use the remaining cookie crust to create another layer.

Create additional layers with the rest of the pudding, caramel, and whip.

Place in freezer for at least a couple hours to set. 

Let frozen lasagna thaw for 5-10 minutes before serving, then dig in!