Skip to content
Gluten-free, Dairy-free S'mores French Toast Bake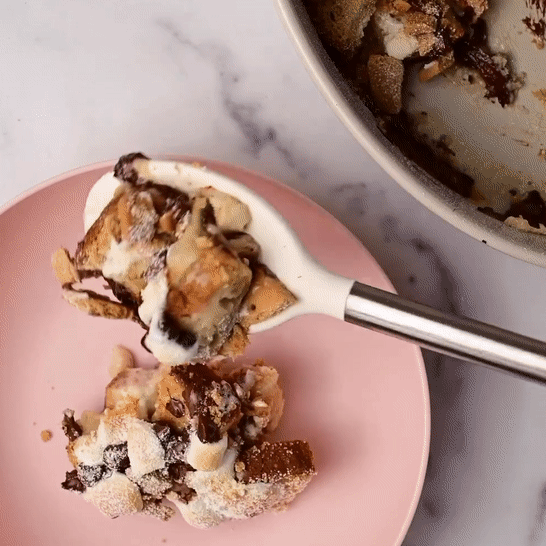 Who says s'mores are only for dessert? We believe there's no wrong time for the nostalgic combo of graham crackers, marshmallows, and chocolate, and this easy S'mores French Toast Bake recipe is the perfect excuse to enjoy your favorite sweet treat for breakfast. Summer nights may be behind us, but this indulgent dish will bring the cozy campfire vibes to any fall morning. It has everything you love about the traditional French Toast you grew up on—all baked in one dish! It's a sweet way to start any day, but especially perfect for weekend brunch with friends, holiday mornings with family, and more special occasions. 
Thanks to gluten-free bread, non-dairy milk, and crunchy Partake Classic Grahams, this French Toast Bake is gluten-free, dairy-free, vegan-friendly, and not to mention super delicious, so nearly everyone can savor a fun and filling breakfast. Best of all, no one is stuck standing at the stove flipping french toast all morning. Just prep, pop it in the oven, and dig in!
Can French Toast Bake Be Prepped the Night Before?
Many French Toast Bake recipes can be made the night before and baked in the morning. However, as our gluten-free fam knows all too well, gluten-free bread acts a bit differently than traditional bread in recipes. Adding the liquid ingredients to this French Toast Bake the night before will most likely turn your bread into a mushy mess. 
If you're looking to simplify your morning, you can prepare your bread in a baking dish and prepare the liquid mixture separately. Cover both and place in the refrigerator, then combine in the morning. You may need to lightly re-whisk your liquid mixture before pouring over the bread.
Whether you're looking to recreate your favorite childhood dish, or just looking for something new to get creative in the kitchen, this recipe is perfect for you! 
Gluten-free & Dairy-free French Toast Bake
(Makes 3-4 servings)
Ingredients
¼ cup of

Partake Classic Graham Crackers

, crushed

4 slices gluten-free bread (like Bread Srsly or Canyon Bakehouse)

1 tablespoon cornstarch

1 teaspoon vanilla extract

1/2 cup non-dairy milk

2 Tbsp sugar

1 cup chocolate chips

1 cup mini marshmallows (like Dandies)

Powdered sugar, for dusting

Maple syrup, if desired
Instructions
Preheat the oven to 350 F degrees.

Spray a baking dish with nonstick cooking spray. Set aside.

Use a knife (or your hands!) to break bread into bite-sized pieces, about 1 inch squares. Add bread cubes to the prepared baking dish.  

Sprinkle the bread cubes with most of the chocolate chips, mini marshmallows, and crushed graham crackers, reserving some of each for later.

In a medium mixing bowl, add non-dairy milk, cornstarch, vanilla, and sugar. Whisk to combine well (making sure cornstarch is dissolved), and pour mixture over bread cubes.  

Top with the remainder of the chocolate chips, marshmallows and crushed graham crackers.

Bake for 25-30 minutes, or until golden brown and chocolate is melted.  Dust with powdered sugar and drizzle with maple syrup if desired.

Serve and enjoy!
Use our Store Locator to shop Partake Classic Grahams at Target or find us on Amazon.