Skip to content
Healthy Winter Meal Prep #MealPrepSunday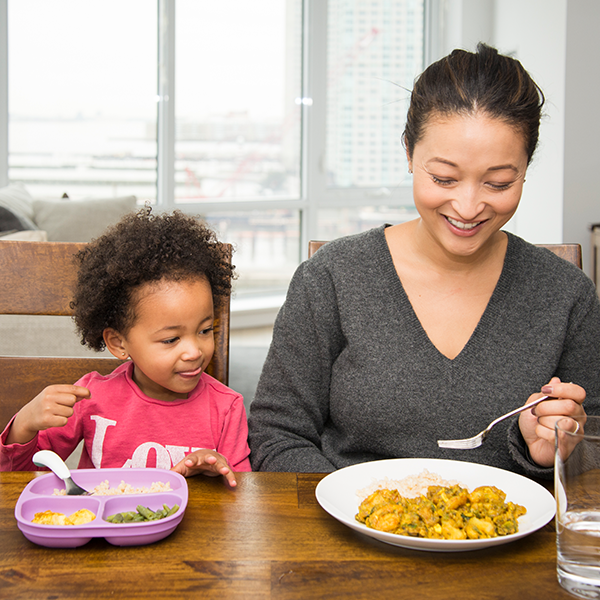 When the weather feels like it's below freezing, all you want to do is curl up on the couch with your favorite fuzzy blanket and Postmates some comfort food. We feel you. The hassle of cooking a nutritious meal from scratch sounds daunting and not as satisfying. But don't let yourself fall into bad habits! Keep your health goals in check by meal prepping for the week ahead, so you can avoid the temptations of ordering take out and still have time to cuddle up on the couch!
BREAKFAST
Start your morning light and bright with these easy, yummy breakfast ideas that won't set you back in the mornings! So when the coffee is ready, so will your morning fuel!
Homemade Pancakes - Eggos may seem convenient, but instead of unhealthy pancakes from the frozen aisle, prep your own gluten-free and dairy-free ones! These homemade stacks of fluffy goodness will make the cold, winter mornings a little more bearable and enjoyable! Just pop them in the microwave for a minute or two for a soft fluffy texture, or in your toaster for crunchy edges! Frozen pancakes can last up to 2-3 weeks in the freezer.
Baked Oatmeal - Step up your oatmeal game by baking it! It's so much tastier and not mushy like standard oatmeal! This Baked Pumpkin Cranberry and Apple recipe is one of our favorites - it has all our favorite winter flavors and basically tastes like pie! Plus you can pre-portion into individual containers for every day of the week. Just pop one into the microwave for a minute or two and enjoy!
LUNCH
The cold, sad, overpriced prepackaged salad just doesn't cut it anymore. Pro tip: invest in insulated containers to keep your food warm, especially great for soups! These hearty, energizing lunches will have you checking the clock every hour until it's lunchtime!
Frozen Burritos

- No, we're not talking about the $1 bean and cheese burritos from the frozen aisle! You can roll up your own and customize with flavorful fillings like spanish rice, salsa verde chicken, seasoned beef, black beans, fresh veggies, and more! And they can be stored up to 2-3 months in the freezer!

Roasted Vegetable Salad - Simply chop up your favorite veggies (like sweet potatoes, brussels sprouts, carrots, broccoli, etc.) and roast them in the oven for 30-35 minutes. Then pack them into a mason jar with greens and grains, like quinoa, brown rice, or even cauliflower rice! For some extra crunch and protein, top off with your favorite nuts!
AFTERNOON SNACK
When the afternoon slump hits, the vending machine seems to feel a little closer and the leftover donuts in the snack room look as appealing as ever - but don't give into the temptations! Pick out your favorite treats ahead of time and keep them on hand, so you won't be tempted by the unhealthy stuff and look forward to the snacks you prepped!
Fruit and Dip - Apple slices and nut butters or berries and greek yogurt are always a good idea.

Trail Mix - DIY your own trail mix with your favorite nuts and sweet mix-in's. Some of our favorites include almonds, walnuts, cashews, raisins, dried cranberries, coconut flakes, and of course dark chocolate chips! You can also keep it nut-free and option for sunflower and pumpkin seeds! Buy in bulk, mix everything together, and portion into ziploc bags for the perfect grab-and-go snack!

Cookies - Our cookies are the perfect afternoon pick me up because they're packed with superfood ingredients and sure to satisfy any sweet tooth craving!
DINNER
Anything easy to whip up will be the light at the end of the tunnel after a long day at work! Not to worry though because flavorful soups, chilis, and stir-fries can all be prepared ahead of time and stored in the freezer. Because let's be real, no one has time to make soup from scratch during the week.
Stews and Soups - Let the crockpot do the cooking for you! Just throw in all the ingredients and let it work it's magic! It really doesn't get easier than this. And nothing is more comforting than

Chicken Pot Pie

in the wintertime - AND it's healthy!

Veggie Stir Fry - Vegetables like butternut squash, zucchini, cabbage, onions, brussels sprouts, carrots, broccoli, celery, cauliflower, and bell peppers can all be pre-cut ahead of time. Store them separately in the fridge up to 1-2 weeks! When you're ready to eat, just toss in a pan with your favorite stir-fry sauce and dinner is ready in minutes. Add in a can of chickpeas for some protein and don't forget the rice!