Skip to content
Hot Honey Cauliflower & Waffles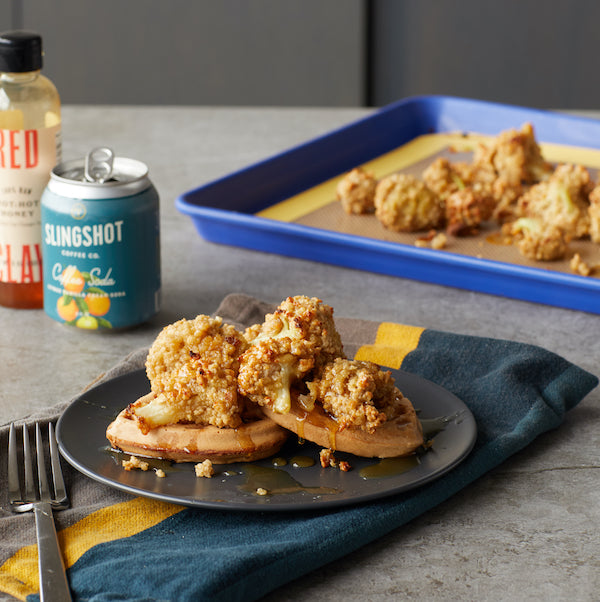 Here at Partake, we're on a mission to create as many recipes as we can with ourPartake Classic Pancake & Waffle Mix. Why? Because not only is our 5-in-1 Baking mix free of the top 9 allergens, it's also non-GMO, vegan and Kosher. And it's not just for breakfast. 
We're excited to share one of our favorite new recipes from our Partake at Home: with Friends Digital Magazine, Hot Honey Cauliflower & Waffles. It's a spicy and sweet take on savory waffles that is sure to satisfy everyone at your table.
Download your Partake at Home: with Friends Spring 2021 Digital Magazine HERE. 
Read on for an exclusive recipe from our Partake at Home: with Friends Digital Magazine, Hot Honey Cauliflower & Waffles. And don't forget to tag us on Instagram if you make it with your family!
Hot Honey Cauliflower & Waffles
Ingredients:
1 cup

Nutpods Original

1 tsp garlic powder

2 tbsp olive oil

1 head of cauliflower

2/3 cup gluten-free bread crumbs (We love to make our own with

Bread SRSLY

)

1/2 cup hot honey (

Red Clay's Hot Honey

is a favorite!)

1/2 cup water

2 tbsp neutral oil or vegan butter
Instructions:
For the Breadcrumbs
Preheat the oven to 350°. Tear up into 2-inch pieces any stale bread you have on hand. If the bread still feels a bit moist, spread the pieces out evenly on a baking sheet. Put the pieces in the preheated oven for about 10 minutes, or until the bread feels dry to the touch.





Toss the bread pieces with 1 tbsp. olive oil in a mixing bowl.





Working in batches, fill your food processor with bread pieces until the container is just over halfway full. Blend until the pieces turn to crumbs.





After you process your bread, spread the crumbs evenly out on a baking sheet. Bake for 15 minutes, stirring every 5 minutes. Remove the crumbs from the oven once they turn golden.





The crumbs can be used immediately. If you want to make them ahead of time, keep them stored in an airtight container in a refrigerator for up to one week. Pop them in the over for a few minutes before using if they start to lose their crisp.




For the cauliflower:
Preheat the oven to 425°F.

Cut cauliflower into bite sized pieces.

Combine nutpods, 1 C Baking Mix, garlic powder, pepper and olive oil in a large bowl. Place batter and cauliflower in a plastic reusable container with a lid and lightly toss until cauliflower is coated.

Pour cauliflower into a large strainer letting any excess batter drip off.

Sprinkle with breadcrumbs and shake gently to evenly coat.

Place on a non-stick or parchment-lined pan and bake for 20 minutes turning halfway through. Cauliflower should be lightly browned.

Remove from the oven and gently toss with hot honey to lightly coat.

Place back on the pan and bake for an additional 5 minutes or until cauliflower is crisp.
For the waffles:
 Combine water and Baking Mix.

Once fully mixed, add melted butter or oil.

Scoop batter onto a heated and oiled waffle iron.

Cook according to waffle iron instructions until golden brown.
Assemble the cauliflower atop the waffles.