Skip to content
Introducing Partake Blondie Mix!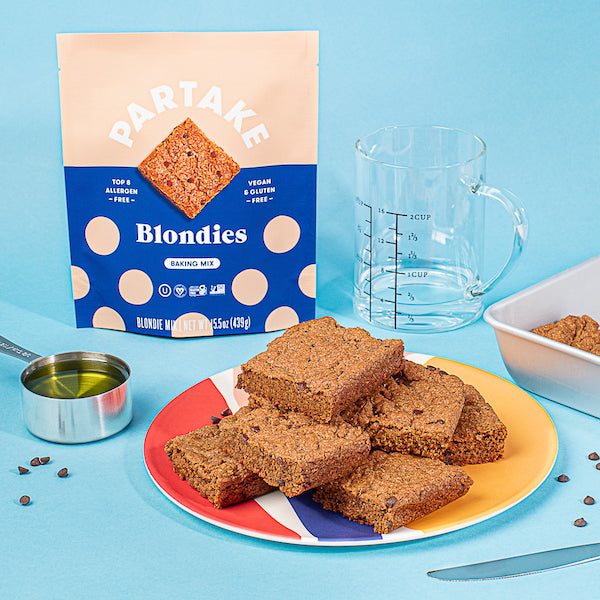 Meet the newest staple for your kitchen: Blondie Mix! 
Blondies are super delicious and just as indulgent as brownies. Our Blondie Mix satisfies any sweets craving with a decadent dessert with just the right amount of fudgy chocolate chips. Just add water and oil for an easy, warm treat.
And like all things Partake, your new favorite indulgence is made with better-for-you ingredients and certified vegan, gluten-free, allergy-friendly, Kosher, and non-GMO.
Mix in your favorite add-ins—like cookie crumbles or chopped candies—for a yummy treat your whole family will love! 👩🏽‍🍳

Grab yours exclusively HERE. Don't forget to try our 5-in-1 Baking Mix and Brownie Mix, too! And read on for our Blondie recipe using our brand-new Blondie Mix!  
Partake Blondies
Ingredients:
Instructions:
Preheat oven to 350 degrees.
Grease an eight inch square pan.
Whisk together the oil and water. Add mix and stir until well combined.
Spread batter evenly in greased pan.
Bake until set, 25-30 minutes in a metal plan and 35 minutes in a glass pan. A toothpick inserted into the center should come out clean.
Let blondies cool before cutting.