Skip to content
Kid-friendly Cookie "Turkeys" (No-Bake Recipe)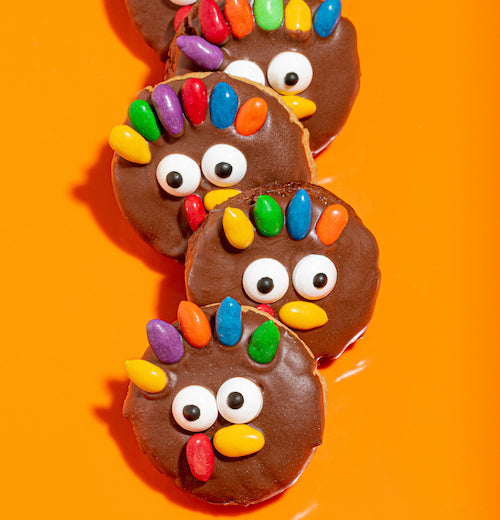 We know you'll be whipping up the classic Thanksgiving desserts this year, perhaps with your family's most cherished recipe for pumpkin pie, pecan pie, apple pie (a lot of pie). But you may be looking for alternative, safe to share treats for your little ones to create and enjoy during Thanksgiving dinner, or during a classroom or community celebration. This turkey-themed cookie recipe may be just what you've been looking for!
Not only will your kiddos love gobbling up these cute chocolate-covered cookie turkeys (along with other grown- up chocolate lovers), they will also have a blast making this Thanksgiving cookie recipe with you.
There are just a few ingredients that you'll need to make these turkey-themed cookies. The best news? This recipe uses allergy-friendly ingredients or ones that can easily be substituted for allergy-friendly ingredients. In this recipe, we're using Partake's limited edition Soft-Baked Pumpkin Spice cookies. This recipe is so easy and versatile, you could easily use any of our soft-baked flavors like fan-favorite Soft-Baked Double Chocolate Brownie cookies.

Like all Partake offerings, our soft-baked cookies are scrumptious and safe for nearly everyone to enjoy. Free of the top 9 allergens, non-GMO, gluten-free and vegan, our cookies are enjoyed by those with and without food allergies and are safe for those with dietary restrictions and plant-based dietary preferences. (Please always read our ingredient list, found on each box and product page to ensure our products work for your household.)
This recipe also calls for melting chocolate, edible "eyeball" candies and candy-coated sunflower seeds. We've kept them brand agnostic so you can choose the best option for your family's dietary needs.
Check out the full ingredient list below, and keep reading to see how you can make this easy, fun, turkey-themed cookie recipe with your loved ones and friends. Kids can easily join in on the fun by applying and customizing "feathers" and "eyes" to their turkey creations. 
Chocolate-Covered Turkey Cookies
Makes 12 Turkey-themed Cookies
From your kitchen:
Baking Sheet

Parchment Paper
Ingredients:
12 Partake Soft-Baked Pumpkin Spice cookies (or your favorite soft-baked flavor)

12 oz bag of your favorite chocolate chips or cocoa melts (Get creative! You can use different melting chocolate colors!)

24 small candy "eyeballs"

Candy-Coated Sunflower Seeds (in various colors like red, green, orange, blue and pink)
Instructions:
To begin, melt your chocolate chips/cocoa melts in a medium saucepan, or microwave according to package instructions. 



Then, stick one Partake Soft Baked Pumpkin Spice cookie in to the melted chocolate covering one side completely or spread using the back of a teaspoon. (Remember, this is a forgiving recipe where you can sub in any other soft-baked cookie flavor). Place on a parchment paper-covered baking sheet and get ready to decorate!





Arrange the chocolate covered sunflower seeds along the top of the chocolate-covered cookie to resemble the turkey's feathers. Reference our blog post for inspiration.





Press two candy "eyeballs" to each turkey.





Attach one orange and one red candy-coated sunflower seed just below the eyes to resemble the turkey's beak and wattle.





Repeat process on the rest of the cookies and place all into the fridge or freezer to set the chocolate, approximately 30 minutes.
And voila! Your delectable chocolate turkeys are now ready to be gobbled. A simple recipe with a super cute (and yummy) outcome that gets everyone in on the fun (and perhaps away from the oven) for a bit.
Extra tip: If you're feeling bold and crafty, grab your orange decorator icing and below your turkey's face, draw two sets of intersecting lines onto the full-sized cookie – it will look like the top of a triangle. These are your chocolate turkeys' little feet. (Not pictured.)
Dress Up Your Favorite Soft-Baked Cookie This Thanksgiving
Sometimes, the best treats are just dressed up versions of our favorite snacks! It's minimal work with maximum enjoyment and satisfaction. The Partake Fam is always sharing ways they like to pair our soft-baked flavors with their desserts, and we love experimenting and sharing new recipes with you, too. Browse our collection of recipes to find other ways to use Partake cookies in a variety of different desserts, from ice-cream cookie cake, to lemon bars. 
If you made this turkey-themed cookie recipe, or have another favorite soft-baked flavor to dress up, or even another fabulous Thanksgiving cookie recipe, we'd love to hear about it! Share with us on Instagram.