Skip to content
Clean Foodie Craving's Lemon Cheesecake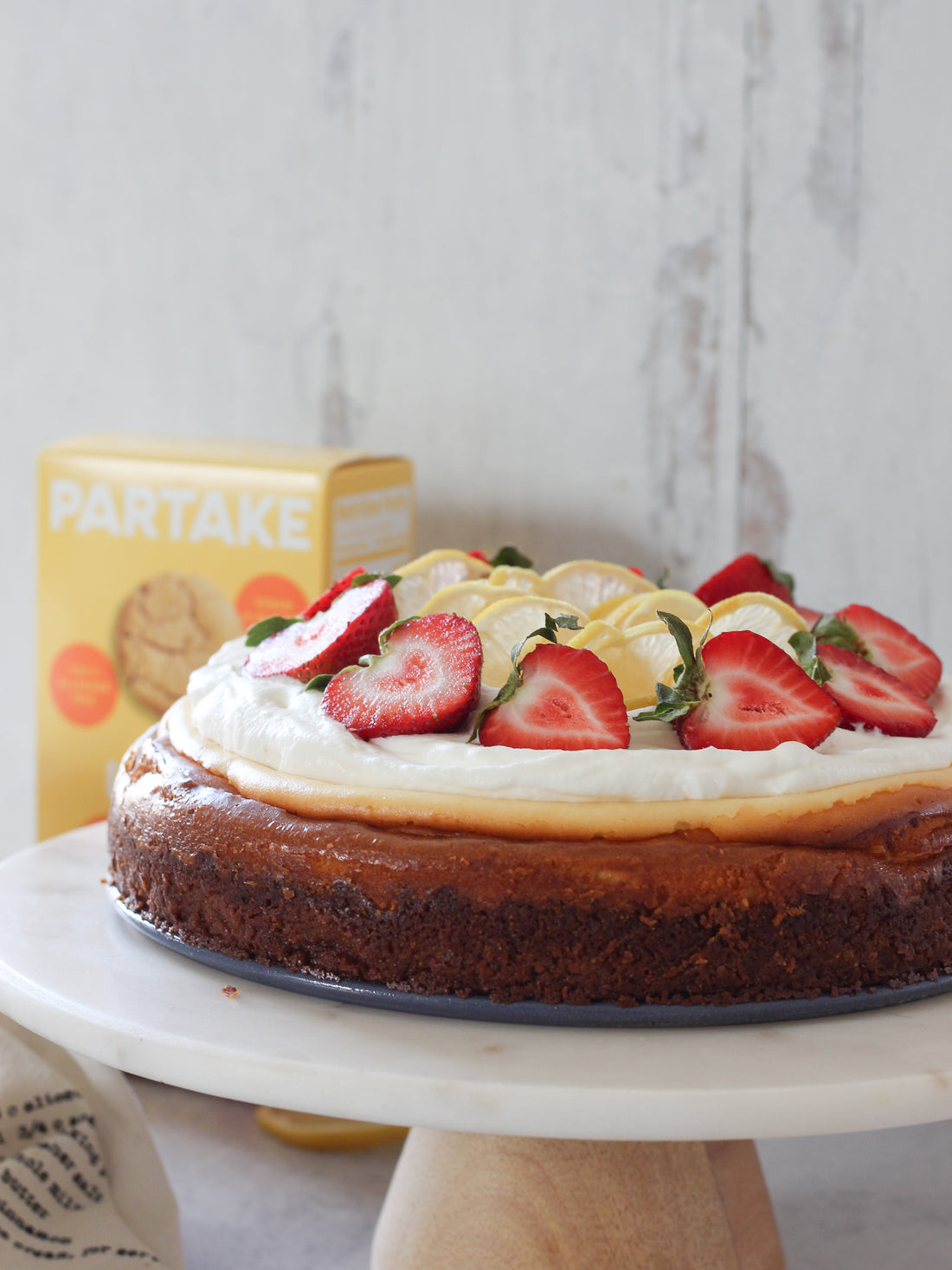 Clean Foodie Craving's Lemon Cheesecake
Ingredients:
2 packs Partake Soft Baked Lemon Cookies
1/4 cup butter 
1 tbsp coconut sugar, optional
32 ounces cream cheese, softened to room temp
1 cup sugar
1/4 tsp salt
2/3 cup sour cream
1 tsp vanilla extract
1/2 tsp lemon extract
2 tbsp all purpose flour, sifted
4 eggs, room temp
1 tsp lemon zest
Instructions:
Preheat the oven to 350°F


First, make the crust. Place Partake soft Lemon Cookies in a food processor and pulse until it's crumbly. Add the sugars to the food processor, cover. Pour the melted butter onto the cookie crumbs while running the food processor on low until all the ingredients are combined and the mixture looks like wet sand.


Add the mixture to a 9" springform pan and press firmly into the bottom and up the sides of the pan. Bake the crust for 10 minutes and set aside to cool, at least 10 minutes.


Now, make the filling. In a large bowl (using a hand mixer) or in the bowl of a stand mixer, add the cream cheese and stir until the cream cheese is smooth and creamy, do not over-beat. 


Add the sugar and stir until creamy, then add the salt and stir again.


Add the sour cream, vanilla and lemon extract and stir until well combined (be sure to scrape the sides of the bowl with a spatula to make sure all the ingredients are well incorporated).


Add the flour, a little at a time and stir to combine.


Now, with the mixer on low speed, add the eggs, one at a time, stirring until each egg is just incorporated.


Pour the batter into the pan over the crust and tap the pan on the counter several times to remove any air bubbles. 


Place the pan on a baking sheet and transfer to the oven. Bake at 350°F for 10 minutes. Then lower the heat to 325°F and continue to bake for 50-55 minutes or until the center is almost set, but still jiggly. 


Remove cheesecake from oven. Run a knife around the edges to ensure the cake doesn't get stuck (don't release the springform pan yet). Let the cake sit on the counter to cool to room temp, at least 2 hours. Then transfer the cake to the fridge and cook overnight. 


Serve with whipped cream and fresh berries.