Skip to content
Make Your Valentine's Day Pop Recipes + Celebration Ideas for Your Sweethearts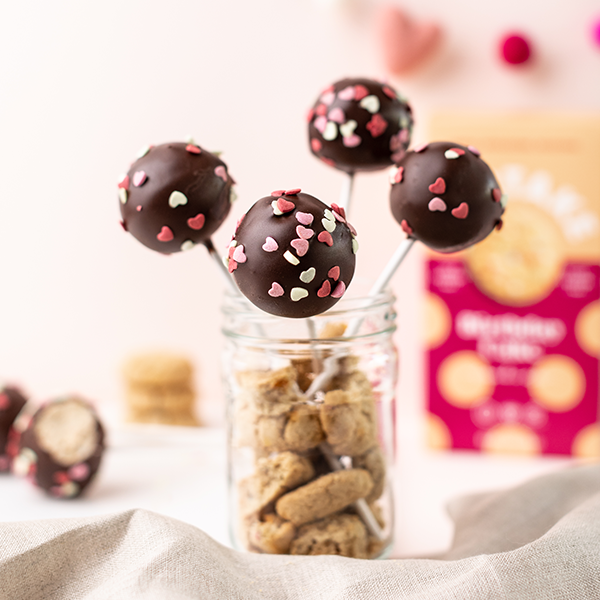 Valentine's Day is here! Putting together a sweet treat to satisfy the people most important to you doesn't have to be a labor of love.  Here's a simple recipe that you can assemble in just a few minutes—no cooking or baking required! 
Inspired by Joanna of JoCooks' No Bake Oreo Cake Pops, we've put together our version, with several substitutes for the cream cheese (listed below), including some that are vegan (hello, peanut butter!).
This recipe is made using our Birthday Cake Cookies (though you can use any Partake cookie flavor). It's sure to delight the loves of your life—whether it be the kids, your partner, or your BFF!
Grab some Partake cookies and get ready to whip up this delicious treat. 
The Partake Cake Pop
Ingredients:
2 Boxes of Partake Birthday Cake cookies


Choose one of the following:
Chocolate ganache

Hazelnut spread

Melted butter

Peanut butter

Chocolate frosting

Marshmallow fluff

F
For the Topping
Choose one of the following baking chip flavors:
Chocolate

White Chocolate

Peanut Butter

Dark Chocolate
Instructions:
Crumble up the cookies by placing them in a non-breakable, non-scratch container, or into plastic sandwich bags (we love

stasher bags

!) and using a rolling pin or other blunt kitchen object to break them up. If you have a food processor, that may save some time

Using your hands, mix your chosen filling with the cookie crumbs. You can combine a couple of them to make an even more decadent cake pop! The cookie crumbs should be dough-like after being thoroughly mixed with the filling.
Once mixed together, begin to break the dough into pieces and form into one-inch balls.
Place the balls into the refrigerator for at least 10 minutes so they can set.
As the balls set, begin to prepare your toppings and frosting. Melt chocolate in the microwave. Keep an eye on it, as it will melt quickly! It should take no more than one minute.
Once the balls are set, grab them out of the fridge and place lollipop sticks into them so they are stable but not all the way through. Hello, cake pop!
You can dip the pops directly into the melted chocolate, or use a teaspoon to drizzle over the top. Make sure each pop is fully coated.
Sprinkle the result with more cookie crumbles, sprinkles, or edible confetti hearts. We used

Color Kitchen

sprinkles for ours (pictured above).

Use a glass jar or cake pop stand to keep the pops upright. Place them in the refrigerator for a few more minutes so the frosting can set.
After 30 minutes, pull them out, and 💥boom.  You've got the perfect Valentine's or Galentine's Day treat!

If you make these cake pops, be sure to post a picture and tag us on Instagram

@partakefoods

. We want to see your creations + re-share!
Looking for more out-of-the-box ideas? 
 More Sweet Treats
Cookie Hors D'oeuvres:  Assemble a tray of Partake cookies, top them with decadent chocolate or peanut butter spread, then sprinkling some edible confetti hearts or sprinkles! You can make them as elaborate or as simple as your heart desires.





Organic Fruit Basket: Though sending chocolate dipped fruit might be your first go-to when thinking about a fruit basket,

Frog Hollow Farm

also has a neat idea. Check out their organic fruit baskets that come in elegant and reusable containers. All of their fruit is certified organic and hand-selected. 
Non-Edible Gift Ideas
Houseplants: Give the gift that keeps on giving! Sure to brighten up the winter blues + with a much longer life than a bouquet, check out

The Sill

or your local nursery for cute, space saving, and easy to care for succulents.





Subscription Boxes: Another cool gift that will give all year long is a subscription box. Whether it's clothes, snacks, candles, tea, or even books, there is a box to satisfy anyone on your love list. Check out this

thorough list

of boxes with ideas for all of your loved ones. 
Event Ideas
Painting Party: Take your loved one or the kids to a local painting studio. You'll not only get to flex your artistic muscles, but you'll bond in a relaxed, creative environment.





Volunteer: Valentine's Day is all about love. What better way to celebrate than giving your time to a local charity? Find a local organization whose cause resonates with you and volunteer your time alongside your friends, partner, or kids. 
How will you celebrate Valentine's Day? We hope this recipe + list of celebration ideas inspires you this year and every year to come.
With love, 
Partake